Huge Crowd Turns Out for Cat Racing
One would have assumed that the final race of the Louis Vuitton Cup on San Francisco Bay, between Luna Rossa and Emirates Team New Zealand, would have been the most popular high-speed catamaran racing show in the world during the last week. Unfortunately, it was not. But in the differences between the Louis Vuitton Cup and what was actually the biggest cat sailing event are perhaps lessons to be learned for future America's Cups.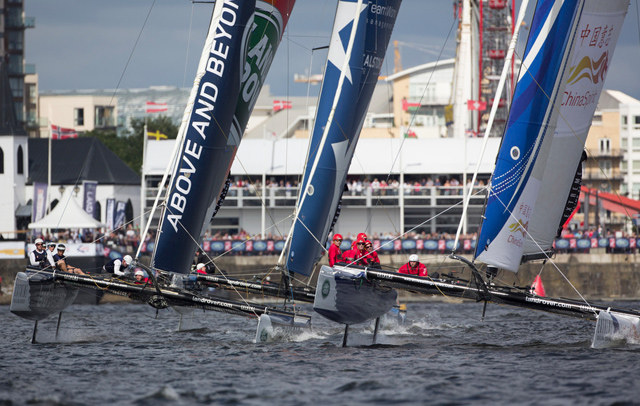 Monday's Act 6 of the Extreme 40 Sailing Series in Cardiff, Wales, was the most popular catamaran racing event with spectators last weekend. Officials reported a crowd of 120,000 from an urban area of 800,000 for an event that has none of the glamor or prestige of the America's Cup. For the sake of comparison, the San Francisco Bay Area has a population of 7 million. We're not sure how many spectators showed up for the last race of the Louis Vuitton, but we don't think it was anywhere near 120,000.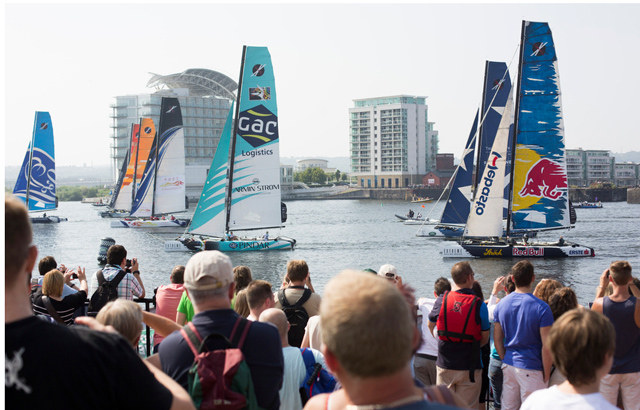 Some interesting differences between the Extreme Series and the Louis Vuitton:
1) The Extreme 40s, which are a scaled up one-design version of Tornado beach cats, cost pennies to build, maintain and ship compared with AC72s. Perhaps that is why there were two teams from Switzerland and one each from Denmark, New Zealand, China, Great Britain, Austria and Oman. It was the team from Oman that won.
2) The Extreme 40s use soft mains and gennikers, keeping costs down and making it easy for Sunday sailors to identify with sailing them. While not as fast as the AC72s, the 40s have hit speeds in excess of 40 knots.
3) The Extreme 40 Series is fleet racing. So even if 'your' team was well back in the pack, you could still be excited about whether they would beat whoever was closest to them.
4) The racing was competitive, particularly among the top four boats.
5) Alinghi, previous winners of the America's Cup, finished second, with Northern Californians Morgan Larson as skipper and American sailing star Anna Tunnicliffe as crew. Ernesto Bertarelli, winner of the 32nd America's Cup, had been driving Alinghi early in the series, but then rookie Larson came in and kicked butt so well that he became the skipper.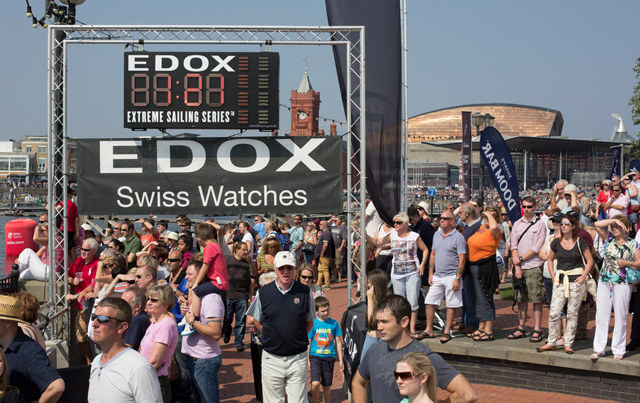 A few readers have groused that we must surely despise Larry Ellison and Oracle, and complained that we haven't been mindless cheerleaders for the 34th America's Cup. In truth, we have the greatest respect for Ellison's rise from humble circumstances through intelligence and tenacity, and admire the fact that he's as wealthy as he is because in the early days of Oracle he risked everything to continue to own a huge amount of the company's stock rather than take the easy money from venture capitalists. As for Oracle, nobody has to buy their products, so it seems to us they must be doing something as well or better than the competition. With regard to those of you who resent our not being blind cheerleaders for the Cup, pardon us for liking to think that, to at least a certain extent, we're journalists and not a public relations company for one small segment of sailing. We've reported what we thought was the good and the bad about the 34th America's Cup, so perhaps a review is in order:
The Good:
1) San Francsico Bay has proven to be a fabulous sailing venue, in terms of sailing conditions, the venue, the spectating, and the scenery. Hands down, it's San Francisco Bay sailing, and the image of San Francisco, that have been the biggest winners of the 34th America's Cup so far.
2) The AC72s are astonishingly fast and look spectacular while foiling.
3) The America's Cup World Series racing last year (on AC45s) was an exciting and competitive crowd-pleaser.
4) There is still hope. The Red Bull Youth America's Cup fleet racing starts Sunday at 11 a.m., and we think it is going to be competitive and very popular with spectators. There is also the three-day Superyacht Regatta slated for America's Cup lay days. Alas, there has yet to be a list of entries so we fear it may not be much of a regatta at all. The biggest hope, of course, is that the America's Cup Finals will be so exciting and competitive that it will make everyone forget much of what has transpired so far. As we've mentioned previously, we think Oracle is going to beat the Kiwis.
The Bad:
1) Dreadful participation. The Louis Vuitton organization was promised at least eight teams for the challenger series, but only two-and-a-half showed up. In our view, the astronomical costs of a campaign limited the entries, which limited interest.
2) Unsuitable boats. The AC72s aren't appropriate for even typical afternoon sailing conditions on San Francisco Bay. And if a 72's hydraulics fail even in allowable wind speeds, some crews say they will almost certainly flip.
3) No competitive sailing to date. There hasn't been any! First, Artemis missed most of her early Louis Vuitton races, resulting in numerous one-boat races. Second, two of the first three Louis Vuitton Cup races were decided by breakdowns. Third, bless the Italians, but they just weren't remotely competitive with the Kiwis, so every race was like 63 to 0 in football.
4) The allegations of cheating in the AC45 races. A lot of people seem to have their heads in the sand about this, just as many people wanted to stick their heads in the sand after the Watergate burglary. But this no longer seems to be the little deal that everybody, ourselves included, wished it was.
To our thinking, the above are undeniable facts. If you want to shoot the messenger, please use blanks.
But like we said, we at Latitude have hope. Hope that the Red Bull, the Superyacht Regatta and Cup Finals will be way more exciting than what's gone on up until now. And we hope that the next America's Cup, hopefully to be held again here on San Francisco Bay, will be so much more like the Extreme Sailing Series. That is: 1) Race in relatively economical one-designs to ensure there are at least a dozen entries; 2) Fleet racing instead of the usually soporific match racing.
Receive emails when 'Lectronic Latitude is updated.
SUBSCRIBE