Practical Sailor has a blog site where one contributor offered up the following on the subject of cruising rallies:
"The big problem (with rallies) is the illusion of group security. With regular radio contact there is some of that, but participants in the Baja Ha-Ha routinely report never seeing another boat in the rally for days on end. It's a big ocean, folks, even with North America to port the whole way."
We agree to a certain extent that some people get a false sense of group security. We do think there is additional security in being part of such a rally, but it's no immunity. Nonetheless, we burst out laughing at the ridiculous assertion that Ha-Ha boats "routinely" report never seeing another Ha-Ha boat for "days on end."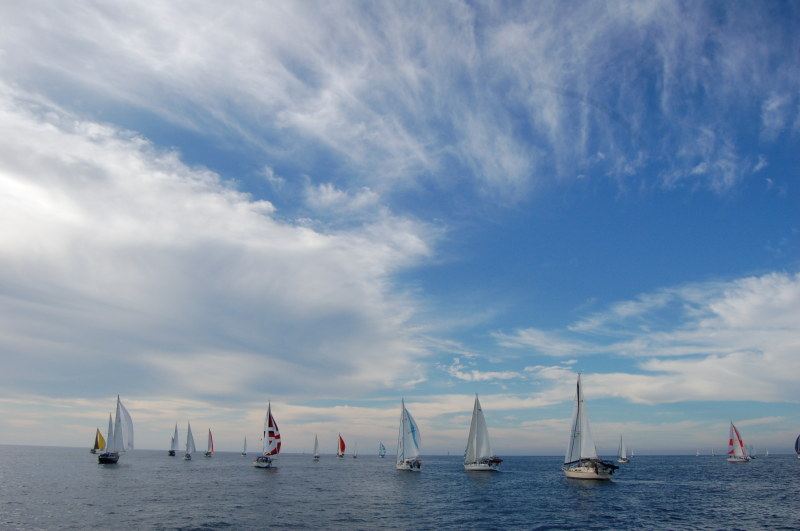 Let's see, the first leg is basically no more than 3.5 days, the second is no more than 2.5 days, the third leg is two days, and the fleet is naturally pretty close together at the start and finish of each leg. And as all the legs are downwind — ok, the first part of the first leg was a little weird this year — boats sail in a relatively straight line. How then could it be possible for Ha-Ha boats to "routinely" not see another Ha-Ha boat for days on end?
There were a few hours on the first and second legs of this year's Ha-Ha when we didn't see another boat but, on the average, we'd guess we had 15 other Ha-Ha boats in sight. If you did the Ha-Ha, what about you? Was there ever a time when you didn't see another Ha-Ha boat? If so, how long was it? Please send us an email and let us know.
Receive emails when 'Lectronic Latitude is updated.
SUBSCRIBE