An Inspirational Sailor Loses His Boat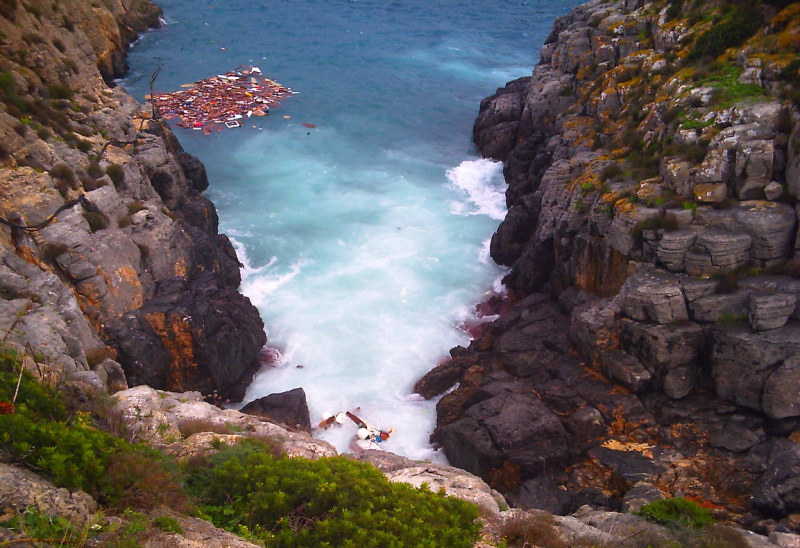 We're sorry to report that Jack van Ommen, one the most inspiring sailors we've ever met and written about, has lost his Naja 30 Fleetwood in a rocky cove near the Spanish island of Ibiza after a three-night battle with stormy weather. The good news is that the vigorous 76-year-old from Gig Harbor was able to scramble up the rocks to safety, and even managed to carry his passport, wallet and laptop.
The accompanying photo of the wreck of Fleetwood, which van Ommen built from a kit to do the Singlehanded TransPac many years ago, is one of the most dramatic we've ever seen. Thousands of pieces of a once globe-circling boat, now held together by just the tide and current. So weird and so sad.
The indirect cause of the loss of the Fleetwood was getting a late start from Holland for the Canary Islands and Cartagena, Colombia, because van Ommen had been doing extensive renovations. When he tried to sail to the Canaries via the Atlantic in October, the winter storms had already started, making it impossible. So he decided to take Fleetwood back down to the Med via the rivers and canals of France.
Once he got to the south of France, van Ommen was trapped for days by November storms. And make no mistake, the Med can be a wicked place when the winter storms blow. He finally took off, thinking he could make one of the Balearics before the next storm hit. Unfortunately, the weather turned much worse before he could reach port.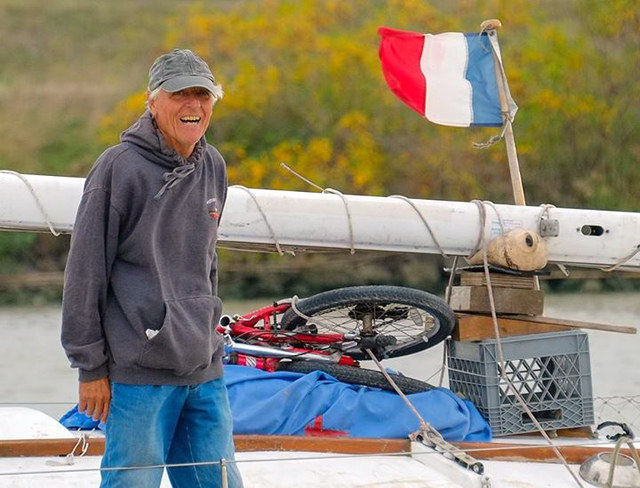 "Fleetwood is flotsam," he wrote. "I shipwrecked at 4 a.m. on Tago Mago, a very small island near Ibiza. I have little energy left to tell the story. In short, I was lying ahull for the third night in stormy conditions when the wind direction changed while I slept. I had no battery power left to start the engine, and no battery power for the radio to call for help. Several attempts to sail into anchorages failed. After getting wrecked, I managed to climb up the rocks. The people in a home on the island have received me, but they were only able to give me ladies' clothes to wear. The Coast Guard attempted to take me to Ibiza, but it was too rough, so maybe we'll try tomorrow."
A deeply religious man, van Ommen says that he's already excited about what God has in store for him next.
The thing that made van Ommen so special in our mind is that he did so much with so little. Once affluent, sudden business reversals in 2000 left him with little more than the Naja 30 he'd built, which had been sitting on a trailer for 10 years. He spent two years fixing her up, then trailered her down to Alameda where, in 2005 at age 68, he set sail for the Marquesas.
His voyage ended almost before it started, as rough weather had him asking for help from Coast Guard Monterey.
He eventually set sail for the South Pacific from Santa Barbara, with nothing more than the provisions on his boat, a few hundred dollars, and the promise of $1,450 from social security each month.
After the first five years, van Ommen had singlehanded 35,000 miles, visited 30 countries and, in the early years at least, had managed to put a lot of each month's social security check in the bank.
We can't remember all the places he's sailed, but one of the more unusual was Haiphong, Vietnam. He later completed all of a circumnavigation via South Africa — except for the Caribbean Sea and back up to Santa Barbara. But the Caribbean and later Europe — particularly Holland — beckoned.
In a most unusual trip, he decided to 'circumnavigate' Europe, using various rivers and canals to get over the continental divide to the Danube, which he eventually rode down to the Black Sea and Istanbul. He later travelled to the mouth of the Rhone River in France, and made his way back to his beloved Amsterdam.
Having already sailed to more than 45 countries, van Ommen's most recent goal was to sail to Cartagena, where he would base Fleetwood while spending several years exploring South America by land. Maybe he'll just have to fly there now.
In any event, Jack, Latitude salutes you for all that you've done, and for proving that you can lead an extremely rich and adventurous life on very little money.
Receive emails when 'Lectronic Latitude is updated.
SUBSCRIBE