2,965 Solo Miles in 20 Days for Moonduster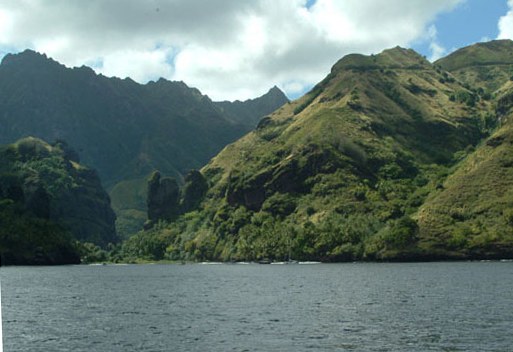 Wayne Meretsky of the Alameda-based S&S 47 Moonduster reports that on April 10 he finished his singlehanded passage from Punta Mita, Mexico, to Fatu Hiva, Marquesas Islands, French Polynesia. When he got there, he shared the anchorage with five other boats: Blue Plains Drifter, Jim and Tiffany Tindle's Tayana 48 from Santa Cruz; Elusive, which is either Stephen and Wendy Bott's J/44 from Seattle or Josh Clark's Cal 32 from Panama City; Scarlett O'Hara, John and Renee Prentice's Serendipity 43 from San Diego; Pacific Star, Horst Wolff and John Shryock's IP 35 from San Francisco; and Just Do It, a German boat which arrived via the Beagle Channel.
Meretsky passed along some interesting information about his trip:
"Rhumbline, or shortest distance, from Punta Mita to his landfall — 2,725 miles.
Planned passage — 2,867 miles.
Actual miles sailed — 2,965 or 240 miles more than the rhumbline.
Duration — 20 days, give or take an hour or two.
Best day — 186.9 miles or an average of 7.8 knots.
Worst day — 100.1 miles or 4.2 knots.
Average miles per day — 148 or an average of 6.2 knots. It was my slowest passage ever. Where was the wind?
Boats seen since leaving the coast — 2.
Lightning seen — None.
Rain other than squalls — None.
Engine hours — 24.6, most of them enroute to Isla Clarion off the coast of Mexico.
Engine hours since leaving Clarion — just 7.2.
Estimated gallons of diesel used — 15.
Eggs eaten — 30. And to think Cool Hand Luke did 50 in a single seating!
Pounds of bacon — 2.
Pounds of brie — 1/2.
Grapefruit — One a day, and I still have five left.
Fish caught — Just one, a jack, right after leaving Punta Mita. I threw it back."
As for French Polynesia, Meretsky reports that the Gendarmerie closes at 11 a.m. and isn't open on weekends at all. "It makes the Mexicans seem industrious," he says.
He used Polynesia Yacht Service for clearing in, which cost $504, but had a number of benefits. Fuel is reported to be over $8 per gallon, and was being rationed in Hiva Oa to 40 liters per boat — until two days ago when the supply ship showed up.
Receive emails when 'Lectronic Latitude is updated.
SUBSCRIBE