While Easter Island in the South Pacific is one of the world's most remote inhabited islands, Angel Island is one of the world's nearest (practically) uninhabited islands. We took advantage of a fair forecast and sunny Easter weekend weather for a Saturday escape to Angel Island. It was a popular idea. We left early to land a coveted slip, knowing the docks would likely fill up. We also were reminded that the last time we were there during a break in winter rains, the outer row of docks was closed, having been separated from the first row by rough winter weather. It was good we left early. The still-attached, accessible docks filled up quickly, and the frequent ferries packed the island with kids and crowds all ready to shake off the winter rains.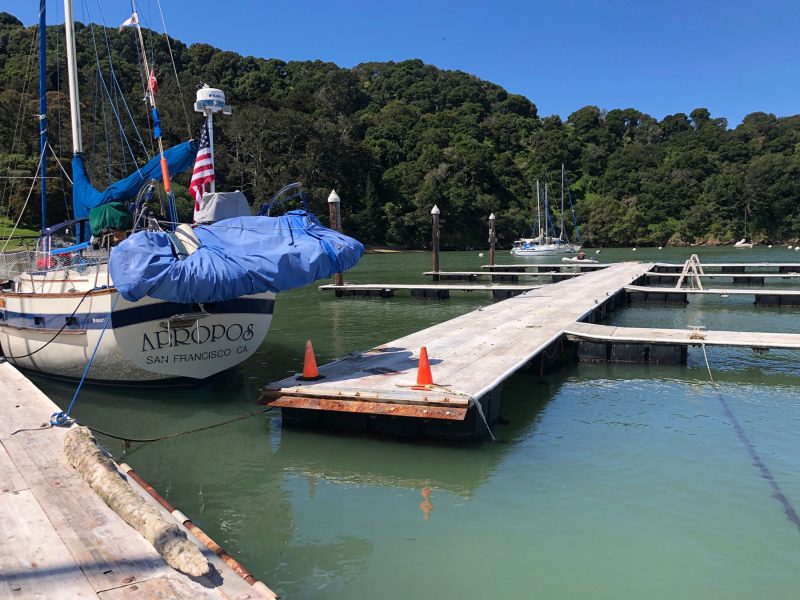 We paid our $15 for the use of the slip for a day and asked the attendants at the kiosk when/if the docks were going to be fixed. The word is "soon." With the sun out, summer weather returning, and the large number of boats we saw cruising in and right back out, we know sailors are thinking "soon" won't be soon enough. It's time to get that dock fixed!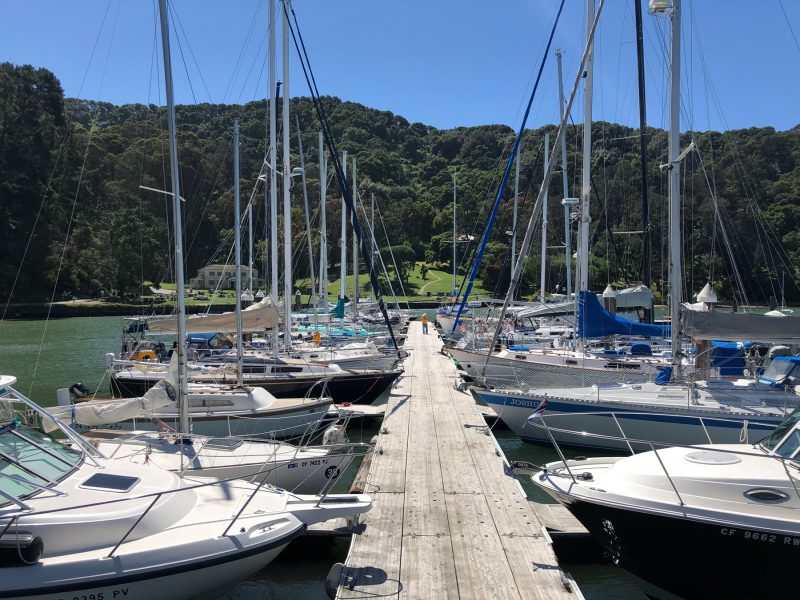 Shoreside was just as busy, with ferries picking up and dropping off at the public pier, a band playing at the snack bar, tourist trolleys taking visitors on island tours, bicycles heading off on the paths, and most picnic tables and BBQ spaces occupied by sailors and ferry riders taking advantage of one of our few Bay Area island escapes.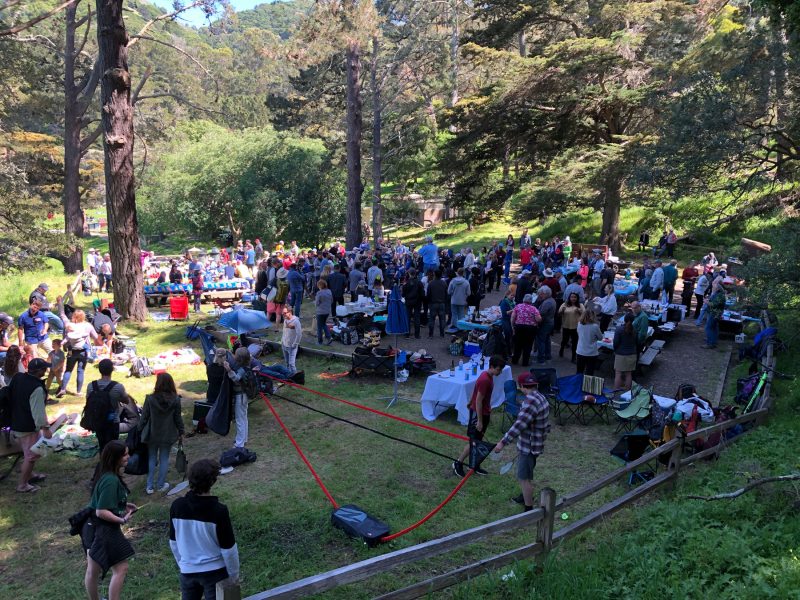 With the docks chock-a-block full of sailboats, it was like a yacht club race weekend. We bumped into friends from around the Bay. David Janinis from Berkeley Yacht Club sailed over on his Etchells with Paul Kamen and friends as crew. Jim Quanci and crew were there with the Cal 40 Green Buffalo. Jim Haussener pulled up with friends aboard an S2 out of Tiburon YC.
Another boat we've always admired, with its Easter-egg-colored deck, is Tom Lovering's refurbished 1976 Islander 34 Puffin. As Tom explained, the name is appropriate because, just like the bird, it is small, squat and colorful. He went on to say, "Like many boats of that era (think Westsail 32), it was a kit boat with the interior being finished out entirely in teak by the prior owner, a good friend of mine who was a cabinetmaker. Next time we run into each other please check out belowdecks."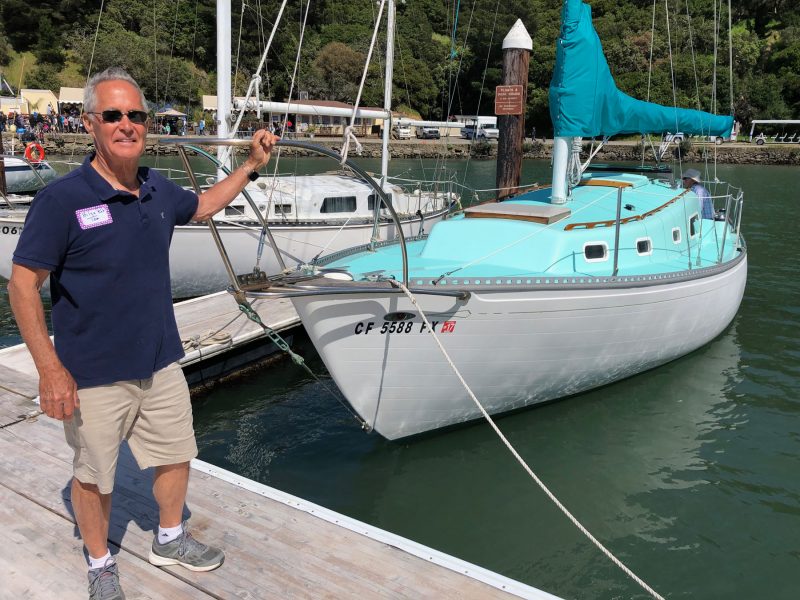 "I have owned the boat since 1987. In 2015, when it was 39 years old, I completely refinished the boat in the Berkeley Marine Center yard. I repowered with a Beta Marine 20hp diesel, replaced all the windows, and installed all new running rigging. The decks and cabin sides were refinished with Sea Foam Green Awlgrip, and the nonskid is KiwiGrip that I tinted to match. I did all of the work with the exception of spraying the finish coat. Cree at BMC had no sense of humor at the thought of me with a spray gun in his yard. Go figure." Tom, who sails out of Brickyard Cove, went on to explain why he loves the Puffin as a perfect Bay boat. "She's big enough to have reasonable, simple, comfortable accommodations, yet small enough to fit anywhere and easily get out for a sail."
We were helping Tom back out of his slip at Angel Island with some difficulty, when we noticed that a bow line still tied to the dock was hindering our efforts. Once we removed that, backing out of the slip became much easier! We might have given Tom a harder time, but we're too often reminded of our own lapses. In fact, just the night before, as we headed out for the Corinthian YC Friday Night Race, our backward progress from our slip ended suddenly when one of our unreleased docklines pulled taut. There was no one to blame but the skipper.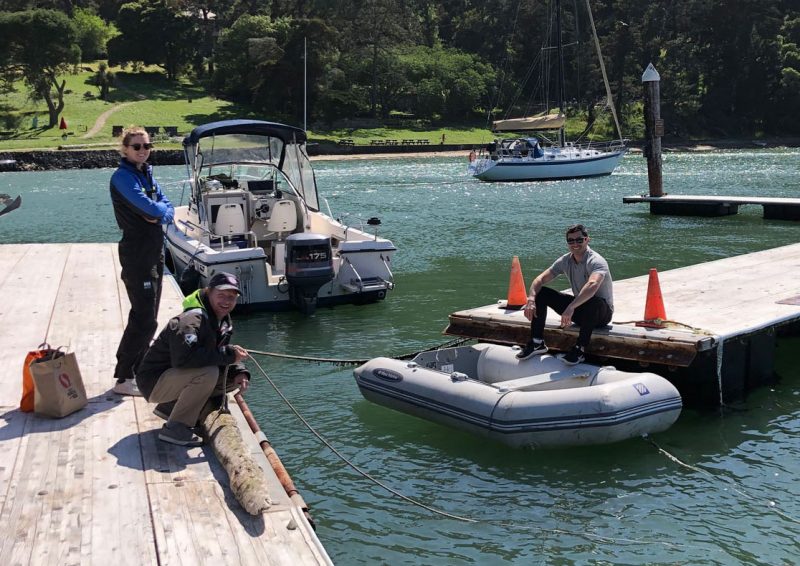 With Opening Day and another sunny weekend ahead, we hope the Park Service solves the dock issue sooner than soon. For an overpopulated region, Angel Island remains one of the Bay's best day trips. Even with the full inventory of docks available, it is often hard to find a slip for a daytime getaway. We look forward to seeing you out there.
Receive emails when 'Lectronic Latitude is updated.
SUBSCRIBE