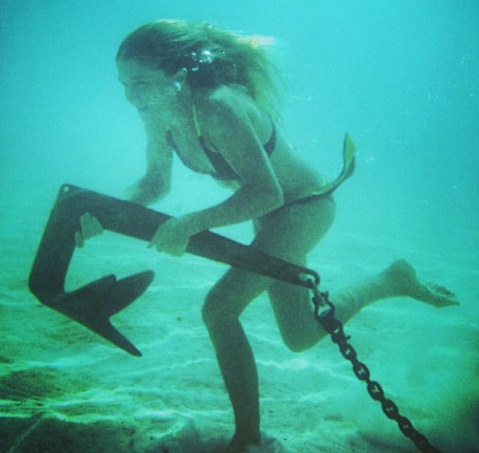 "Whenever possible, I use this precision anchoring technique seen in the photo to place my anchor in a sand patch where my chain won't damage any nearby coral," reports Liz Clark.
Liz, of course, has been singlehanding her Santa Barbara-based Cal 40 Swell in French Polynesia for a number of years now. She's not a big girl, but judging by the relative size of the Bruce anchor, it must weigh about 55 pounds.
Have you ever done anything like this? Do you think you could do anything like this? Write us here.
"I am a proud member of the Latitude 'Over 30 Club', as I have owned my Pearson 26 for 38 years," writes William Grummel of Antioch. "But I was thinking there may be another fun 'club' for Latitude to start — a club for those who were married on their boat.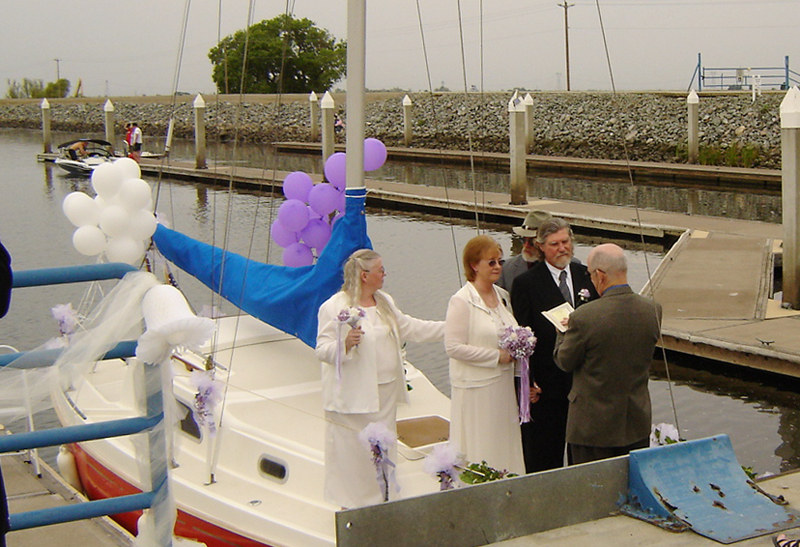 "Rose and I were married aboard Midnattsolen 10 years ago this April. The ceremony took place at the dock of Discovery Bay Yacht Harbor. I have attached a photo of our wedding.
"Our friends Jim and Jeanie Long were married on their first Oasis back in 1986 or 1987 at Fortman Marina. After the wedding they spent three years on the Sea of Cortez. They have since moved on to a larger boat, a Lancer 39 motorsailer that they have used to cruise both sides of Mexico and Central America. They currently are in Puerto Escondido. And yes, Jim did ride out Odile.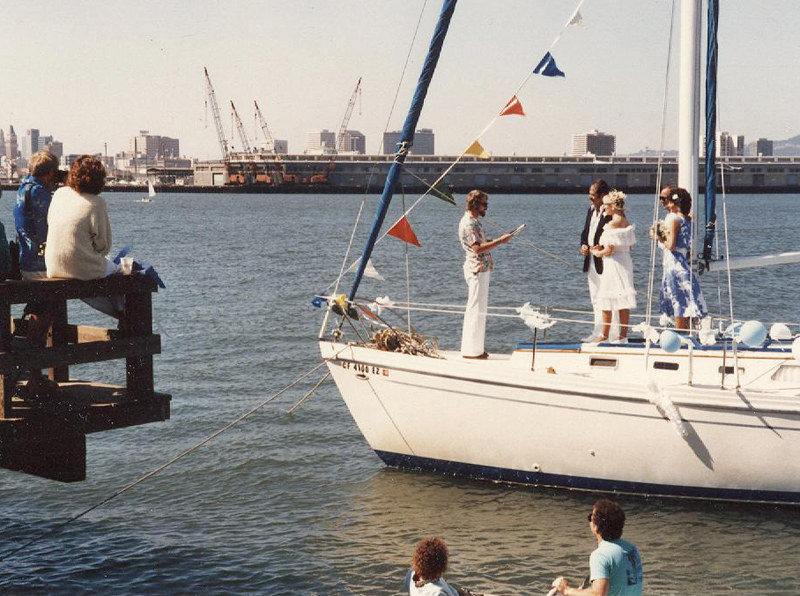 "I hope those of you who were married on your boats had as great a wedding as we did and will join the 'club'," say Bill and Rose. All right then, we're now accepting applications to Latitude 38's 'Married-on-Our-Boat' Club.
Just one question, Bill: The publisher of Latitude 38 was married to Kathleen McCarthy aboard their Bounty II Flying Scud in Clipper Yacht Harbor in the late 1970s. But they were later divorced. Is membership still available to them? Do they get an asterisk next to their names, or what? There might be a few others 'in the same boat'.
Receive emails when 'Lectronic Latitude is updated.
SUBSCRIBE