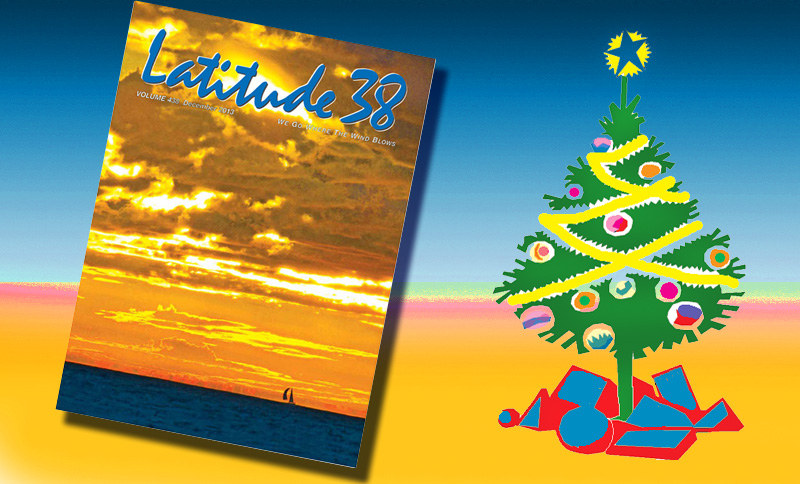 After an unseasonably warm Sunday, the cold bite of winter was definitely in the air early this morning. It was the kind of morning that made you want to do an about-face, crank up the heater, and jump back in bed with some engaging reading material — if not a special friend.
Sadly, Latitude 38 does not offer hand delivery to homes (or boats), but this morning the latest edition of the magazine is being distributed to marinas, boatyards and marine retailers all over the greater Bay Area. By midweek they'll also be available in Southern California, and you should find them in the Pacific Northwest by the weekend. (We do, of course, also still offer subscriptions, which naturally take a bit longer.)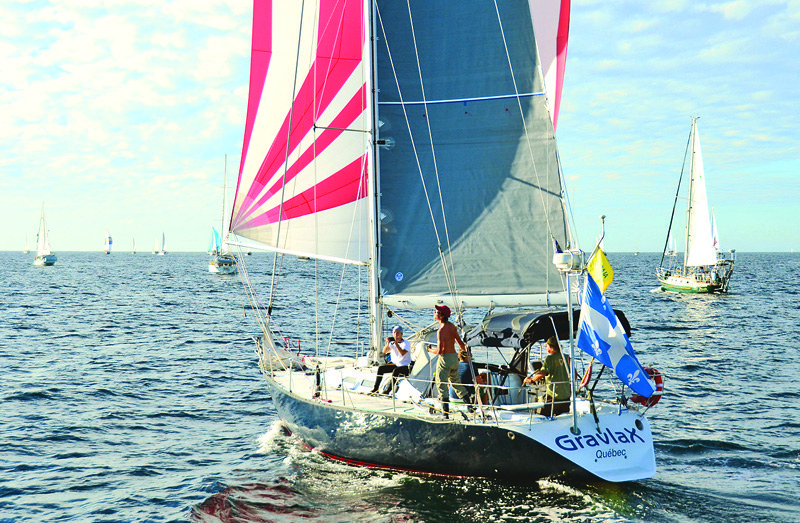 Inside you'll find our usual eclectic mix of sailing news from the Bay Area, elsewhere along the West Coast, and beyond. Among other things, you'll find the 2014 sailing resolutions of Latitude staffers, our recap of the 20th annual Baja Ha-Ha cruisers' rally, cruising tips from successful circumnavigators, part two of our Season Champs profiles, boatloads of racing news (including lots of silly snapshots from the Great Pumpkin Regatta), worldwide chartering tips, and cruiser reports from around the globe.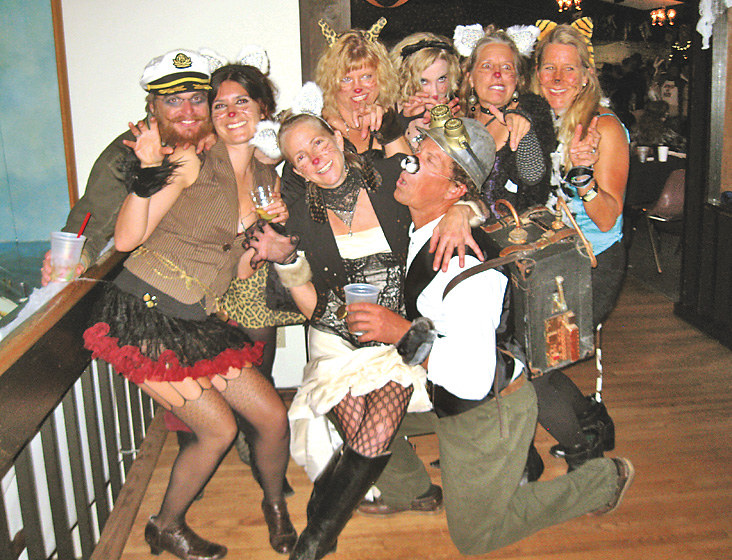 As you read this, it's probably too late to climb back in bed and snuggle up with your December Latitude, but there' always tonight. If you're reading this from beyond the horizon, remember that you can always read each new edition online, or download the whole magazine as an eBook. Happy reading, and happy holidays.
It's been 14 years since Benoit Marie first dreamed of racing the Mini Transat. Back in 1999, all he could do was imagine secondhand the course he'd have sailed. That all changed this on December 1, when he crossed the finish line at Pointe-à-Pitre, Guadaloupe ahead of all 60 remaining competitors. In fact, Marie didn't know his position relative to the fleet until nearly the very end of the race.
"I learned in the bay of Pointe-à-Pitre from the first spectator boat that came my way," he said. "It was amazing! I did not yet realize I'd won. This race is magical, the result is truly amazing." Marie's overall time was 18d, 13h, 01m, 05s.
This was arguably the most challenging Mini since the race's inception in 1977. Remarkably bad weather initially delayed the October 13 start from Douarnanez, France by 16 days. Once underway, racers were diverted to ports on Spain's north coast because of dangerous conditions. Regrouping in Sada, the start was again delayed, leaving many to fight off mental fatigue on land rather than on the ocean. "This year has been really tough," said Marie." The wait could have been very demotivating and the more we waited, the harder it was to get into race mode. I really took care never to let it unsettle me."
Beyond the mental and physical challenges, this was the longest distance Mini Transat ever, and although very windy, perhaps the most enjoyable for racers. "Of the 3,700 miles of this leg I think I was close-hauled for just three, out of the Bay of Sada," said Marie. "Everything else I sailed downwind … and that was truly magical."
One of the ways in which Mexico is culturally different from the United States is that for many years some laws seem to be enforced very loosely, if at all, then all of a sudden a government agency seems to go over the top with enforcement. That's what has happened recently with the Servicio de Administración Tributaria (Tax Administration Service) branch of the Mexican government. On November 26 members of its staff began checking the Temporary Import Permits of all the foreign boats in a total of 10 marinas.
In the case of marinas in San Carlos, Kirsten Grossman de Zaragoza, the general manager of Marina Seca, says 40 inspectors showed up. They were backed by 30 heavily armed guards from the Armada, apparently in case boat owners decided to resist. Similar scenes played out up and down coast. To show how determined the SAT was, Grossman reports they worked through the night until 6 a.m. — although they didn't set foot on any boats.
A Temporary Import Permit (TIP) allows foreigners to bring their boats in and out of Mexico as many times as they want without having to pay import duty. When we got ours for Profligate back in 1997, they were good for 20 years. More recently, they have been good for just 10 years. The cost is a very reasonable $50.
The easiest way to get a TIP is to apply online at www.banjercito.com.mx. It takes about 14 days to get a TIP. Meanwhile, you can use your credit card receipt as proof that you are in the process of obtaining a TIP. "I applied for three TIPs online in the last few months," reports John 'Woody' Skoriak of Sausalito. "They were sent to me almost immediately by DHL. It was a much more efficient process than U.S. Coast Guard documentation."
The other way to get a TIP is at a port that has a Banjercito, which is a Mexican military bank. This would mean places such as Ensenada, La Paz and Puerto Vallarta, but not Cabo San Lucas. But doing it online is the easiest and least time consuming.
In the past, nobody seemed to care that much about TIPS. As long as your boat didn't stay in Mexico longer than the length of your tourist visa — 180 days — and as long as you didn't leave Mexico without your boat, you theoretically didn't need one. While most marinas asked for a copy of your TIP when you checked in, lots of them didn't follow through if you didn't have it on you when you first came into the office. Now all foreign boats need them, and all marinas are insisting on seeing them before allowing any boats in.
We talked to many people who had their boats checked by officials from SAT, and all went swimmingly. Those who didn't have their TIPS on file with the marina were given five days to have one on file with the marina office. For example, four days and 22 hours into the deadline, the Wanderer and Doña de Mallorca, traveling inland, knew nothing about it. We then, while riding a bus from Guadalajara back to La Cruz, got a call from Mike Danielson of PV Sails saying the marina office needed a copy of Profligate's TIP within the next 90 minutes. Fortunately, de Mallorca knew where the document was, and Danielson took it up to the Marina Riviera Nayarit office. Once that was done, we were good.
To our knowledge, no boats on the hook were checked for current TIPs.
For whatever reason, apparently a lot of foreign boats either didn't have a TIP or didn't have one on file with the marina — the latter, in theory, being "responsible" for your boat if you leave the country without your boat. Those not in compliance with the TIP law were/are subject to fines and even seizure, although we have yet to hear of any boats being fined or seized, and we certainly don't expect any boats to be seized.
A couple of days ago we received an email from a friend of John Hards of the Beneteau 36 Pelican, currently in a marina in Nuevo Vallarta, saying Hards reported that, as of November 29, "60 boats had been seized" by "rogue officials," and that "yellow tape had been used to secure the seized boats." According to the email, "[Hards'] new TIP, validated by the military and Banjercito, had been declared invalid by the rogues." His new TIP, it was said, didn't show up on SAT's computer so, according to this letter, his boat had been 'seized', with yellow tape put around it, and Hards was not allowed to stay onboard. The friend was shocked because Hards had been cruising Mexico for 16 years, was laid back and well-known by locals, was familiar with the customs, and never had had a bad word to say about Mexico. The email ended with "have had no reply and no radio contact" with Hards, mildly implying that he might be in a wretched Mexican prison, likely never to be heard from again.
The term "rogue" is incendiary, of course, as it suggests out-of-control government officials imperiously abusing foreigners. While there may be some truth to this in cases of DWG — 'driving while gringo' — just before Christmas when officers need to buy presents for their kids, it hasn't been our experience with boats in Mexico. And we've had a boat in Mexico almost every winter for three decades now.
Fortunately, and not surprisingly to us, Hards is not in a Mexican prison. The SAT officials aren't "rogue." His boat wasn't "seized" in any common understanding of the term, or even wrapped in yellow tape. Furthermore, Hards will not have to make the long trip to Guadalajara to clear things up because the Port Captain in Nuevo Vallarta will take care of it. According to Hards' update email, the problem was that the marina Hards' boat was in didn't have his boat's TIP on file.
What is the chance of a boat being confiscated in Mexico over a TIP violation? We believe nil. There was a minor stink a number of years ago when, as we recall, the owners of about four foreign boats in Mexico were not only found to not have TIPs, but inexplicably refused to get them for their boats. As we recall, after government officials all but pleaded with these folks to come in compliance with the law, the boats — all of them old and beat up — were indeed seized. But trust us, the Mexican government wants two things: 1) Marine tourists in Mexico to be happy; 2) Marine tourists to respect and comply with Mexican law. Fortunately, it's easy to accomplish both.
Receive emails when 'Lectronic Latitude is updated.
SUBSCRIBE