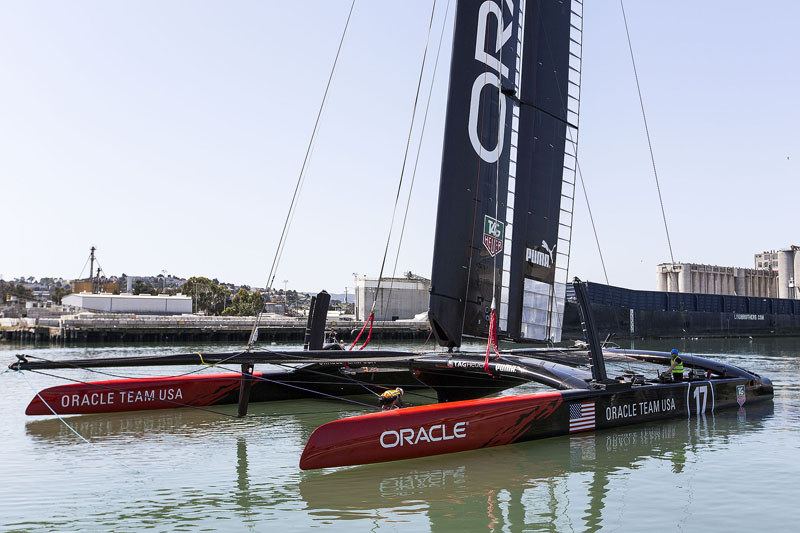 Among well-funded America's Cup teams, it's been a longtime tradition to build at least two boats so that different design subtleties can be assessed during boat-on-boat training sessions. With the launch of Oracle Team USA's second AC72 yesterday at San Francisco's Pier 80, the 'home team' now has that capability.
Although the team's CEO Russell Coutts didn't give details about specific differences between the first and second boat, he did acknowledge the monumental effort put forth to produce it, while hinting at its much-improved speed potential: "It represents extreme performance and extreme engineering. It represents a significant improvement in performance over where we've been before. And probably most importantly, this represents the boat that is going to defend the America's Cup, for America, in America."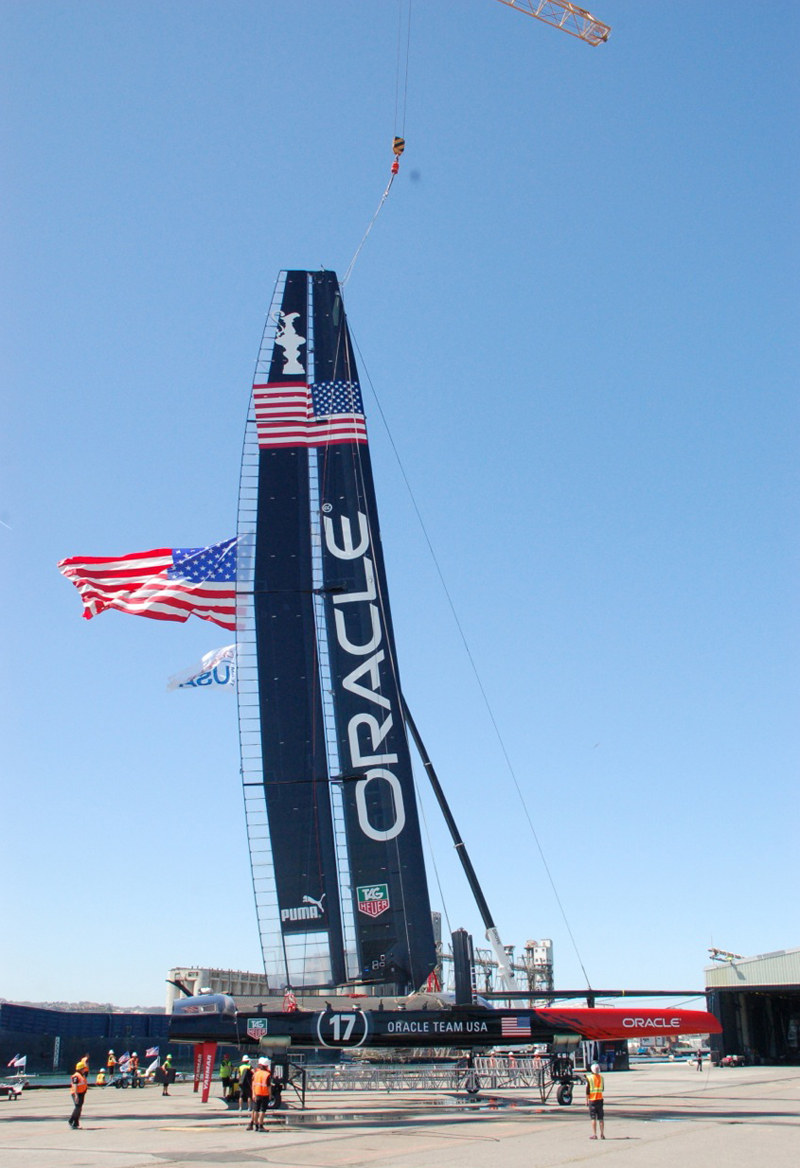 In the aftermath of the now-famous capsize of the team's first boat last October — which resulted in its wing mast breaking up offshore — they went through a frustrating period when on-the-water training was stalled. But now, with two boats on the water, it's obvious that spirits are high and all systems are go: "Now, it really feels like we have everything pointed in the right direction," said trimmer Joey Newton, "and we're starting to make pretty big steps. We've got high hopes for this boat, and I'm sure it's going to be fast."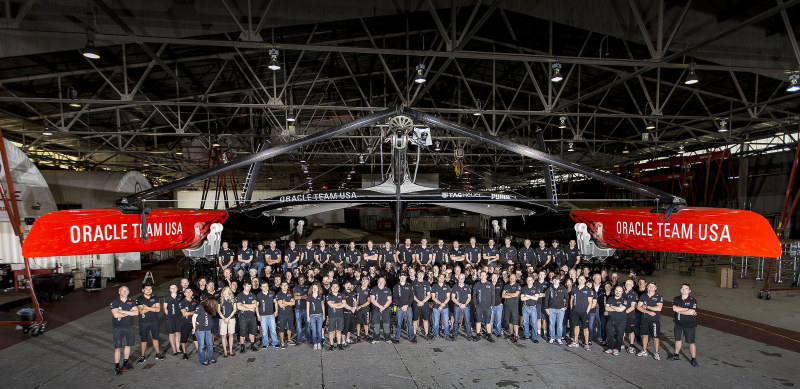 Meanwhile, the other 'home team', the American Youth Sailing Force, which will compete in AC45s during the Red Bull Youth America's Cup (September 1-4), is also continuing its training activities with high spirits. They put a shout-out to local supporters yesterday that they've recruited a young intern to serve as their office manager, and are looking for a (free) place for her to stay this summer. So if you've been looking for a meaningful way to support the team, this may be your opportunity. As the team's Media Manager Vince Casalaina points out, "Best of all, you'd have an inside track on the hottest sailing that's going to happen this summer." Email him here.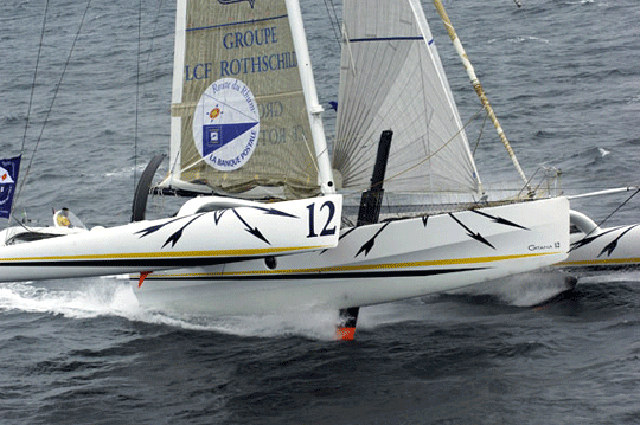 In a recent 'Lectronic about Lloyd Thornburg's Gunboat 66 Phaedo leaving the Caribbean for the July start of the TransPac, we wrote that it was too bad their only competition going to Hawaii would be a Lagoon 45 cruising cat. That statement was based on the TransPac entry list as of a few days ago. John Sangmeister of Long Beach, we're told by Jim Anderson and others, is intending to enter his 72-ft trimaran Tritium the TransPac also. That would be a load of competition for Phaedo.
Tritium started life as the ORMA 60 ocean racing trimaran Gitana 12. She was then brought to Alameda by the Artemis America's Cup syndicate, lengthened to 72 feet, and tricked out to become the test platform for their wing. By putting the wing on a trimaran instead of a catamaran, Artemis was able to circumvent the rules and test their wing before other syndicates.
Sangmeister, a very experienced sailor, became the new owner of the tri a few months ago, and has stated that his goal is to beat the TransPac multihull record of 5d, 9h. That record was set in ancient history — 1997 — by Bruno Peyron aboard the then 86-ft Commodore Explorer. It's as soft as a creampuff.
There are currently 62 entries in the TransPac so far, and with the entry deadline on June 1, plenty of time for Tritium and others to still join the fleet. This year's big guy is Syd Fischer's Elliot 100 Ragamuffin from Sydney. Fischer is tied with Sir Thomas Lipton with the record for America's Cup challenges at five. But the more remarkable thing is that Syd was born in 1927, which makes him 86 years old!
American entreprenuer James Clark founded several very successful Silicon Valley technology companies, including Silicon Graphics and Netscape, and after he did, got into sailing in a big way. After striking it big, he moved up from a Baltic 55 to the 156-ft sloop Hyperion. Then he really got the bug and had the Royal Huisman Shipyard build him a 295-ft three-masted schooner Athena, which is one of the two or three biggest private yachts in the world — depending on how you define 'big'. Since you don't race a yacht like Athena, Clark had Huisman build him a modern version of Tommy Sopwith's 135-ft 'Super J' J Class yacht Endeavour II, and named her Hanuman. The ape-like humanoid Hanuman is, of course, the son of Lord Vayu and the incarnation of Lord Shiva. He is the central character in the Indian epic Ramayana.
Clark had a great St. Barth Bucket, as Hanuman won all four races against a fleet of four other outstanding J Class yachts. Having done that, we're told Athena and Hanuman are headed for San Francisco Bay to be around for the America's Cup festivities.
As you can see from the accompanying photo, Athena is equipped with a large inflatable slide, which enables Clark and friends to get into the water quickly from the upper level of the great schooner. It's a neat thing in the tropics. But we wonder if it's going to get any use in the more chilly waters of San Francisco Bay.
Receive emails when 'Lectronic Latitude is updated.
SUBSCRIBE