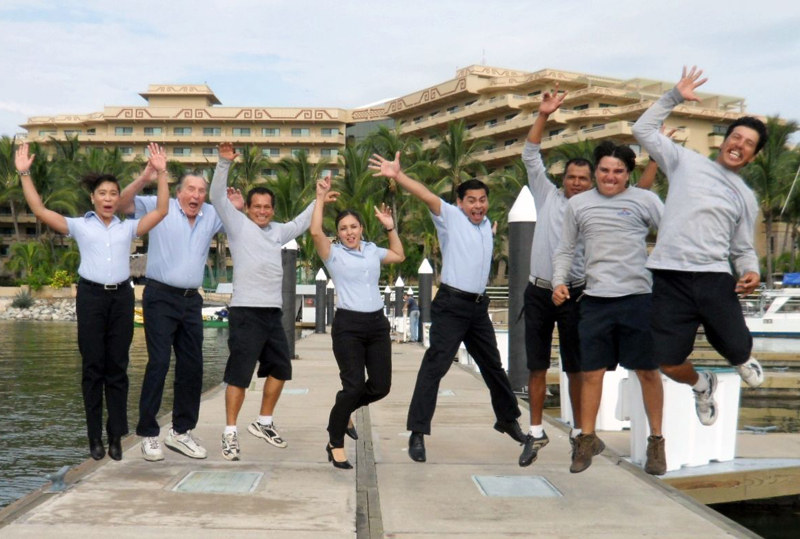 We don't know the full details of Paradise Village Marina's recent upgrades, but by the looks of this photo the entire staff was pretty dammed glad when the project was completed. If you've been to the marina in recent years — which is located just outside Puerto Vallarta in Nuevo Vallarta's Paradise Village Resort — you know that demand for megayacht berthage inspired Harbormaster Dick Markie to add a number of enormous slips a couple of years ago, and those efforts are apparently continuing.
We're told there's still plenty of room for typical cruising boats, however. In fact, specially discounted rates have just been announced for this year's Pacific Puddle Jumpers. Oh, and in case you were wondering, no one was injured in the process of taking this photo.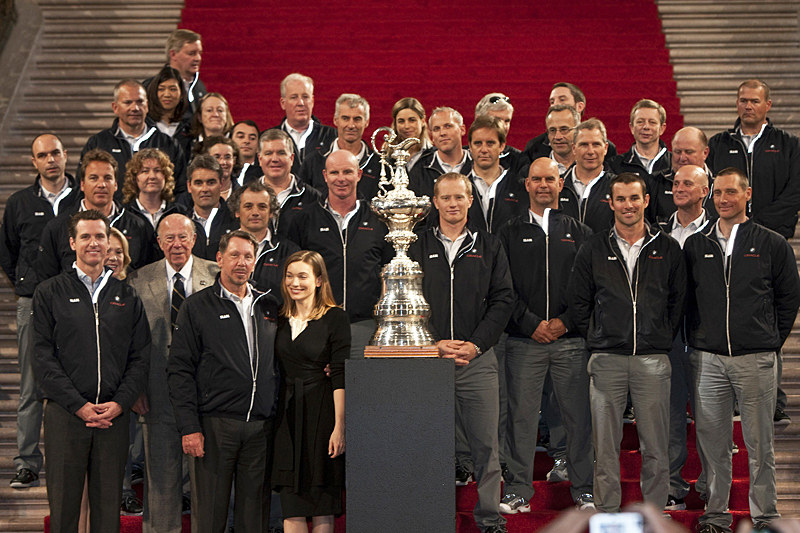 Did you miss the victory presentations made by BMW Oracle Racing in the spring? Do you want to see the Cup in person? You'll get your chance at Oracle Openworld 2010 at the Moscone Center September 19-23. Tom Ehman, Ian "Fresh" Burns, and others from the team will be on hand to present the Cup on the 19th at 7:45 p.m, the 20th and 21st at 10:15 a.m. and 3 p.m., and the 22nd at 10:15 a.m.
Normally you'd have to pay $75 to get into the "Discover" portion of Oracle Openworld 2010, which gives you access to OpenWorld, JavaOne and Oracle Develop. But the team is offering free admission to the event exclusively for readers of Latitude 38 and Scuttlebutt so sailors get a shot at seeing the cup as well. To get your free admission, you need to do the following:
Go to www.eventreg.com/oracle/openworld2010/sanfrancisco/attendee
Then select "Discover" on the home page. On the login page you'll need to enter an email address, create a username and password and enter the code: ODL10. Then you'll fill out your contact info, and complete a short survey asking you about a bunch of things that were over our heads — we just checked "n/a" on all of them. Then you're good to go. If all the stuff on the surveys makes sense to you, then you'll probably want to stay for the other stuff!
In his controversial article in the August issue of Latitude 38, Max Ebb mentioned the book Saving Sailing by Nick Hayes, in which Hayes lays out a plan to help boost the declining number of sailors in the U.S. In his first-ever West Coast appearance, Hayes will discuss his ideas for saving sailing tomorrow night (September 9) at Corinthian YC — the doors open at 6 p.m. with the program starting promptly at 7 p.m. The event is open to the general public, and costs just $10. A buffet dinner will be served for $12.50 in advance, $15 at the door. Reservations are highly recommended. Autographed copies of Saving Sailing will also be available for sale.
Receive emails when 'Lectronic Latitude is updated.
SUBSCRIBE