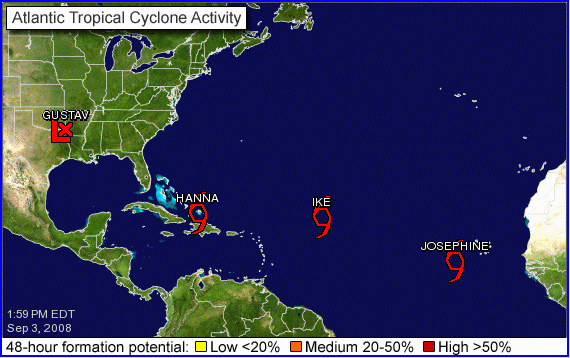 Luckily for Gulf Coast residents, the damage inflicted by Hurricane Gustav wasn't nearly as bad as some experts had predicted. No sooner had coastal residents breathed a sigh of relief, though, than they realized that three more named storms are currently brewing in the Atlantic — there's also storm action off the Pacific coast of Mexico.
Tropical Storm Hanna is currently marauding through the southern Bahamas on a northwesterly track with sustained winds near 60 mph. NOAA advises that she may regain hurricane strength Thursday or Friday. Next in line is Ike. Now lying 740 miles east-northeast of the Leeward Antilles Islands, he is currently near hurricane strength, and has the potential to build to a Category 2 hurricane (96-110 mph winds) before reaching the Bahamas and Hispanola early next week. Lined up behind Ike is Josephine, already the 10th named storm of the season. With perhaps eight more expected, 2008 is shaping up to be a particularly active year.
Meanwhile, the storm outlook on the West Coast is quite a bit rosier. A quick look at a weather map might lead you to fear that Tropical Depression Karina is poised to soon slam into the southern tip of the Baja Peninsula. However, she is only packing winds of 30 knots, and is fortunately heading west.
But hang onto your hats. It's still only early September, so we haven't yet reached the statistical peak of hurricane season on either coast. For up-to-the-minute info on storm activities, check out NOAA's excellent resources at the National Hurricane Center.
Receive emails when 'Lectronic Latitude is updated.
SUBSCRIBE