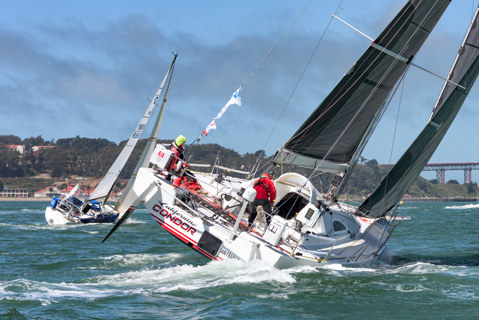 After Monday and Tuesday's starts, the bulk of the fleet — 50 boats — are now underway in this 19th edition of the Pacific Cup, the epic 2,070-mile race from San Francisco to Kaneohe, Oahu. With both starts taking place in nearly perfect conditions according to both spectators and sailors alike, all starters were flushed out the Gate quickly by moderate breeze and an ebb current. Once outside the Gate, the fleet was aided by reliable pressure that allowed competitors to make their way out of the Gulf of the Farallones, with its often-fickle evening winds, and west toward the islands. The fleet is now making steady progress toward Oahu in what is shaping up to be a quick race. Early concerns about a series of tropical storms and hurricanes are beginning to dissipate as these systems lost strength more quickly than predicted, although the fleet and race committee are still closely monitoring the situation.
The West Coast classics in Monday's start are thus far at the top of the rankings, with Cal 40s currently first and third in fleet overall and a Moore 24 in second, although the solid pressure offered in the second start has allowed a pair of Tuesday starters to quickly move into the top five positions. With both starts taking place in ideal conditions and getting the fleet offshore quickly, competitors from both starting days still have everything to play for as neither start benefited from significantly better conditions than the other.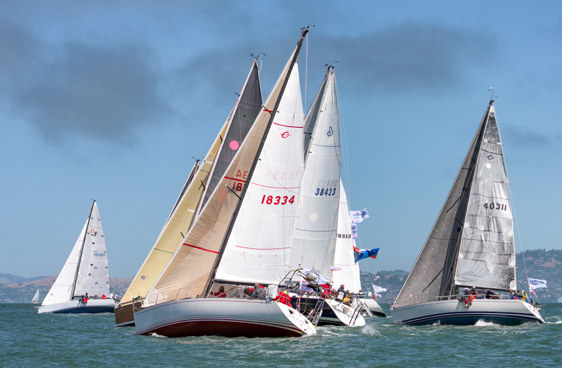 Walter Smith's Richmond-based Cal 40 Redhead, with renowned sailor Robin Jeffers aboard, has moved into a commanding lead in division A and also leads overall. Steve Calhoun's Cal 40 sistership Psyche appears to be the only boat that has been forced to turn back thus far. She is headed to Monterey Bay. Mark English's Moore 24 Mas! led the fleet overall for much of yesterday, though she has slipped to second overall. Mas! still leads the DH 1 division, but is in a close battle with Rowena Carlson's Cal 40 Nozomi.
Tuesday's top starters look to be Shawn Ivie's Express 37 Limitless and Dean Treadway's classic Farr 36 Sweet Okole. The two boats have quickly moved up the leaderboard to 4th and 5th overall, with fellow Express 37 Elan close behind in sixth overall. Leading the Latitude 38 cruiser's division and currently the closest boat to Hawaii is Rick Niello's Jeanneau 57 Ticket II.
The quickest boat in the fleet at the moment is — not surprisingly — Hill Blackett's custom Jim Antrim-designed Class 40 California Condor, which is currently smoking down the track at close to 10 knots of boat speed. However, she is correcting out behind Charles Devanneaux's Beneteau First 30E Sailing for ALS, which leads the DH 2 division.
The nine-boat ORR D division is the sole division to start on Thursday, while the Maxis will start on Friday. Both starts look to also benefit from quick conditions. Stay tuned to for more updates here, and see the event site for additional details.
Receive emails when 'Lectronic Latitude is updated.
SUBSCRIBE