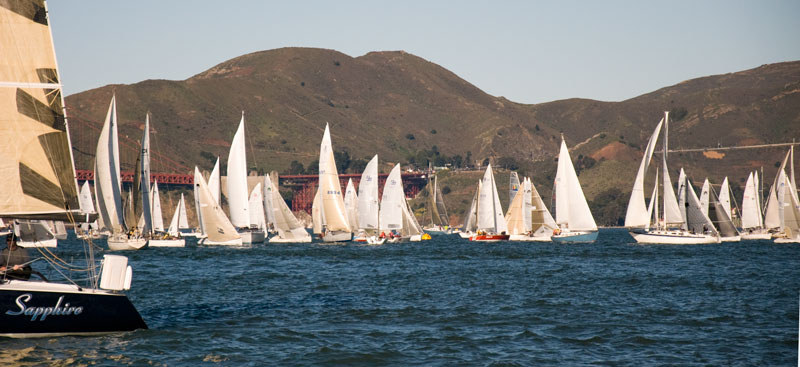 As of this morning, 342 boats were signed up for Saturday's Three Bridge Fiasco, the most popular — and nuttiest — race in the region. If you've been procrastinating, you still have a few more hours to enter; registration will remain open until midnight, but after that you're out of luck.
We encourage you to attend tonight's skippers' meeting at Oakland Yacht Club in Alameda. The bar will open at 7 p.m. with the meeting beginning at 7:30. Kame Richards of Pineapple Sails, one of the Bay's most consistently successful racers, will give a talk on strategy.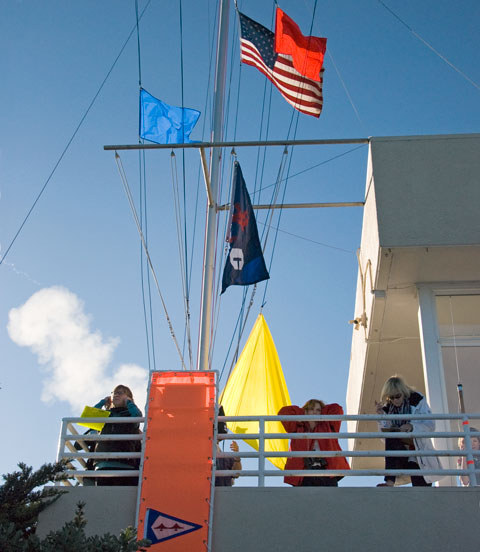 In case you can't make the meeting, here a few tidbits that are likely to be mentioned:
The Three Bridge Fiasco is the first race of the SSS season, which includes three more regattas on the Bay and four on the ocean. Only boats submitting 2015 or 2016 PHRF certificates will be scored in the overall standings for the season, but TBF is popular with one-design fleets, some of which use it as part of their own championship season. As such, boats without PHRF certificates competing as part of a one-design class of five or more boats may be scored in this particular race if approved by their class association.
For the past two years, the SSS hasn't required radio check-ins for the Three Bridge, but they will this year. If your sail number ends in an odd numeral, check in on the regular race frequency, VHF 69; even numbers check in on 72, which will be used for check-in only. Be sure to check in at least 10 minutes before your assigned start time.
Alternate propulsion (motoring or paddling) cannot be used within five minutes (not four minutes) of your assigned start time.
The race committee will not hail over-earlies; rather 20 minutes will be added to their time. The start-finish line is restricted. Cross it only when you're starting or finishing. Go around it if you're traversing the Cityfront from Treasure Island to Blackaller or vice versa. Take careful note of the other restricted areas, which are detailed in the SSS Standing Sailing Instructions and Additional Sailing Instructions, both of which you'll want to read carefully and bring along on the race.
Crews finishing after 5 p.m. should hail the race committee on VHF 69 when they're approaching the finish line. Those finishing after dark are asked to illuminate their sail numbers. No matter what time you finish, make a note of your time and the boats finishing immediately in front of and behind you — just in case.
Every entry must check out. If you don't finish, hail the RC on VHF 69 to drop out, or a leave a message on the SSS voice mail at (866) 724-5777. If the race committee volunteers don't hear from you, they'll hunt you down — worse yet, they'll call your mom.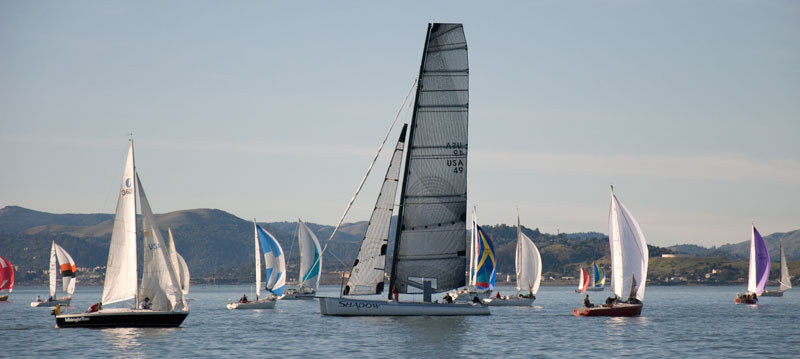 The concept of the race is simple; the execution is anything but. Since it's a pursuit race, handicaps are figured out ahead of time and boats start at their prescribed time. They can cross the start line in either direction and visit the three bridges in any order and in any direction, then finish in either direction. The three rounding marks are: Blackaller Buoy (Golden Gate Bridge), Yerba Buena/Treasure Island (Bay Bridge), and Red Rock (Richmond-San Rafael Bridge). Simple, right? So, which way are you going to go?
To help with the decision — or at least prolong the discussion — we'll share a forecast from Sail Tactics in Friday's 'Lectronic.
Oh, and did we mention that this race is for doublehanders and singlehanders only?
All the relevant documents, online registration, and the current entry list can be found on Jibeset.
Receive emails when 'Lectronic Latitude is updated.
SUBSCRIBE