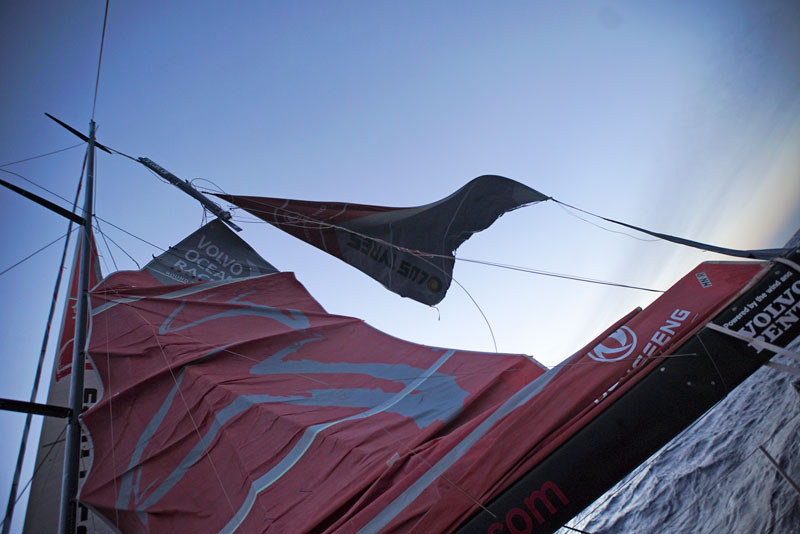 Dongfeng Race Team's crew was not injured when, in the middle of the night, the top section of the mast broke on their Volvo Ocean 65. At the time, they were 240 miles west of Cape Horn, sailing on the twelfth day of Leg 5 from Auckland, New Zealand, to Itajaí, Brazil, in the Volvo Ocean Race.
Reached via Inmarsat, French skipper Charles Caudrelier said they had been intentionally backing off a bit, "not attacking in any way. The mast broke without warning, in about 30 knots of wind. We are unable to sail safely on starboard tack, but we are able to make reasonable speed on port tack. We will head towards Ushuaia and assess our options for getting to Itajaí." The Maritime Rescue Coordination Center is on standby to help if necessary.
The crew is now making headway to the entrance of the Beagle Channel, a strait on the extreme southern tip of South America. They're expected reach the entrance of the Channel during the night.
"All good. Everyone is still healthy. Few broken bits and pieces," reports Irish crewmember Damian Foxall. "We're sure we'll be able to recover the rig with what we have. We have just got to cut the Frac 0 [Fractional Code Zero headsail] off the back. "We still have quite a few hours before we get to the coast. We're slowly working through it, but we have got to be careful. Everything you do has a chain reaction. So we're just taking our time and we're making sure that we don't make things more complicated than they already are. Last night was complicated enough.
"We really cannot do much more to stabilize the situation right now," said Foxall. "At some stage I think we are going to have to go up there and cut some stuff off."
Dongfeng has not yet officially retired from Leg 5, as they are still considering the possibility of continuing on from Ushuaia under sail once the rig has been fully stabilized and the boat checked, to sail back west and around Cape Horn, and on to the finish in Itajaí. Finishing the leg in last place will score six points, whereas a DNF (Did Not Finish) following an official retirement would score eight points. "This is not over," said Caudrelier.
Updates on their situation will be added to this page: www.volvooceanrace.com/en/news/8674_Dongfeng-Race-Team-breaks-mast-crew-safe.html.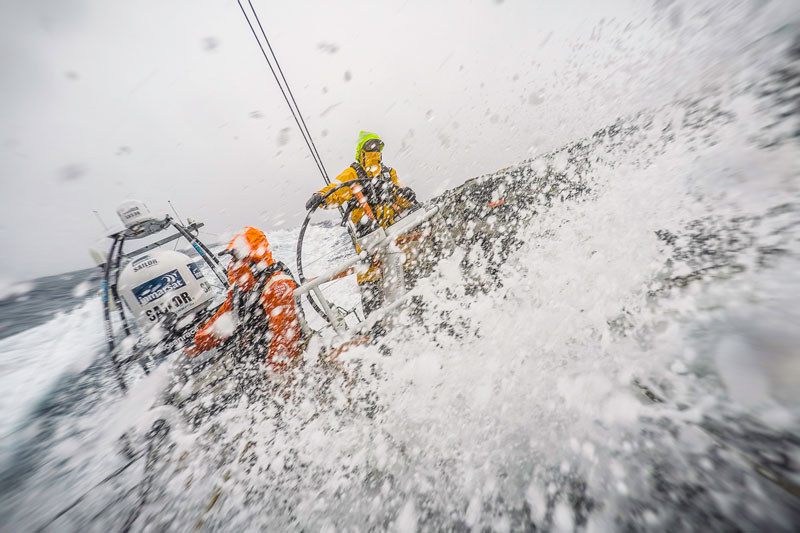 Over the weekend, conditions in the Southern Ocean tested the fleet with winds of 40 knots and waves approaching 30 feet. "It was completely insane," Team Alvimedica's American skipper Charlie Enright said of the racing on Saturday. The U.S./Turkish entry is now in the lead, but the top four teams are rounding the Cape within about 26 miles of each other.
Receive emails when 'Lectronic Latitude is updated.
SUBSCRIBE