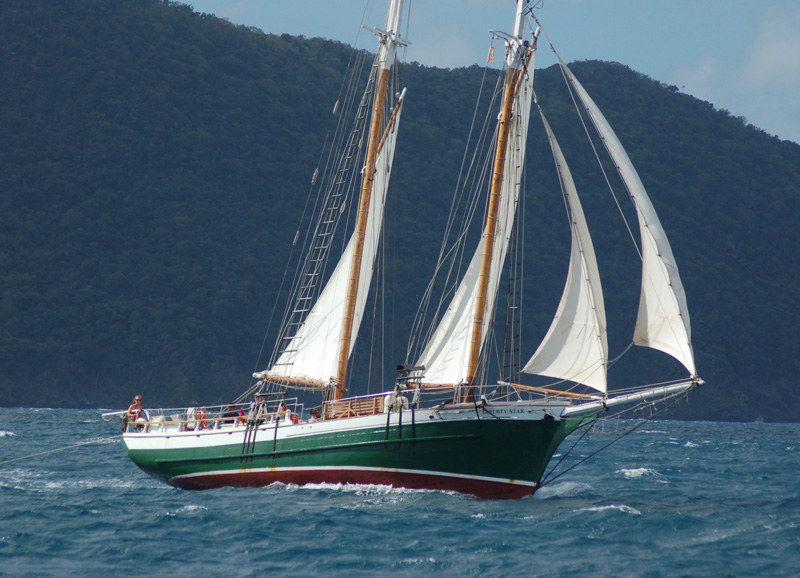 When friends Lynn and John Ringseis invited my wife and I to fly down to the British Virgin Islands for a week of sailing aboard their cat Moonshine, it didn't take us long to decide: "Yes! Absolutely! Put some Heinekens on ice and we'll be right down."
Although I'd spend the 1980s living and working in the Virgins, it had been six years since I'd returned for a visit. Here's a quickie report on a few things that have remained the same, and some things that are new and different.
First, the Eastern Caribbean's warm waters are as blue and inviting as ever. The trade winds blew briskly throughout out visit — 18-to-25 knots. And we were told that similar winds were seen all through December and January. So if you'd like to get out and blast around the tropics in San Francisco-style breezes, this could be the year for a Caribbean getaway.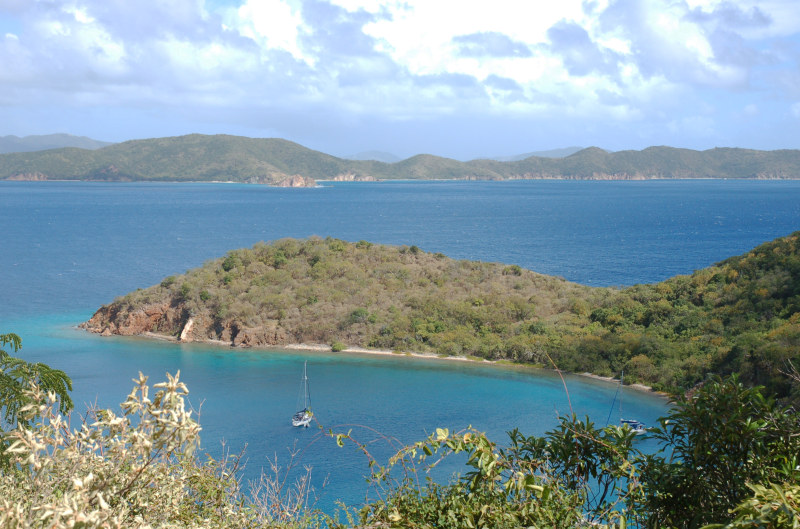 As wonderful as the BVI is as a sailing destination during the winter months, there's no denying that the anchorages are crowded with bareboats. But the fact that there are more easy-to-grab mooring balls than ever — now even at White Bay, Jost Van Dyke — makes it simple to find a worry-free spot to overnight (for a $30/night fee). That is, once you successfully get a mooring ball's pennant rigged to your mooring lines.
Back in the days before mooring balls, one of the local sailors' favorite sports was watching knucklehead neophyte boaters struggling to successfully anchor their rented craft. Almost invariably, the husband would stay at the wheel, sending his poor wife to the bow to wrangle the anchor and rode. He would then roar up to a choice spot, give the command to "Let her go!" while still moving forward, then crunch his tranny into reverse and accelerate backwards, ripping the anchor from the seabed before it even began to set. This Keystone Cops routine would repeat itself again and again, with the dialog between husband and wife becoming more colorful and intense, i.e: "No it's not my fault, you friggin' idiot. If it's so easy to set an anchor, then why don't you drag your fat ass up to the bow and set it yourself!"
Sadly, the BVI's well-maintained fields of mooring balls have robbed us of such rich entertainment — but not entirely. In a popular spot like The Bight on Norman Island, bareboaters still put on an occasional show. There was this guy (below), for example, who raised his main while still hooked up, with the winds blowing 20 knots. He then disappeared below for 15 minutes or so while his little sloop lashed back and forth like a quarter horse struggling to break free of a starting gate.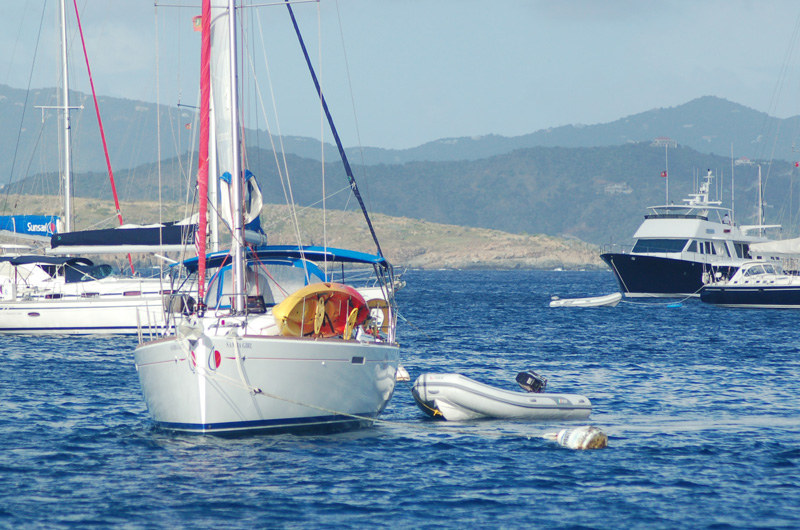 There was also this group of fit young Dutchmen who were participating in an annual interisland racing circuit for Europeans. Their problem wasn't lack of technique, but they chose a mooring ball that had no pennant. So, after a couple of tries to lasso it — dropping their boathook in the process — they did the sensible thing and dropped a crewman in the water to secure the ball. No problem.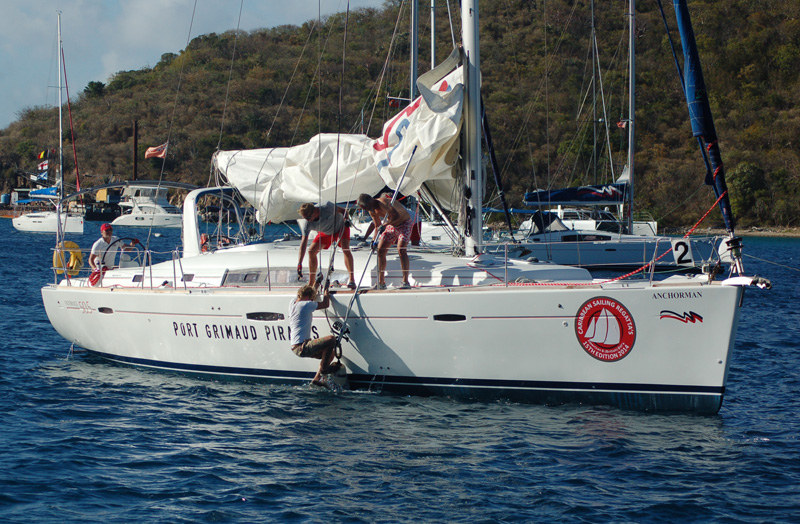 No sooner had that drama played out than another began. It seems the helmsman of a big sloop was so intent on threading his bow through the fleet, that he forgot to beware of his dinghy's track, which was trailing behind on a long painter. Sure enough, the painter got entangled in a mooring ball which pulled taut, causing the big sloop to wheel around helplessly, bashing into the side of another bareboat.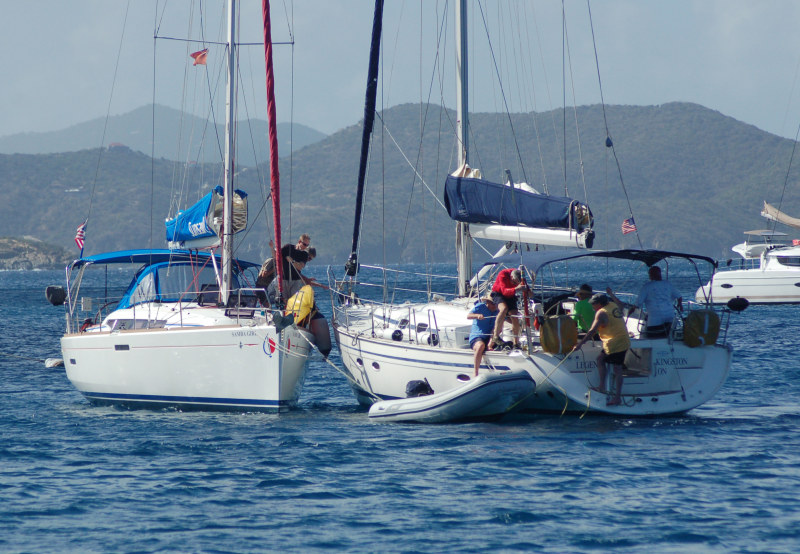 At the head of the anchorage a newer, bigger, better version of the Pirate's Bar is being built, as the original was mysteriously burned down. Across the anchorage the notoriously rowdy Willie T floating bar and restaurant, still attracts a spirited crowed of revelers at all hours of the day and night. They no longer offer free T-shirts to girls for stripping off their tops and jumping off the upper deck, but that doesn't stop an occasional exhibitionist from getting sexy. Within five minutes of arriving by speed boat from St. Thomas, one spirited gal — who'd arrived topless — climbed up on the bar and offered her navel for body shots and her breasts for whipped cream sampling.
Like we said, some things have changed, but others remain the same. And who are we to mess with tradition?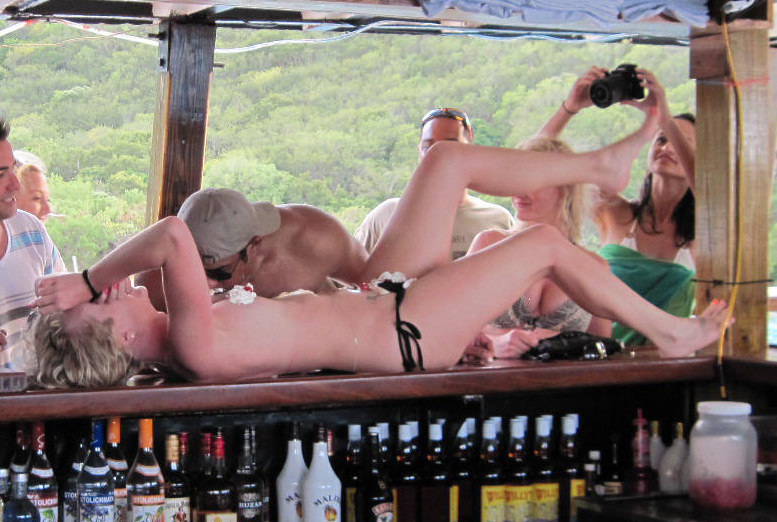 On January 29th we reported that Russell Coutts, Oracle Team USA's CEO, was frustrated that the city of San Francisco had not offered the same terms and conditions to the America's Cup Event Authority for the 35th America's Cup as they had for the 34th. And perhaps as a way of pressuring the City, he conceded that he wasn't optimistic about this change of heart and that he was looking at other venues for the 35th America's Cup.
Today, in an interview with the San Francisco Chronicle, Coutts put more pressure on Mayor Ed Lee and his negotiators letting it be known that he has opened-up a competition among five different venues to host the Cup. Two were specified, San Diego and Hawaii, and a third was described as a "northern state," likely alluding to Rhode Island.
"I was hoping we'd be able to complete a deal (with San Francisco) – because everyone knew what it was – relatively quickly," said Coutts. "Perhaps that was too optimistic."
A decision on where the 35th America's Cup will be held, the kind of boats that will be raced and the racing rules were to be announced March 1. Because of the current state of talks, however, many of these decisions have been moved to this summer.
"Now that we've had to go out to other venues, we've got to obviously do our due diligence on that," Coutts said. "Let's wait and see what they come back with."
In related news, Oracle Team USA has announced their design team for the 35th America's Cup. Eleven of the designers are from the United States. This might hint at a future nationality rule that encompasses not just the racers, but overall team members.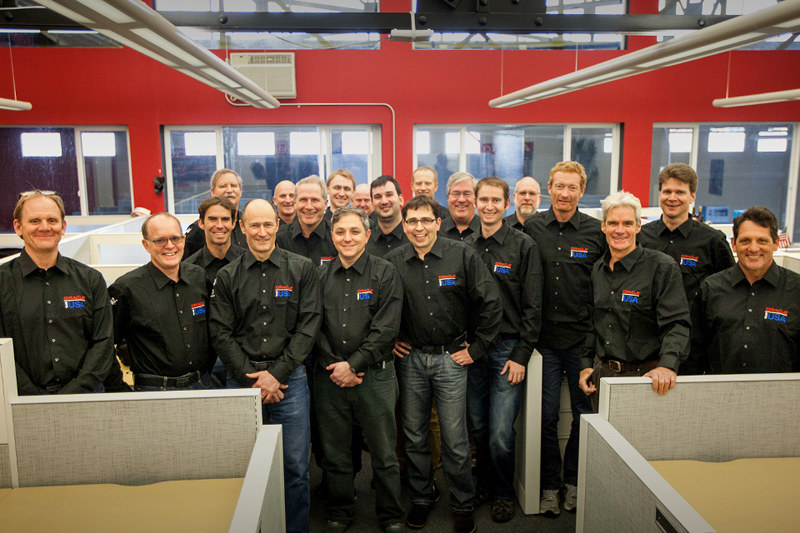 "We've collected a talented group of designers for this campaign and a majority of them are American," said Oracle Team USA's (returning) General Manager, Grant Simmer. "We have a good mix of experience and expertise across the disciplines where we think the design challenge for this next America's Cup will be contested."
Two of the newest Americans to join the team are Len Imas and Hal Youngren. Youngren was recruited from none other than Team New Zealand in the 34th America's Cup.
"In many ways, the release of the design rule is the starting gun for the 35th America's Cup," said Simmer. "From that moment on, the clock is ticking towards the start of race one, and time, which is your most precious currency in these campaigns, starts to get spent. We need to be ready to work from day one and spend our time wisely."
They won't be lolling around, they are scheduled to announce the parameters of the new America's Cup Class Rule sometime next month.
Designers will be getting Jimmy Spithill's feedback too, as he has also re-signed with the program, for his third consecutive America's Cup.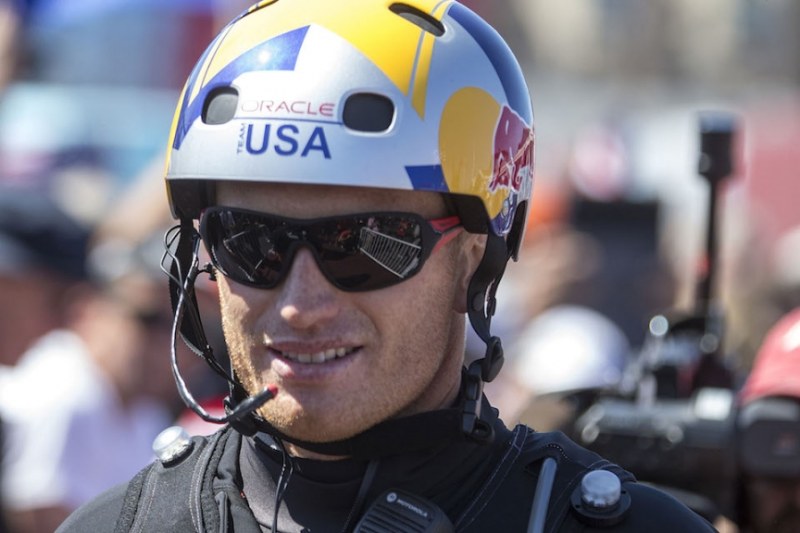 Oracle Team USA's design team for the 35th America's Cup includes: Paul Bieker (USA), Dimitri Despierres (FRA), Len Imas (USA), Hal Youngren (USA), Aaron Perry (USA), Bryan Baker (USA), Juan Vila (ESP), Scott Ferguson (USA), Christophe Elberding (GER), Thomas Hann (GER), Steven Roberts (FRA), Jose Luis Vela (ESP), Tom Speer (USA), Eric Jolley (USA), Andrew Gaynor (USA), Ian Burns (AUS), JB Braun (USA), Kurt Jordan (USA).
There are a lot of great regattas in the Caribbean, and depending on the criteria, many could vie for the title of 'the best'. But if the criteria is a 'spectacle of huge sailing yachts', none in the Caribbean, let alone the world, can compare with the St. Barth Bucket.

To be honest, last year's Bucket stumbled a bit, as for the first time in years it fell a few boats short of a 40-boat sell-out, and shoreside festivities were good, but not as inclusive or fun as in prior years. We're not sure what the shoreside festivities will be like this year's March 27-30 three 'fun race' event, but the entry list is as good as it's ever been. As evidence, check out the spectacular list of the nine biggest entries:
• Hetarios III, the green 220-ft Dykstra R/P carbon-fiber centerboard ketch that draws 33 feet with her board down. This will be the yacht's second Bucket. When she was brand new, the aggressive German owner kept urging the helmsman to shave some rocks ever closer at the leeward part of the course. Crunch! Her daggerboard hit, depositing 22 tons of the bottom of the board on the sea floor. Hetarios had to be taken back to England for repairs.
• Athos, the 203-ft Hoek/Jachtbouw schooner, is back for a second year in a row. She had to drop out of the third and final race last year when one of her massive sails, bricked on deck, rolled onto the leg of one of her crew, badly injuring his leg.
• Seahawk, the 197-ft Ron Holland / Perini Navi flybridge ketch. There will be six other Perini Navis in the Bucket, most luxurious, lumbering ketches.
• Twizzle, a sleek 190-ft Royal Huisman / Dubios ketch. A couple of years ago the only injury in the Bucket occurred after the last race when Twizzle's owner reportedly was demonstrating how the boat's gigantic hydraulic forward hatch worked. The story on the dock was that he guillotined a big toe.
• Zenji, 183-ft, another huge Holland / Perini Navi flybridge ketch.
• Adela, a 182-ft schooner that was built to a William Storey design 111 years ago (!), then extensively rebuilt at Pendennis Shipyard in 1995.
• Adele, a 180-ft Hoek/Vitters ketch. If we're not mistaken, Kenny Keefe of KKMI will be aboard. She was berthed at the America's Cup dock in San Francisco last fall.
• Marie, an aggressively sailed dark-hulled 180-ft sistership to Adele, which will be back for her third Bucket after a one-year absence.
Meteor, a 169-ft Dykstra / Royal Huisman schooner.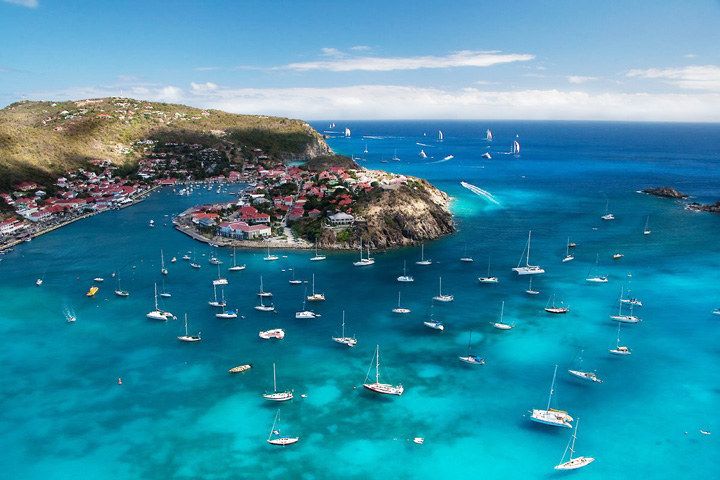 Other boats of particular interest are Hyperion, the 156-ft Frers / Royal Huisman originally owned by a major Silicon Valley figure, who has gone on to build a 292-ft schooner, a J Class Boat, and has yet another boat in build. (The press is asked to respect the privacy of the owners by not naming names.) The 147-ft R/P / Baltic Visione, owned by the world's richest software mogul not named Gates, Allen or Ellison. One of the early mega sloops, she's a previous winner of the Bucket and still very fast. Lady B, the 147-ft Dubois / Vitters that is usually the ride of Dawn Riley, who headed up the 2000 America's Cup challenge for the San Francisco YC. And Varsovie, the Frers / Swan 100 that has been run for the last bunch of years by Patrick Adams of Mill Valley. Last year their headstay inexplicably broke during the first race, and they had to drop out.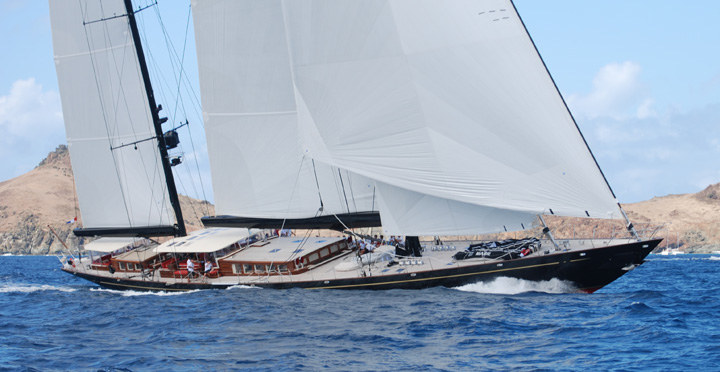 The Bucket is even bigger than New Year's for St. Barth, and all accommodations on the little island are invariably sold out. So if you want to be a part of the Bucket, you're two best options are: 1) Charter a boat from 15-mile distant St. Martin and come on over. Or, 2) Join the Wanderer and Dona de Mallorca aboard the Leopard 45 'ti Profligate for the week. We rent cabins — double bunk, shower ensuite — for $2,500. Half the week is spent spectating, half the week is spent cruising the island. We know St. Barth, and we know how to get super close to the boats under sail. If someone is looking for a full week of total mellow in the Caribbean, this would be a little too exciting.
The other opportunity to cruise with the Wanderer and de Mallorca aboard 'ti Profligate in the Caribbean will be the Voiles de St. Barth, April 14 to 19. Despite attracting a bunch of 60 to 100-ftd boats, as well as ones as small as Melges 24s, this is much more of a people's regatta, and much more exuberant — as in loud rock 'n' roll, whiffs of ganja on the docks, and partying as only French sailors in the Caribbean know how to do. Instead of watching the racing as during the Bucket, we'll be sailing aboard Caribbean legend D Randy West's recently restored 74-ft catamaran Ppalu, and partying afterwards until we just about drop. This is for the very energetic and young at heart — who nonetheless know how to drink responsibly.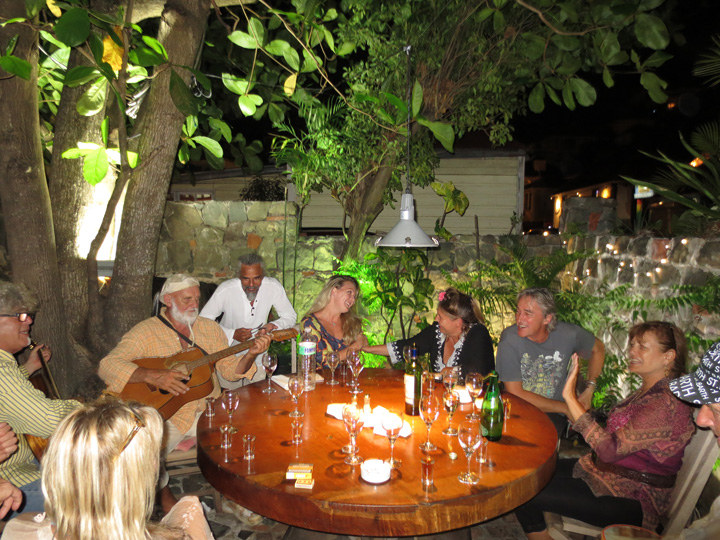 As Apple used to say, just one more thing: If anybody is looking to do a downwind, multi-island bareboat charter, 'ti Profligate is available starting on May 10 for a 12-day St. Barth, St. Martin, Anguilla, BVIs trip for a very special price.
To put things in context, sailing and doing regattas in St. Barth and the Caribbean is very different from in Mexico. The wind usually blows much harder, the boats are bigger and newer, and the crews are younger and party much harder. Alas, unless you know how to do it, it's much more expensive, too.
For further information on the Bucket and the Voiles, visit their websites. For details on getting a cabin aboard 'ti Proflgiate, email Dona de Mallorca.
Receive emails when 'Lectronic Latitude is updated.
SUBSCRIBE