All parents will agree that embarrassing their kids (in a good natured way, of course) is one of the great joys of parenthood. Giving your teenage son a big hug in front of his friends, showing silly baby pictures to his prom date, towing his new-to-him powerboat behind your small sailboat . . . wait, what?
That's just what Napa's Bill Crowley was called upon to do last weekend when his son Sean called to report his inboard had died and wouldn't start while he and his buddies were fishing in Carquinez Strait. The young men set their anchor and waited to for rescue.
"I hooked them up to a tow bridle made from a dock line and a piece of swim noodle I cut off my flotation stash, and towed them about two miles to the municipal launch ramp at Benicia," reports Bill. "I was towing them against a 1.8-knot ebb and this was the first time in the six years I've owned my Newport 23 Clarsa that the 2-hp Honda fell short. We were just barely making headway, but the wind was behind us so I raised the main and staysail, which had us clipping along at two knots. The crew of a commercial tug that passed by must have been amused at the sight of a powerboat being towed by a boat under sail!"
In the aftermath of America's Cup sailor Bart Simpson's death on May 9, representatives of the three challenging teams and the Cup defender, Oracle Team USA, have met several times behind closed doors to reassess their options going forward. Meanwhile, many within the local sailing community have been outspoken about their suspicions that the AC72s may be unsafe in typical San Francisco Bay conditions. Nothing confirms more clearly that the teams and event organizers share those suspicions than the Wednesday night announcement that upper-end wind limits for racing will effectively be reduced by 50%.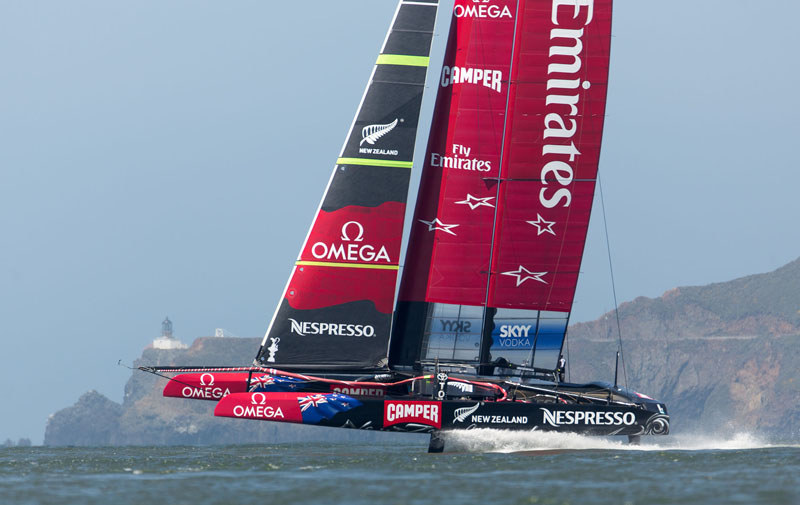 In his comprehensive list of "recommendations" to the fleet, AC Regatta Director Iain Murray specified the following: "Wind Limits: Reduced to 20 knots in July, 21 knots in August, and 23 knots in September, but with additional wind limit adjustments for tide and sea state." The original high end — for which the AC72s were supposedly designed — was 33 knots.
So, dropping to 23 knots for the AC 34 finals in September is a reduction of 10 knots. But there is, of course, a big difference between wind velocity and the actual force of the wind — which goes up exponentially as velocity increases.
We checked in with Latitude 38's resident brainiac Paul Kamen, who is a naval architect by trade, for an explanation. "Wind force follows very closely the square of the wind speed, everything else — angle of attack, lift coefficient, density of air — being equal.

"So the wind force in 23 knots compared to 33 knots is (23×23)/(33×33) or 48.6% of the force at 33 knots, or a 51.4% reduction in force."
The bottom line here is that dropping to a 23-knot limit is a major downshift — effectively like limiting a race car to third gear. Don't get us wrong, we're not saying we disagree with this proposal, as we too have our doubts about the safety of racing the 72s in the typical booming winds of mid-summer — especially during ebb currents when wind-against-current generates short, steep chop. The last thing we want to see is another tragic accident on the Bay.
In addition to upper-end wind limits, Murray's extensive list of recommendations calls for independent structural reviews of all boats, and all crewmen are recommended to carry and train on the use of an enhanced complement of safety gear, including hands-free breathing apparatus, buoyancy aids with quick releases, body armor, and underwater crew-locator devices.
It also is recommended that a minimum of two rescue boats support each AC72, staffed by a scuba diver and a rescue swimmer. A paramedic should be aboard one of these boats, and each boat should be equipped with a defibrillator, crew rescue nets, a spine board, a comprehensive first aid kit and more.
Release of this extensive list of recommendations — all of which seem prudent to us — begs the question: If these measures had been in place previously, might Simpson still be alive today?
The annual Hardway Race is one of Southern California's most unsung annual offshore offerings, and it lived up to its moniker last Saturday. A weak eddy resulted in an hours-long crawl to the 40-knot westerly breeze that generated it. But for the two starters who hung in there — Bill Guilfoyle's SC52 Prevail and Bernie Girod's Farr 400 Rock n' Roll — the reward was a 22-mile smash-fest down the backside of Santa Cruz Island.
Started off Santa Barbara by the Santa Barbara Sailing Club and finished by the Pierpont Bay YC in Ventura, the 67-mile course takes racers out across the Santa Barbara Channel, and through the Santa Cruz Channel. The Santa Cruz Channel is bounded by Santa Cruz and Santa Rosa Islands, and is one of the most consistently windy places on the California coast south of Point Conception. After the two boats traded tacks in a transition zone at the east end of Santa Cruz Island, Prevail converted a quarter mile of leverage to the east into a quicker exit from the Anacapa Passage to take elapsed time honors and a 15-minute corrected-time win — her third in six years — after the sprint to the finish inside the Ventura Harbor breakwater.
For the 14 starters in the simultaneous "Easyway" coastwise course, the eddy never broke, and only four boats finished, with Moll/Schlageter's 1D35T Misfit winning Coastwise Spinnaker A, and Bill and Dianne Miller's Capri 25 Superstition taking the Coastwise Non-Spinnaker honors. Paul Martson's Contour 34 Orange won the Multihull division. Full results are at www.pbyc.org.
Receive emails when 'Lectronic Latitude is updated.
SUBSCRIBE