On Friday, we told you about a small, unique remote control sailboat that we found on Rodeo Beach last week. The boat — named Edgar — was a customized RC Laser, which was about three feet in length, and equipped with solar panels, a small sail and an engine.
Seeing that the boat was designed for scientific research purposes, Latitude's Mitch Perkins rescued the stranded vessel from the surf and brought to our office in Mill Valley. Edgar's owner, Matthew Sanner, immediately tracked his little drone via a GPS transponder, gave us a call and showed up on Friday to retrieve his sailing robot.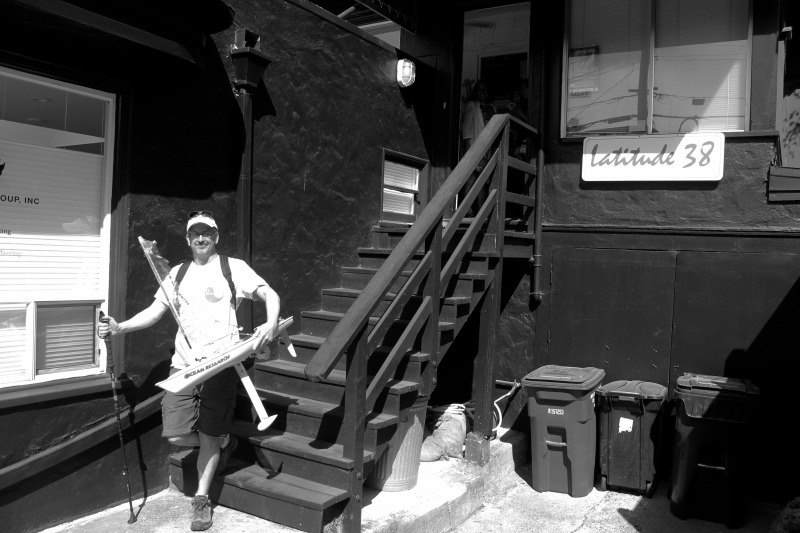 Sanner is a sailor, works in IT (information technology) and calls himself a citizen scientist and a 'maker', which could be considered synonymous with inventor ('Maker' is part of "a contemporary culture representing a technology-based extension of DIY culture, and revels in the creation of new devices as well as tinkering with existing ones," said Wikipedia). He's called his venture Pacific Bots, and started a blog.
Sanner hopes that his simple, inexpensive design can ultimatly be used as an affordable tool to collect an abundance of marine data, and hopes one of his boats will sail all the way to Hawaii one day, Sanner told us on Friday.
"I used to own a Cal 20 and sailed out of Coyote Point. But when my son was born, I had to give up the boat. But the love and desire for sailing have never gone away."
Sanner said that in 2013, he started programming Arduino microcontrollers, which is an open-source platform used for building hobby electronic projects. With some programming help from his brother, Sanner eventually came up with the idea for Edgar.
"I wanted to get back into the water," Sanner said, adding that he didn't want to simply send a remote control boat into the ocean just for the sake of doing it. He wanted the boat to have a mission.
"I'm evolving the ethics that goes into this project," Sanner said. "What if the boat could bring back something of value to the scientific community? I love the whole autonomous thing, I want to build more boats, because they're easy to build."
Edgar, which is a prototype for what Sanner hopes will be a fleet of similar vessels, has the ability to take temperature and pH readings, and send the data back to shore via satellite. Sanner said his small drones can potentially search for dead zones in the ocean. He also said that the price (and small size) of the robots lends itself to inexpensive data collection.
You might be wondering how the boat sails. Sanner reduced the size of the mainsail because Edgar was easily overpowered. The mainsheet slides on a fixed traveler, and a tight reach is the boat's ideal point of sail.
"The rudder and autopilot have trouble holding course, and what typically happens is it rounds into the wind, then sails on again and self corrects. Hence the smaller sail," Sanner said. While ideal for wind over 10 knots, the small rig makes it difficult for Edgar to penetrate the surf when Sanner launches the boat for its missions (Edgar has been on two test sails so far, the second of which ended in our finding it).
So Sanner equipped Edgar with a 'motor' to punch through the surf zone. "It's a 1000-gallon-per-hour bilge pump [fitted with a propeller]. It cost like, $30 off the shelf."
Sanner said when he launched Edgar from Stinson Beach last week and it was motoring out to sea, it almost got caught by a set. "I wish I'd got pictures of it," Sanner said. "It was like the scene on Moana when her canoe goes flying off the wave."
Receive emails when 'Lectronic Latitude is updated.
SUBSCRIBE