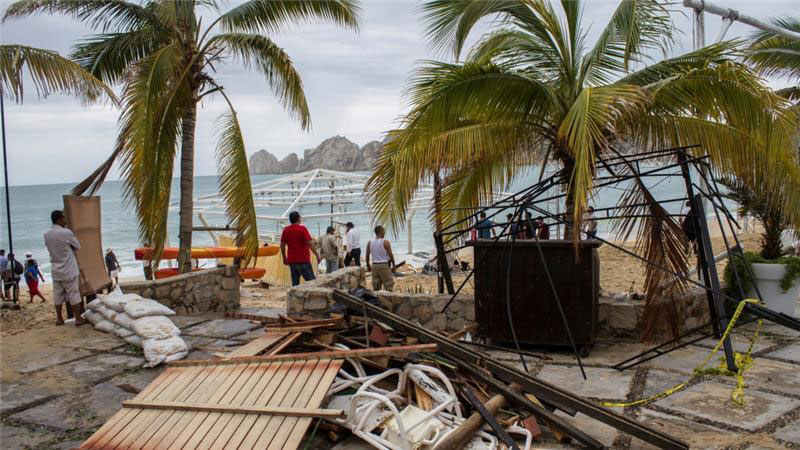 Two of the five crew aboard a Mexican shrimp boat in the Sea of Cortez reportedly died after the vessel they were on capsized during the height of hurricane Newton early on Tuesday morning. Three other crew are missing and likely to have perished. Otherwise Newton's damage to marine interests was limited.
Newton was the seventh hurricane to hit the tip of Cabo since 1971. Fortunately, it was only a Category 1, and nothing like Category 4 Odile that did so much damage to Cabo and La Paz two Septembers ago.
The center of Newton hit Cabo on Monday night about 10:30 p.m., where a National Weather Service station recorded sustained winds of 67 knots, with one gust of 100 knots. Phone and Internet service were knocked out for the night, palms and palapas were blown over, there was flooding, and a few windows were broken. As hurricanes go, this was nothing for Cabo.
The center of Newton passed about 50 miles to the west of the major yachting center of La Paz, where many boats are stored for the summer.
"Looking out my second story window, I can see three sailboats and an old motoryacht aground on the Mogote," Neil Shroyer of Marina de La Paz told Latitude. He did not know the names or types. "We were fortunate in that the wind came out of the east and then out of the south," said Shroyer, "as it gives us a lot of protection." Wind out of the north and northeast would be the worst.
Will Imanse of the La Paz-based Sceptre 36 Shaman tells Latitude that none of the four boats that went aground were occupied, and their owners were in the States or Canada. "It seems that these were the same boats that went up during Odile," says Imanse. "More than a few members of the cruising community are wondering why we should risk our lives rescuing these boats again if the owners can't be bothered to take proper care of them or assign someone to do it while they are gone."
Both Shroyer and Imanse thought the winds in La Paz were mostly in the mid-30s and maxed out with a few 50-knot gusts in the middle of the night. "The soap dish falling over was the biggest effect a gust had on my boat," jokes Imanse. "A couple of boats at Marina Palmira suffered slight damage as a result of their not being tied up well."
As one might expect, a few roller furling jibs and some canvas was torn. But as in Cabo, Newton was not a major weather event in La Paz.
(After Newton passed, Imanse reports he had dinner with the wife of a La Paz undertaker, and she told him that her husband had removed two bodies from a boat in one of the marinas. Imanse has not been able to find out any more about the report, nor has anybody mentioned any deaths, so hopefully it was a case of misunderstanding or misinformation.)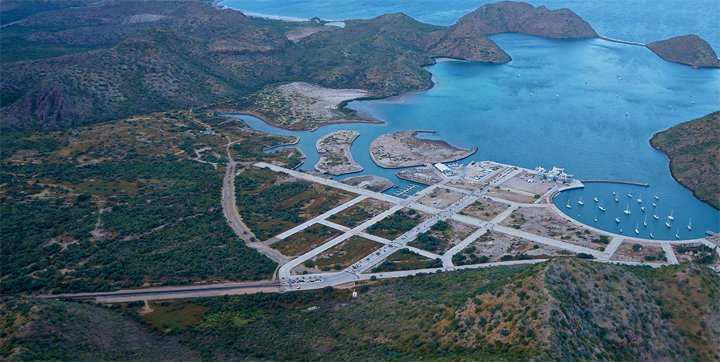 A spokeswoman for Marina Puerto Escondido, farther to the north, told Latitude that "Newton's wind blew pretty hard, but there was no damage to the boats or the facility." The wind likely hit Puerto Escondido harder than it did La Paz, as an official weather station at nearby Loreto recorded a gust of 77 knots.
Newton then crossed the Sea of Cortez to mainland Mexico, making landfall around Bahia Kino. Winds of up to 64 knots were recorded in the Guaymas/San Carlos area. We haven't been able to make contact with anyone there, but there shouldn't have been great damage.
Despite some drenchings, the Baja highways are open.
All in all, it could have been much worse. However, the two busiest hurricane months in Mexico are upon us, so it's no time to relax. But the great cruising season is not that far away.
Receive emails when 'Lectronic Latitude is updated.
SUBSCRIBE