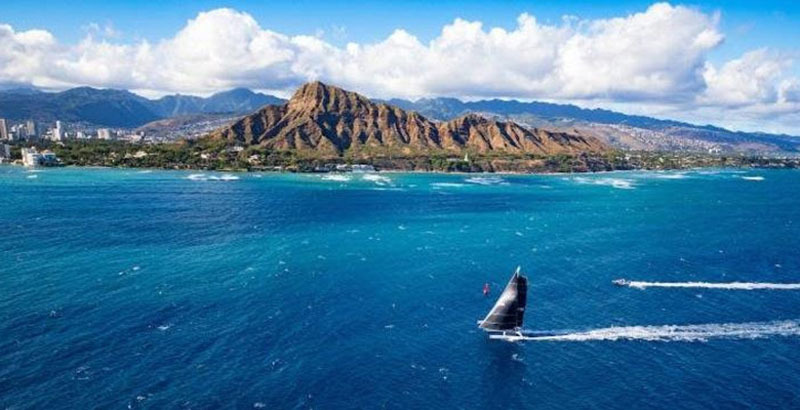 All four leaders in the Transpac sailed into Waikiki Bay ahead of the record pace, in what has been called a "normal year," unlike the last two editions of the biennial race. The conditions of relatively steady 10- to 20-knot winds with few holes have been perfect for the fleet leaders, who sped along at more than 20 knots of boat speed, resulting in the resetting of both the multihull and monohull records.
It was due time for the multihull record to be smashed. First to cross the finish line off Diamond Head was H.L. Enroe's ORMA 60 trimaran Mighty Merloe, on Monday, July 10, at 5:02:30 p.m. Hawaii Time, for an amazing elapsed time of 4 days, 6 hours, 32 minutes, 30 seconds — 26.5 hours faster than the previous mark set in 1997 by Bruno Peyron's Commodore Explorer. We wondered why the smaller 60-footer was beating the MOD70s Phaedo3 and Maserati, until we saw that the great French record-setter Loïck Peyron (Bruno's brother) was at the helm. Other crew were Franck Proffit, helm; Artie Means, navigator; Jacques Vincent, co-skipper; Steve Calder, main; Jay Davis, bow; and Will Suto, grinder.
By finishing three and six hours later, respectively, the next two boats to finish, Lloyd Thornburg's MOD70 Phaedo3 and Giovanni Soldini's MOD70 Maserati (sailing with a broken rudder), also broke the previous record.
Next up, at 11:55:26 local time on Tuesday morning, came the first monohull, the 100-ft Comanche, skippered by Ken Read and navigated by Stan Honey, who called the breeze "surprisingly strong."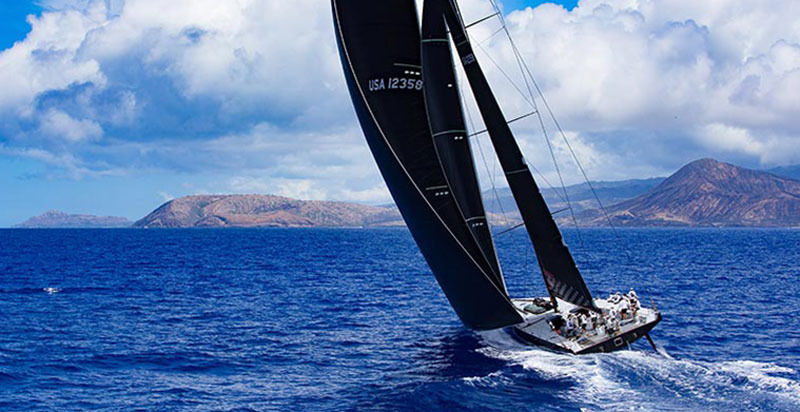 This was Stan Honey's seventh first-to-finish achievement in Transpac and the fourth time he has helped win the Elapsed Time Record Trophy (the Clock Trophy) as navigator. The clock hands on the trophy will now be set to the new record time: 5 days, 1 hour, 55 minutes, 26 seconds. The new record is half a day faster than the previous mark set in 2009 by Neville Crichton's R/P 90 Alfa Romeo II.
Next up, with 300 miles to go as of this morning, is Manouch Moshayedi's Rio100, followed by Frank Slootman's new Pac52 Invisible Hand, which is currently first in division and first in ORR overall. Other division leaders are Roy Disney's Andrews 68 Pyewacket, Tim Fuller's J/125 Resolute, John Shulze's SC50 Horizon, Larry Andrews' Summit 40 Locomotive, the Canadian Hobie 33 Dark Star and Rodney Pimentel's Bay Area-based Cal 40 Azure. There's still a lot of racing to be done, so follow along at 2017.transpacyc.com and look for a complete race recap in the August issue of Latitude 38.
Receive emails when 'Lectronic Latitude is updated.
SUBSCRIBE