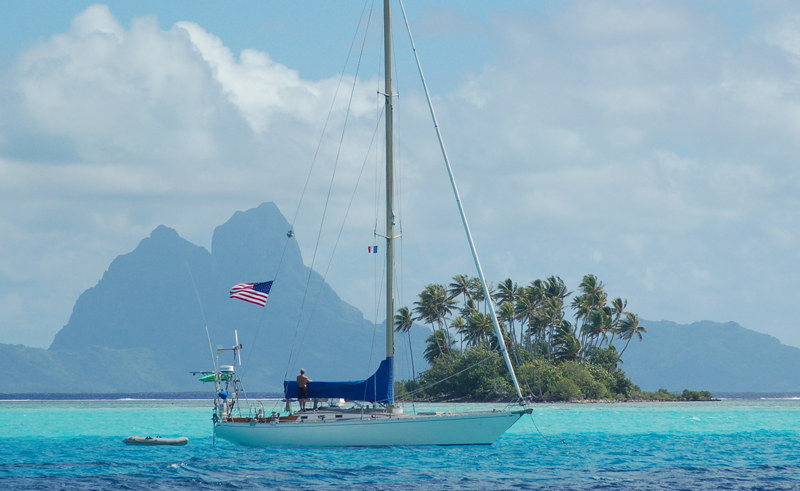 The first major storm of the South Pacific cyclone season — named Mick — clobbered the Fijian islands two days ago with winds as high as 94 knots (108 mph). At least four lives were lost, in addition to yet-untallied property loss, including the long-time Alameda-based S&S 47 Moonduster.
Fortunately, however, Wayne Meretsky and his Kiwi girlfriend Neria Brewerton survived the nightmare with only "a few scrapes and bruises."
"We motored at anchor at full throttle in the maelstrom for about an hour," explains Wayne, an accomplished ocean cruiser who singlehanded from San Francisco to New Zealand last year. "In the end, the second snubber parted and then the windlass slowly backwound the remaining chain. The chain ended in 300 feet of nylon rode — that parted from chafe.
"Thankfully, the boat veered to the left. At full throttle, there was no way to get back head-to-wind. We stepped off onto the reef and walked the mile to the resort being blasted by sand driven in clouds from the beach. The boat was driven across 30 meters of reef and onto the beach. The port side is completely stove in and the boat is full of sand and water."
Through a series of emails, Wayne explained to friends on his mailing list that the low had built quickly during the previous day. Cruising within the Yasawa Islands group of western Fiji, Wayne and Neria decided the best protection from the fast-approaching storm would be at Likuliku Bay, on Waya Island, adjacent to the Octopus Resort. Weather models from Fiji Met Service led them to believe that the eye would pass directly over them, leaving them with a temporary calm long enough to relocate the boat to Nalauwaki Bay. There, they planned to ride out the anticipated "southerly and then westerly onslaught."
Sadly, the storm sequence progressed differently than they'd hoped, leaving Moonduster at the mercy of the storm's full force as it clocked around. Naturally, Wayne and Neria are emotionally frazzled from the experience, but are accepting their bleak reality stoically. Promising a full blow-by-blow report soon, Wayne wrote this morning, "My view remains that individuals remain responsible for their own choices, and that bad weather is a relative constant in the world of sailing."
At this writing, Mick is pounding the Tongan Islands, but with substantially diminished force.
Receive emails when 'Lectronic Latitude is updated.
SUBSCRIBE