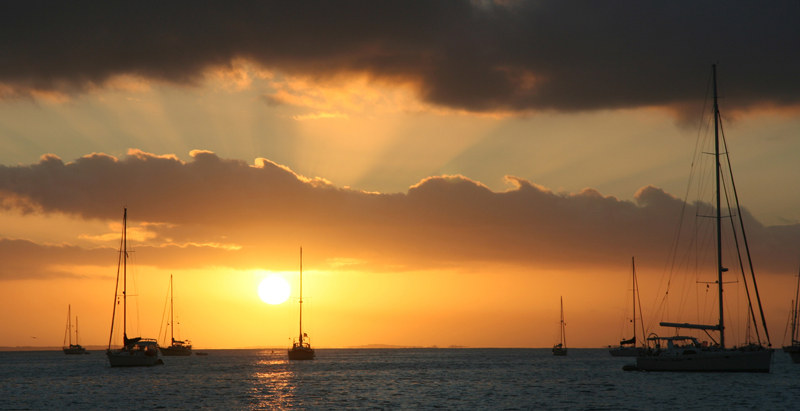 We're almost expecting some West Coast politician to officially declare this Boat Show Weekend, as there are big boat shows concurrently running in Seattle, San Francisco and San Diego — each boasting a broad range of exhibitors.
While Latitude 38 staff will be circulating at the Progressive San Francisco Boat Show at Pier 48, we'll also be making our regular annual appearances in Seattle.
We'd guess that roughly a third of the participants in each year's Baja Ha-Ha rally (from San Diego to Cabo) come from the Pacific Northwest, so it's become a longtime tradition to introduce them to the event via seminars at the Seattle Boat Show, which is staged at CenturyLink Field.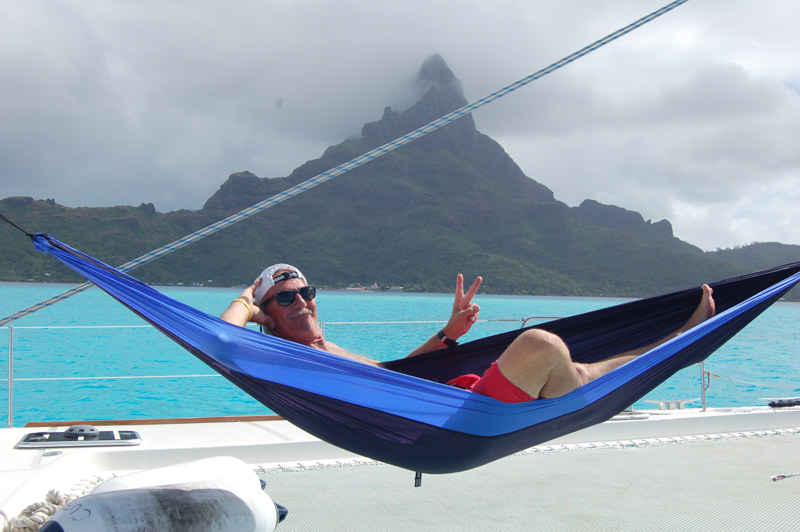 A lot of Northwest sailors also head west each spring with Latitude 38′s Pacific Puddle Jump rally, so we'll be giving seminars on that experience also. If you're in the neighborhood, please come by and check out our presentations. Who knows, watching them may be just the inspiration you need to stop procrastinating and sail into the cruising lifestyle.
Saturday, 1/24:
3:15 Cruising Tahiti and the Pacific Puddle Jump
4:15 Doing the Baja Ha-Ha rally
Sunday, 1/25 (same schedule):
3:15 Cruising Tahiti and the Pacific Puddle Jump
4:15 Doing the Baja Ha-Ha rally
Hope to see you there!
"Is a sailboat a yacht?" the young man asked.
"I don't know what Webster says, but by my definition, no, not usually. But some special sailboats do qualify as yachts."
"How can you tell?" the youngster asked. "Oh, you'll know one when you see it. Believe me you'll know."
If you find our explanation too wishy-washy, let us cut to the graphics. For the record, the sailboat below — the exquisite 180-ft schooner Elena of London — is, without a doubt, a yacht. If your boat looks anything like it, then it too is a yacht. If, on the other hand, it has rust-stained sails, peeling paint and moss growing on the cabin top then, no. Not so much.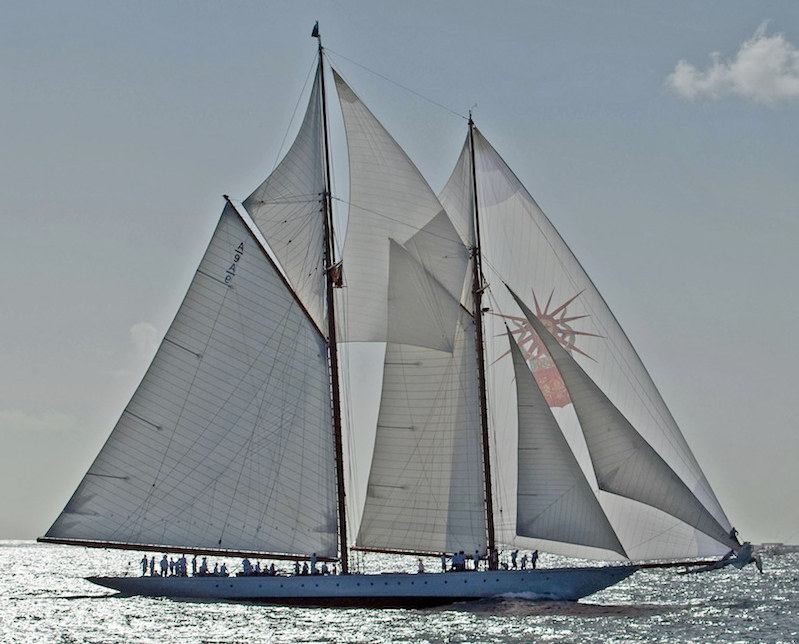 Built of steel to a Herreshoff design at the Spanish shipyard Factoria Naval Marin, and launched in 2009, Elena of London is one magnificent vessel. This splendid photo crossed our desks last week, included with news about the annual Mount Gay Round Barbados Race Series, which just celebrated its 79th anniversary.
The Series included three days of coastal racing and a race around Barbados. It drew an international fleet, with 11 countries represented this year. An additional element is the 300-mile Ocean Race to Antigua, which ties into the Superyacht Cup there starting tomorrow — Elena will be there.
The parties? As you might imagine, with a sponsor like Mount Gay Rum they are always epic.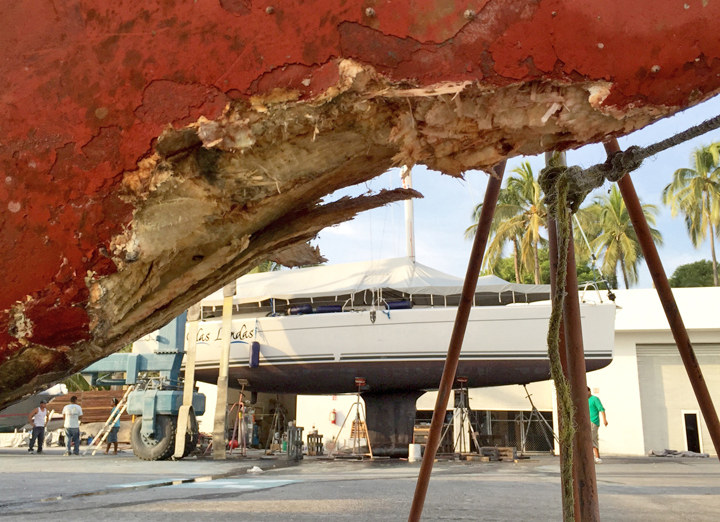 It gives you pause when a marine pilot hits a rock with his own boat. But that doesn't necessarily mean the collision was the pilot's fault.
It was a couple of weeks ago that John Larsen, who is a Southeast Alaska Marine Pilot for cruise ships in Alaska, struck a pinnacle rock near Punta Mita, Mexico, with his Alaska-based Westsail 42 Danika. Whether there are rocks between the Tres Marietas and Punta Mita, and if so where the rocks are, has long been a matter of dispute and confusion. Thanks to Larsen, we at least now know there is a pinnacle rock that comes to within about five feet of the surface at 20° 45.843′ N by 105° 32.889′ W. Larsen puts this at approximately "80 degrees, .786 nm from the NW point north of the Punta Mita Light."
This rock hasn't been accurately plotted on many charts and in some cruising guides. But Larsen informs us that Navionics says it's on the most recent version of their electronic charts. The pinnacle has been buoyed in the past, but the buoy had drifted off station. This can happen everywhere, but it seems to happen more often in Mexico than the States.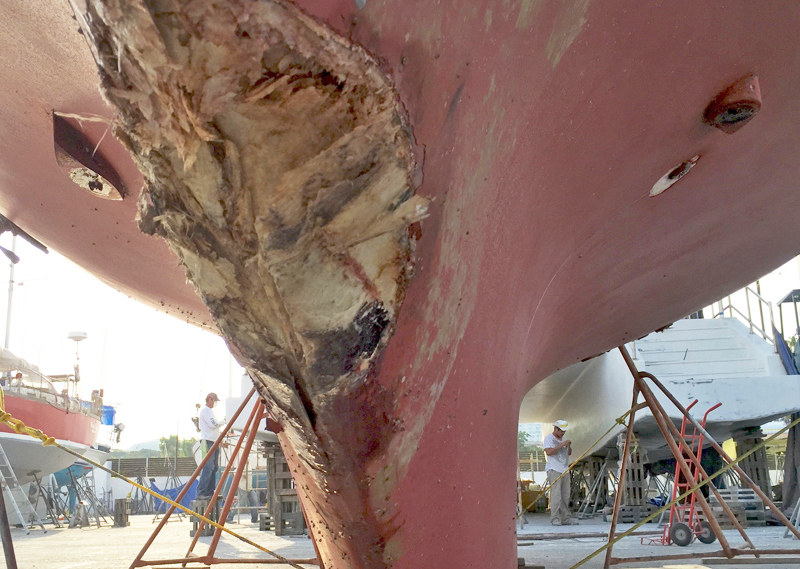 Larsen's Westsail hit the rock bow on at close to seven knots, stopping her dead still, and creating the damage to the hull clearly seen in the accompanying photograph. Westsails have among the thickest fiberglass hulls of any brand sailboat, which helped. The hull of a less robustly built boat could have easily been breached. Danika didn't take on any water immediately, and Larsen was able to make it to the boatyard in La Cruz without incident. Once hauled out, it was discovered that there was some water in the boat.
If you're cruising Mexico, consider yourself warned.
Larsen's boat is absolutely beautiful on the outside, and, we're told, on the inside, too. "I bought a hull and deck in 1974, which is 40 years ago," Larsen told Latitude.
"How long did it take you to finish her?" we asked.
"I'm almost done," he replied.
You gotta love a guy with a sense of humor.
Receive emails when 'Lectronic Latitude is updated.
SUBSCRIBE