Less than two years after the maxi-trimaran Lending Club 2 shocked the world with a 3-day,18-hour record run to Hawaii, that record has fallen. Lloyd Thornburg's ultra-quick MOD70 trimaran Phaedo3 has been going after big race victories and world sailing records for years now, and this week's L.A.-to-Honolulu record is just the latest in a long line of record-book entries with the boat's name on it. After leaving Long Beach on Friday afternoon at about 1:45 PDT, they came ripping past Hawaii's iconic volcanic cone at Diamond Head in the wee hours of Tuesday morning local time to best Lending Club 2's record run by just over an hour. Their new time of 3 days, 16 hours and 52 minutes should soon be verified by the World Sailing Speed Record Council, and become the new official benchmark.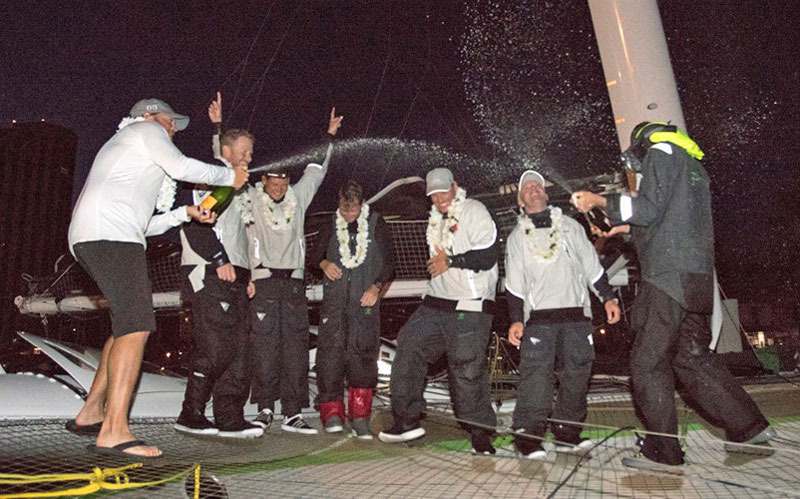 After stepping onto the dock at Waikiki Yacht Club, elated owner Lloyd Thornburg said that the record run was "An unbelievable trip! This was the most difficult sail of my life. Everything went our way and the team put out a super-human effort in order to keep the boat moving at nearly 30 knots through the entire trip." Similar words had been written by Brian Thompson, who had just a day before blogged: "It's been full-on here, very hard to type anything since the start… inside the last 500 miles and the record is still on if we keep the speed up. It's blowing 25 knots with more in the squalls and we are tearing downwind towards Honolulu… The first night was rough as expected with 30 knots plus on the beam and a big sea state. We had three reefs and the J3, which is our storm jib, up most of the night… we lost some time there but the second and third day have been keeping up with a routing pace."
The team will send in a handful of delivery crew in about a week to pick up the boat and make the return trek to Long Beach so that they can go after the official Transpac Race record — a comparatively mundane 5 days, 9 hours, 18 minutes — in less than two months' time.
Receive emails when 'Lectronic Latitude is updated.
SUBSCRIBE