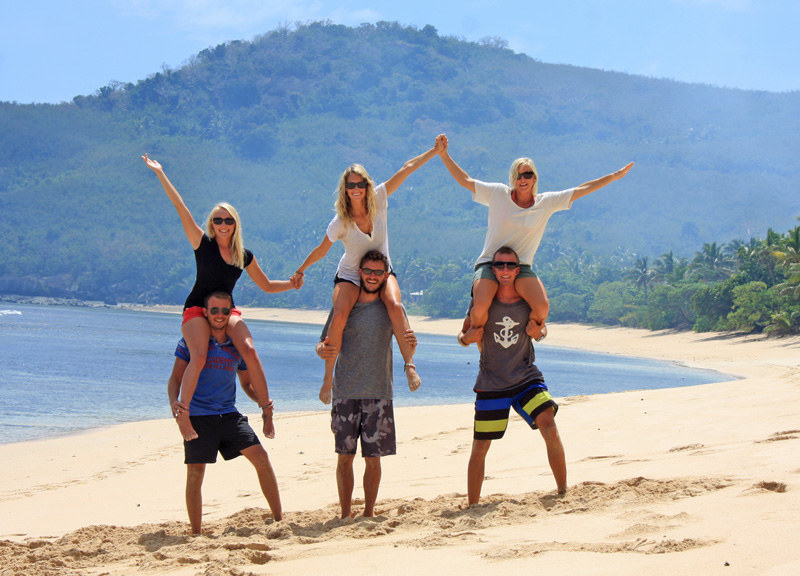 Sailing industry analysts tell us that fewer young people are taking up sailing these days than in decades past. Nevertheless, here in the Bay Area we see lots of young sailors out racing and enjoying casual daysailing — often aboard fixer-upper boats that they got for a song.
Regardless of how Spartan or spiffy their boats are, though, we can tell by the smiles on their faces that they are having as much fun out on the water as we did when we were first initiated into the sport.
Here at Latitude 38 we work hard to appeal to all segments of the sailing community, but we'd love to know if our efforts are succeeding with respect to younger sailors.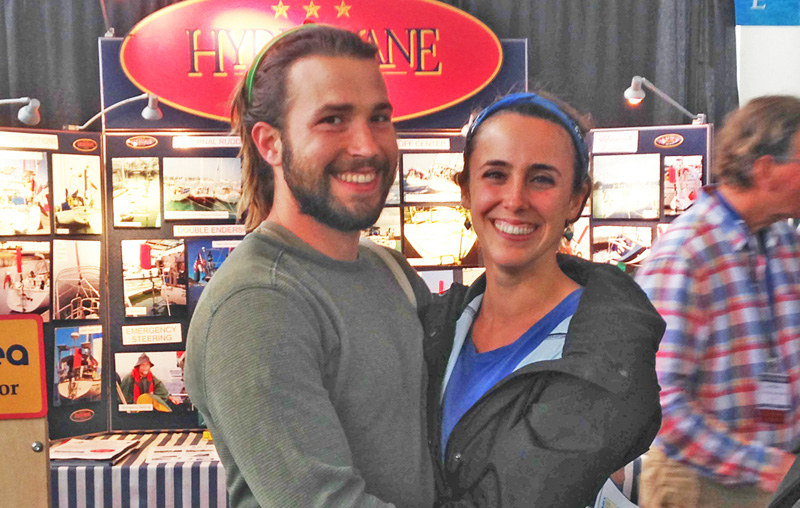 So if you're under 40 and enjoy sailing in West Coast waters, please take a minute to tell us about your sailing style:
• What sort of boat do you normally sail (brand and length)?
• Do you normally sail your own boat or crew for others?
• If you own your own boat, roughly how much did you pay for it? (__<$10,000; __$10k-$30k; __$31-$60k; __>$60k)
• What sort of sailing do you normally do (racing, daysailing, cruising)?
• What is your dream boat?
• How did you learn to sail (sailing school, parents, friends, self-taught)?
• What events or destinations are on your sailing bucket list?
• What aspects of sailing or the sailing lifestyle would you like to see us cover more in Latitude 38 and 'Lectronic Latitude?
While you're at it, we'd love to receive a few of your favorite photos of yourself and friends enjoying the sailing lifestyle. Many thanks. We'll see you out there.
A number of boats were sunk and destroyed, and many more damaged, as hurricane and then tropical storm Newton hit southern Baja and moved on over toward San Carlos/Guaymas between Tuesday and Wednesday. The unfortunate thing is that almost all of the damage to the boats apparently could have been prevented by boatowners and marinas employing better practices. Based on the information we've been able to gather, here is our review: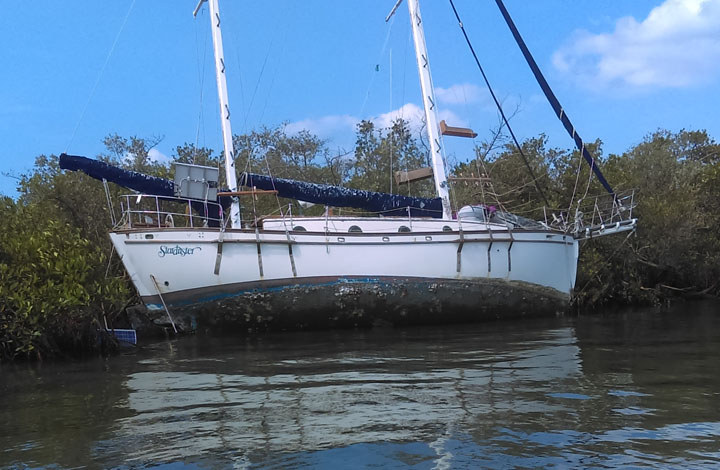 Cabo San Lucas:
Although Cabo San Lucas took a direct hit and had the strongest wind, sustained winds of 67 knots, with a weather station-recorded gust of 100 knots, it seemed to have the least damage to its marine interests.
"We lucked out big time here in Cabo, as it could have been a lot worse," says Jesus A. Esquitel of the IGY Marina in Cabo. "I feel like the hurricane got stronger once it was here. More trees were knocked over this time than two years ago with Odile, and there was lots of debris everywhere, but generally limited damage."
This was the seventh hurricane to hit Cabo since 1971. Other than Odile, Cabo has always done quite well in tropical storms.
Cabo Pulmo:
The bodies of two fishermen were recovered from a shrimp boat that reportedly rolled over. There is no word about the other three who were aboard.
La Paz:
In the wee hours of the morning, Newton passed about 50 miles to the west of La Paz, which is 80 miles north of Cabo as the crow flies, and home to maybe 1,000 recreational boats. The only boats that did poorly were six that were unattended and anchored out in the bay. Four of them went up on the mogote, on the north side of the shallow bay. They appear to have made soft landings in sand or sand/mangroves.
Will Imanse of the Sceptre 35 Shaman reports that four of the boats were: Starduster, a wooden double-ender showing no home port, a boat that he personally helped refloat two years ago after hurricane Odile; Stay Gold from Victoria, British Columbia; Ronin, which looks like a nice Ericson 32/35, from Emeryville; and the powerboat San Lee from Reno, which appeared to have been stripped previously. All four of these boats were unattended.
Imanse didn't witness it personally, but was told that two other boats — Rock Bottom and Go For Broke, homeports unknown — also went ashore. We don't know if they were attended or not.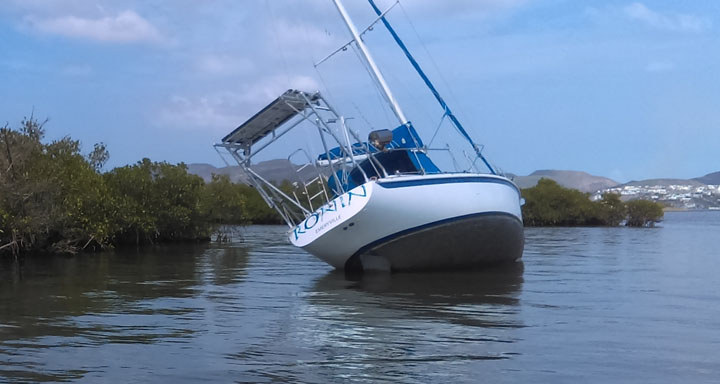 Neal Shroyer of Marina de La Paz said there was no damage at his marina, and that other marina managers told him that they didn't have any damage either. Shroyer noted that the wind came out of the east and the south, which means off the land. Boats in La Paz would have been much more vulnerable in winds out of the north.
Barritt and Renee Neal were aboard their newly acquired Hunter 49 Serendipity II at the Fonatur Marina at the east end of La Paz when Newton's winds began to hit in the early hours of the morning. "By 4:40 a.m. it was gusting to 50 knots," says Barritt. "I saw one gust to 57 knots, while Renee caught one of 67 knots. But except for a few minutes, we never lost electrical power, and thus had air-conditioning all through it."
This is the second time the couple have flown down to the new-to-them boat and had to interrupt work to prepare for a hurricane. "It's getting old fast," says Barritt, who lives aboard a Peterson 44 in San Diego with Renee.
Imanse and his Shaman were farther west over at Marina Palmira, and he said the worst was having a soap dish get knocked over. He did notice a couple of roller-furling headsails getting torn up, and some boats in the marina getting nicked — but only because, in his opinion, they hadn't been properly tied up.
We're not sure what marina her boat was in, but Aussie Melissa Brettingham-Moore on the Lagoon 440 Sonrisa said there wasn't any damage to her family or catamaran, but a tiny bit of the dock got nicked.
Puerto Escondido:
The office manager at the Puerto Escondido Marina, 110 miles north of La Paz, told Latitude there had been no problems at his facility or with the boats there. However, we have since received unconfirmed reports that one boat went onto the rocks, allegedly because the mooring she was on had failed. This may or may not be correct.
We also heard several reports that a couple of boats in the Waiting Room anchorage had dragged, although they didn't appear to have been damaged too badly. Lastly, there were reports that a catamaran somewhere in the area had also dragged ashore, but was also not badly damaged.
Santa Rosalia:
Bea Mewes of the San Francisco-based Georgia reports that the boats in the marinas at the old mining town of Santa Rosalia, 210 miles miles north of La Paz, had done fine, with the owners telling her they watched things unfold from the second-story restaurant in the Fonatur Marina building. It was good they were on the second floor, because the heavy rain pouring down from the 4,000-ft Sierra Giganta caused severe flooding, covering cars in rocks and mud. Previous storms had rolled cars right into the marinas.
Puerto Don Juan, Bahia de Los Angeles:
Don Juan is about 330 miles north of La Paz. Jason Hite aboard the Long Beach-based Caribbean 50 Volare reports that he and a dozen other skippers hid out in that excellent hurricane hole. "We had a maximum of 25 knots of wind and barely enough rain to wash the salt off our boats," says Hite. "In fact, the weather has been fantastic up here in Bahia de Los Angeles."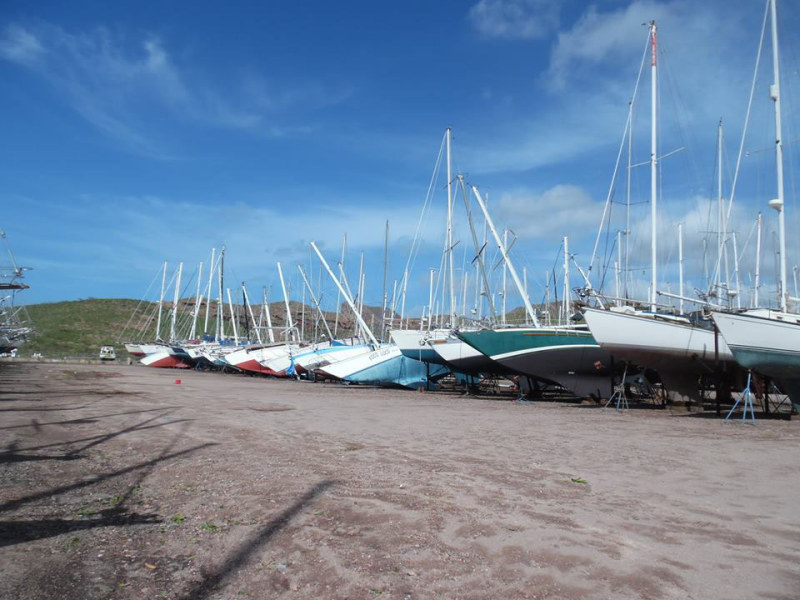 The Mainland:
Still packing winds with gusts into the 60s, Newton caused the most damage to boats in the Guaymas/San Carlos area, which is about 225 miles almost due north of La Paz, but over on the mainland. It's home to perhaps as many as 1,500 boats.
Contrary to what many believe, Newton actually went straight up the Sea, which left Guaymas/San Carlos on the east side of the storm. That's the worst side to be on in a tropical storm in the Northern Hemisphere.
Guaymas:
The Fonatur Marina at Guaymas had some good news and some very bad news. The boats on the hard did fine, as did many of the boats on the north side of their main dock. But according to eyewitness Curt Ingram of the Beneteau 36 Magic, "five boats sank on the south side of the dock." We're told by others that the dock pretty much came apart.
There are several reasons that the dock came apart. First, it had no protection from the mile-long fetch. Second, it's a lightweight dock, the surface of which is interlocking plastic rectangles. Marek Nowicki says they have the same thing over at Puerto Escondido, and when a blow is coming there, the harbormaster makes all the boats leave because the dock isn't that strong.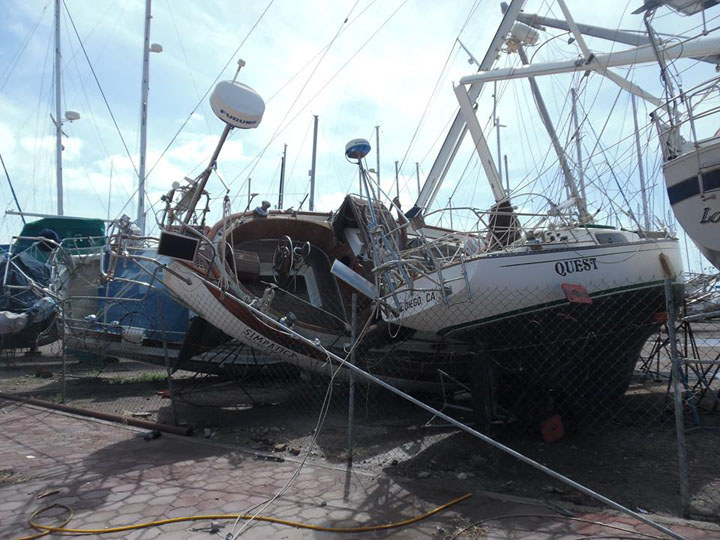 Jay Reese of the Islander 44 Wind Raven was on site for the entire storm, and says there were additional contributing factors: "Many boats were not properly tied with adequate-size docklines. Some had just single dock lines, and they were too tight. These either ripped the dock cleats out or snapped. Some cleats on the dock were not secure enough and slid sideways, allowing the boat bows to slam sideways against the fingers and the adjacent boats. The marina personnel were notified of the dangerous situation and destruction by phone, but I didn't see anybody show up all night. They only showed up when it was over.
"The marina was repeatedly informed that their dock fingers were shorter than the published length," Reese continues, "but to make matters worse, they were allowing boats in that were way too large for the space. The day prior to the arrival of Newton they had a 50-ft ferrocement boat that I estimate to displace 60,000 pounds tie up to a 34-ft finger — which didn't even have a supporting pylon on the end! The skipper of this boat tied his boat to the inadequate finger with what I would consider to be too small and too few docklines. He soon left and didn't return until the next day.
"During the night of the storm," Reese continues, "the large waves hitting the boat sterns on the windward side of the dock put extreme pressure on the bow line of the big boat, so it snapped, allowing the bow to rise several feet above the dock and slam back down on it again and again. At the same time, the bow was swinging from side to side, jumping above the fingers and colliding with adjacent boats. This caused the bow lines of both adjacent boats to break. Three of us managed to get a larger line attached to the bowsprit of the big boat and secure her with a cleat. As we were about to try to secure the other two boats, the ferrocement boat was knocked loose and the bow cleat started sliding back and forth in the track, allowing the bow to jump over the fingers once again. At this point the main dock was rising and falling about four feet, and it looked like a moving roller coaster track. It was becoming too dangerous to stay on the dock any longer. We had done all we could securing the boats, but the dock was breaking up and the fingers were snapping off. We had no choice but to give up at this point."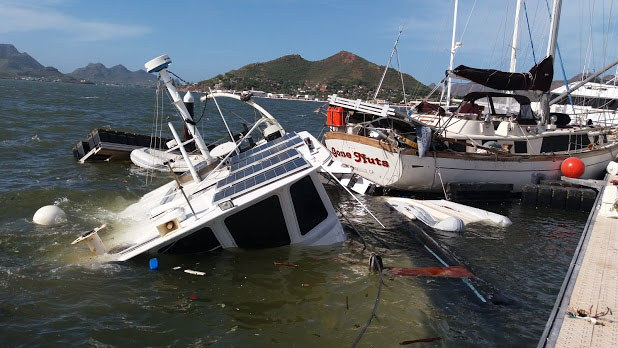 This is Reese's account of what happened. We haven't been able to identify, let alone contact, the owner of the ferrocement boat for comment and perhaps an opposing viewpoint.
Whatever the cause, six boats were partially or completely destroyed. Just before going to press, we learned that two of the badly damaged boats were Cloud IX and Audacious, types and hailing ports unknown. According to Reese, "Both boats had just recently finished being refurbished. Cloud IX had been sunk in Puerto Escondido during hurricane Odile, and her owner had just completed a two-year restoration that required lots of work and money."
Boats on the leeward side of the dock did suffer some damage, but nowhere near as much as those on the windward side. Prior to the arrival of Newton, Reese had come to the conclusion that the Fonatur Marina docks were not strong enough for his liking, so he moved Wind Raven to a fuel dock in a nearby cove. His boat suffered only cosmetic damage.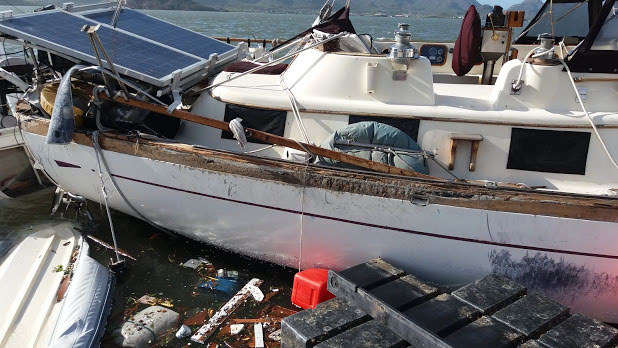 Marina Guaymas, aka Gabriel's Boatyard:
Gabriel Larios, owner and manager of Marina Guaymas aka Gabriel's Boatyard (dry storage only), called Latitude to say that we'd misrepresented the effects of Newton on his yard in our previous 'Lectronic report. In a nutshell, he claims that only two of the 200 boats in his yard were damaged, and the damage to them was minor. Further, he said that no boats in his dry storage yard had sails on.
We stand corrected and apologize for the inadvertent error.
San Carlos, Marina Real:
Based on the information we've been able to gather, none of the boats in the water at Marina Real, which is to the far west of San Carlos, suffered significant damage. However, based on photographic evidence, several boats in the dry storage area went down in a domino effect. We do not know how many were knocked over, which ones they were, or how badly they were damaged. It's also unclear if the first boat was blown over, or if the jacks holding it up had been undermined by the heavy rainfall.
Marina San Carlos:
We haven't received any reports of significant damage at Marina San Carlos, which is extremely well protected by its geographic location. We also haven't received any reports of damage to boats that were anchored in the bay just outside the marina. If none were, it would be a bit unusual, for boats are often left unattended there, and often without the best moorings or ground tackle.
Marina Seca:
Latitude has been told by several sources that 12 or more boats were dominoed down at the huge Marina Seca dry storage area. Once again, it's unclear if the first was blown over or if the jacks were undermined by the rainfall. After a number of boats were knocked over by a previous storm at Marina Seca years ago, 'hurricane poles' were installed to keep them from going over in the future. But we're told that only about one third of the 600-boat-capacity storage area has such poles.
El Mero:
Aireus Westphal, owner of a Morgan Out Island 41 that was safe on the hard at Marina Seca, reports that a German fellow named Werner had his boat "go down" at El Mero. "He lost it all, and had nobody to help him out," says Westphal.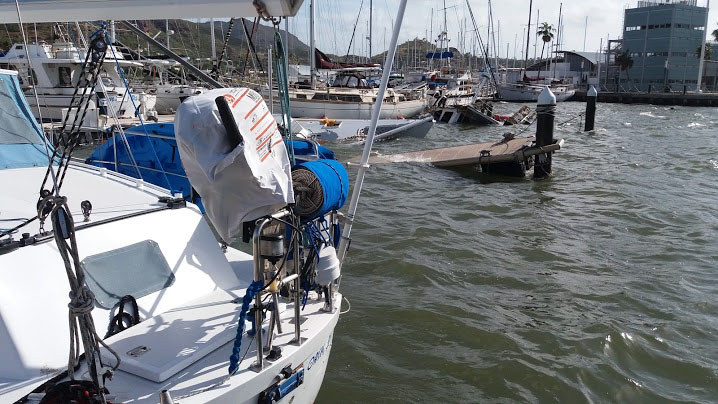 Folks, we've busted our butts trying to bring the clearest possible picture of Newton and the damage it caused to marine interests, but it's not easy, as it's hard to find reliable eyewitnesses, separate rumor from fact, and get people to talk who may not want to talk. All we can say is we've done the best we can, and if there are mistakes, we are eager to correct them. If you have additional information, you know where to send it.
Our hearts go out to those of you who have lost your boats. And similarly to those of you whose boats were damaged. For even if you have insurance, the repair process is often a long and costly one. And with so many boats being damaged in the San Carlos area, it's hard to know how many will be ready for the upcoming cruising season, which is almost upon us. Those with functioning boats may want to continue south to less-busy yards.
For those looking for long-term storage in the future, heed the lessons of Newton. If we were looking for dry storage, we'd want to know if the hardstands are really hard, and if the area is subject to flooding that could undermine the jacks. Hurricane poles would be a major plus. In the Caribbean and South Pacific, tire-lined pits are dug and boat keels are set into them. They can't blow over. Maybe that needs to be done in Mexico.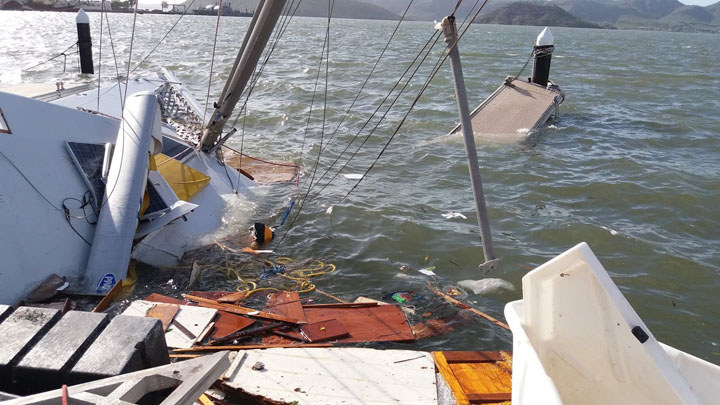 One of the reasons that San Carlos/Guaymas is so popular for off-season storage is that many insurance companies consider it to be outside the hurricane zone. The irony is that places such as Mazatlan and Puerto Vallarta/La Cruz, which are in the middle of the hurricane zone, but on the east side, have been hit far less often. In fact, Vallarta has never been hit by a hurricane. The downside to the Vallarta area is severe summer lightning. In a typical year several boats are struck because of this.
We think you also have to question your intelligence and your sense of communal responsibility if you leave your boat unattended in a hurricane zone during hurricane season. We have the right to say this because we once left our Ocean 71 Big O unattended for a month on the hook at Charlotte Amalie, St. Thomas, US Virgins, at the height of hurricane season. While there are lots of other contenders, we think it's among the top five stupidest things we've done in our life, and we've done a lot of incredibly stupid things. Take care of your boat, if not for your sake, for the sake of people with boats nearby who do take care of them. For in many cases, they are their homes and/or their primary financial asset.
One last caution. There is still another six weeks or so of hurricane season, and these are often the months with the most tropical storms. Be prepared and good luck.
Receive emails when 'Lectronic Latitude is updated.
SUBSCRIBE