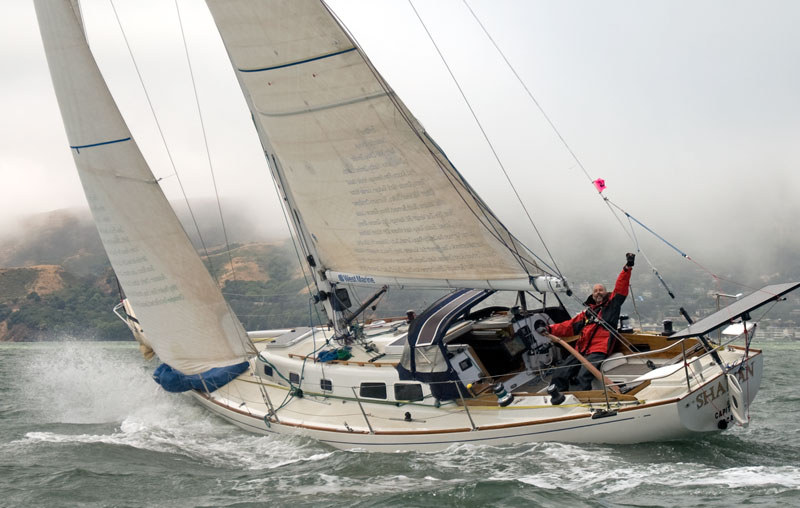 Right on schedule, with the first warning signal at high noon on July 2, the 20th fleet of solo racers set sail for Hanalei in the Singlehanded TransPac. Conditions on the Bay were boisterous and choppy — the usual stuff of San Francisco summers. Once out the Gate, the sailors reported 10 knots from the southwest, flat seas, and plenty of whale sightings.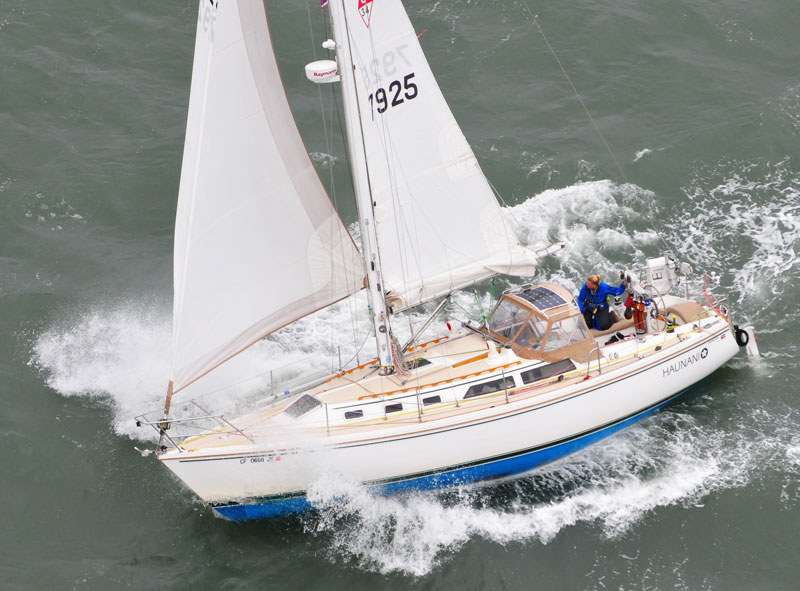 While the majority of the 23 boats made it out to the synoptic ocean winds to escape the coast before nightfall, a small group of slower boats, including the only 'one-design' division of four Westsail 32s, got bogged down in the Gulf of the Farallones, and some even drifted backward for a time on Sunday.
Despite appearances to the contrary, all boats are still racing — a tracker malfunction shows the Mini Transat Minibar stuck near the coast. "In fact she is blasting across the Pacific enjoying breezes from 17 to 40," said race chair Brian Boschma yesterday. Margie Woods on the Catalina 34 Haunani reported experiencing her first light wind of the race this morning.
Leading the way and also topping the corrected-time leaderboard as we write this is Jirí Šenkyík's Olson 30 Kato. But, farther north, Robert Macdonald's Olson 29 Nina is less than a mile behind.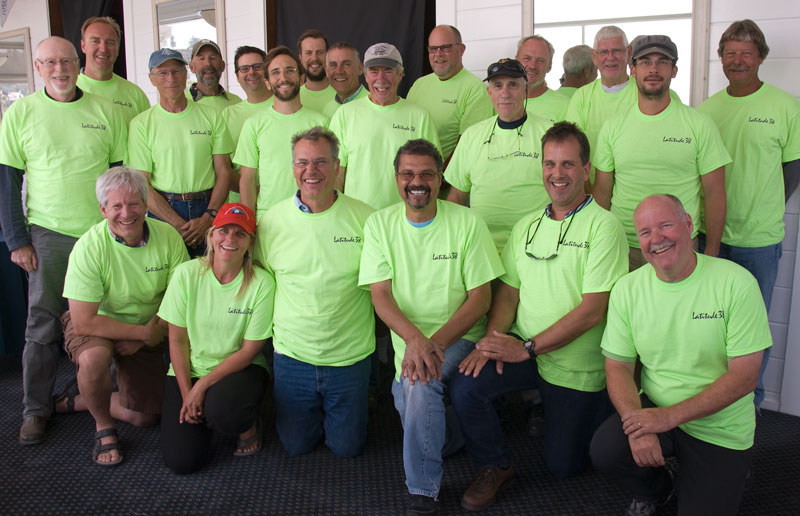 To follow the race, see www.sfbaysss.org/shtp2016. We'll have a feature report in the August issue of Latitude 38.
Overlapping with the SHTP, the Pacific Cup will depart from San Francisco in multiple starts beginning on Monday. Last night's Pasha Hawaii Kickoff Party at the newly remodeled (and not-quite-done-yet) Richmond YC featured an indispensable seminar by record-setting navigator Stan Honey, who explained weather considerations for race strategy. Events and concierge services continue at RYC's 'Pacific Cup Village' through the weekend.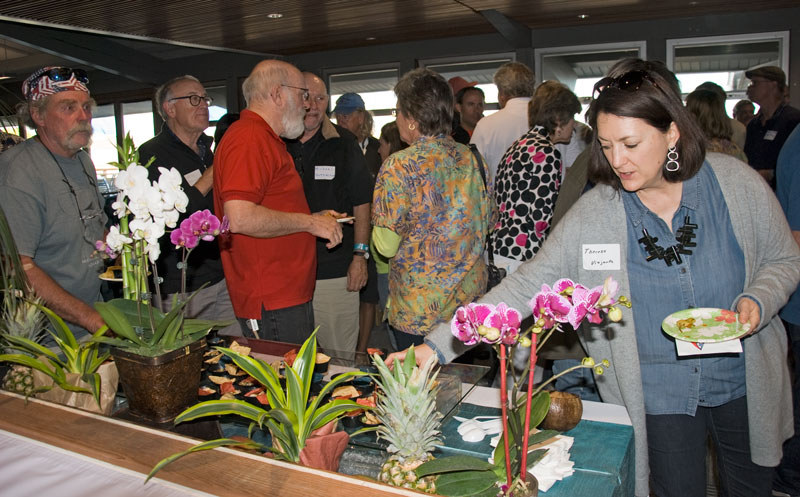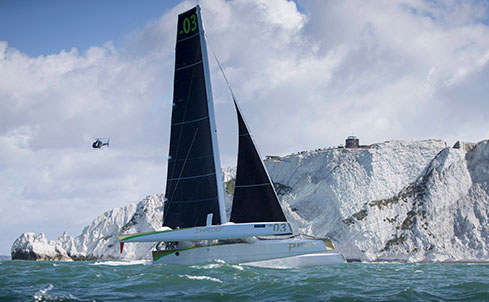 Powered by winds that gusted up to 40 knots, Phaedo3, the MOD70 trimaran owned by Lloyd Thornburg and co-skippered by Brian Thompson, crushed yet another iconic sailing record on July 2.
The two — along with crewmembers Paul Allen of Santa Cruz, Miles Seddon, Fraser Brown, Fletcher Kennedy, Andrew Palfrey, David Swete and Henry Bomby — completed the 50-mile J.P. Morgan Asset Management Race Around Isle of Wight (England) Race in 2 hours and 23 minutes. In so doing, they destroyed the old record set in 2013 by America's Cup sailor Sir Ben Ainslie in an AC45 — and by a staggering 25 minutes.
Phaedo3 again beat her sistership Concise 10, this time by eight minutes. Mike Slade's Farr 100 Leopard was the first monohull to finish, in 3 hours and 55 minutes.
"It was the best day of sailing ever," said a jubilant Thornburg, who attended Art Design College in Pasadena, sailed a Soling out of Marina del Rey, and is a good friend of Latitude's. Lloyd currently lives in several places, but if we're not mistaken still keeps his Gunboat 66 catamaran Phaedo in Newport Beach.
Thornburg dedicated Phaedo3's victory to the memory of British Olympian and America's Cup sailor Andrew Simpson, who died when Artemis Racing's AC72 came apart on San Francisco Bay.
This was the 85th running of the Round the Island Race, and it attracted 1,500 boats and 15,000 sailors. Among them was the fun-loving Prince Harry, who raced aboard Sir Keith Mills' yacht, the 40-ft Invictus.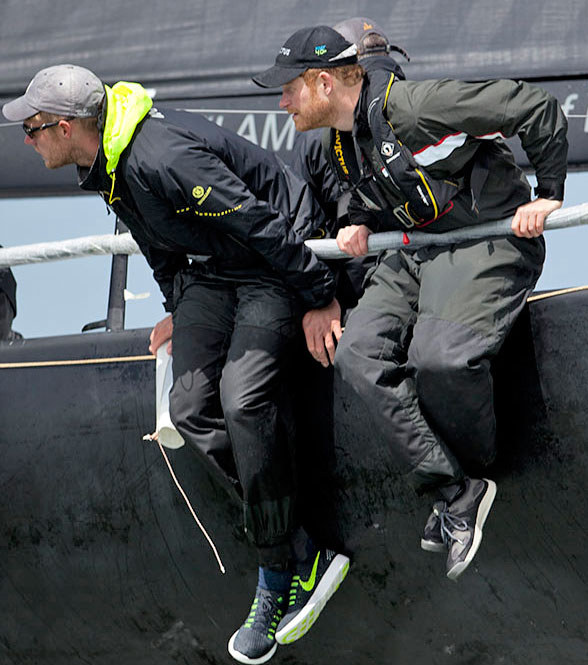 The strong winds resulted in a number of dismastings, rudder failures, and the sinking of the Dubois half-tonner Alchemist, which hit the Varvassi wreck off The Needles. There were no serious injuries or deaths.
PHOTO
Just for fun, here's a list of the Phaedo3's accomplishments since being re-launched by Thornburg in early 2015:
2015 RORC Caribbean 600, 1st and set a new record time of 33 hours, 35 minutes.
2015 Heineken Race Week Around St. Maarten (long course) record, 2 hours, 7 minutes.
Official Around St Maarten Island record, 1 hour, 30 minutes.
Voiles de St. Barth, 1st in Class and new long race record.
2015 Guadeloupe to Antigua course record.
2015 Around Antigua Record, 1 hour, 27 minutes.
2015 Around Redonda record, 5 hours, 18 minutes.
2015 Antigua to Newport record, 3 days, 6 hours.
Around Jamestown Island Record, 56 minutes.
Transatlantic Record, 7 days, 2 hours.
Fastnet Original Course record, 27 hours, 42 minutes.
Plymouth to La Rochelle record, 14 hours, 5 minutes.
Rolex Middle Sea Race, 1st place.
St. Barth New Year's Eve Regatta, 1st place.
2016 RORC Caribbean 600 new record, 31 hours, 59 minutes.
St. Maarten Heineken Regatta, 1st place.
Les Voiles de St. Barth, 2nd place.
2016 Bermuda to Plymouth record, 5 days, 11 hours, 57 minutes.
The hits just keep on coming for François Gabart and his new maxi-trimaran Macif. After claiming victory in May's Transat Bakerly solo race from Plymouth, UK, to New York — sailing the course in 8 days and change — the Frenchman took a shot at the solo transatlantic west-to-east record, currently held by Francis Joyon and his trimaran IDEC with an incredibly fast time of 5 days, 2 hours and 56 minutes. Gabart and team waited for more than a month before the ideal window presented itself. They scheduled a departure on Saturday only to be delayed for hours by intense thunderstorms off New York.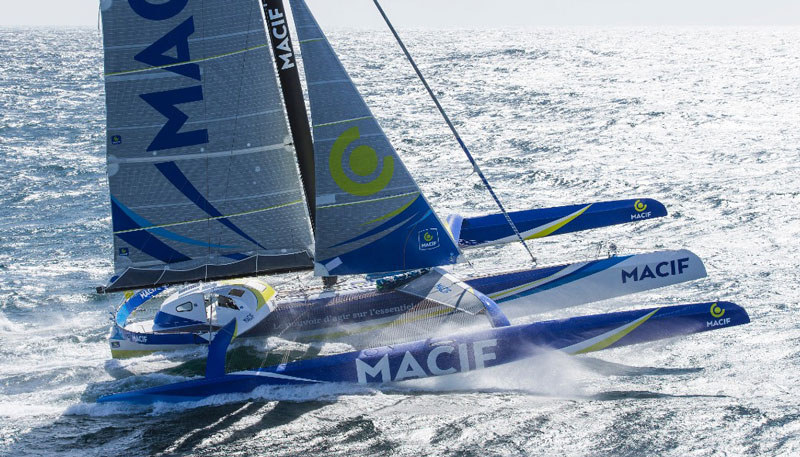 Once underway, Gabart made quick progress in 30 knots of southwesterly breeze. Consistently sailing in the 33- to 34-knot boatspeed range, Macif began closing in on an entirely different record; the solo 24-hour speed record, which had been re-set just a month ago by Thomas Coville and his maxi-tri Sodebo Ultim at a staggering 714 miles in 24 hours. On Sunday, Gabart eclipsed the record and then continued to break it every hour for about half a day before the breeze backed off. Not just breaking the record but smashing it to bits, Gabart and his new VPLP 100-footer put up a truly astonishing figure of 785 miles sailed over 24 hours. Once the new record is ratified, Gabart will hold both the solo monohull and multihull 24-hour records after his incredible 545.3-mile day en route to winning the 2012-13 Vendeé Globe.
Shortly after breaking the multihull record, Gabart revealed that, due to the thunderstorm-induced delay in New York, he had missed the ideal weather window for the second half of the course and would abandon the transatlantic record attempt.
Receive emails when 'Lectronic Latitude is updated.
SUBSCRIBE