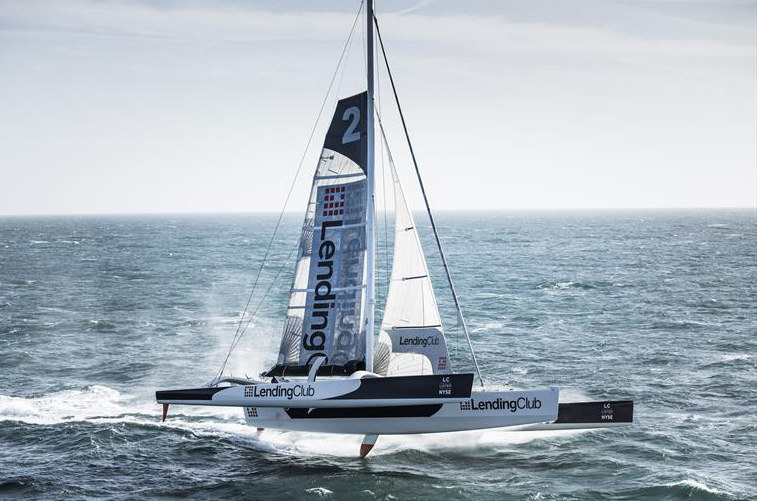 The Transpac lost one of its most high-profile entries today, as Lending Club 2's co-skippers, Renaud Laplanche and Ryan Breymaier, have decided to preempt their scheduled Saturday start and leave at noon today, independently, in order to take advantage of favorable winds being generated by a low pressure system.
The change of plans means that the 105-ft maxi tri will be gunning for the outright Los Angeles-to-Hawaii record set in 2005 by Frenchman Olivier de Kersauson and crew aboard the 110-foot trimaran Geronimo (4d, 19h, 31m, 37s), which is 14 hours faster than the Transpac race record set in 1997 by the 86-ft maxi cat Explorer (5d, 9h, 20m).
"For the past week Renaud and Ryan, along with navigator Boris Herrmann, have been carefully watching the weather," writes Nicola Breymaier, "and concluded the weather window for the race start will not offer the right conditions for a fast race. At the same time they noted a low pressure system offering ideal conditions for an extremely fast crossing if the boat were to leave immediately."
She reminds us that Laplanche and her husband narrowly missed breaking the race record aboard a different boat (32 feet shorter) during the 2013 Transpac, at least partly due to having to dodge "debris as large as tree trunks and telephone poles," some of which damaged one of the boat's daggerboards.
Since March, when Laplanche and Breymaier chartered the monstrous tri — whose mast is 140 feet high! — they've broken both the Cowes (GBR)-to-Dinard (FRA) and Newport-to-Bermuda records. Thanks to the tri's Yellowbrick tracker, you can follow their progress toward Hawaii here.
For a look at how the monster tri moves offshore, check out this video clip from the Cowes-Dinard sprint. Courtesy LC Smith
Lending Club's exit from the Transpac means the multihull division will be made up exclusively by Gunboats: Chim Chim, a 62-footer, and two 66-footers, Extreme H2O and Phaedo.
If news of Hawaii record attempts is giving you a sense of déjà vu, it may be because just last month another of the world's fastest multihulls, the 60-ft foiling tri L'Hydroptère, attempted unsuccessfully to break the outright L.A.-Honolulu record.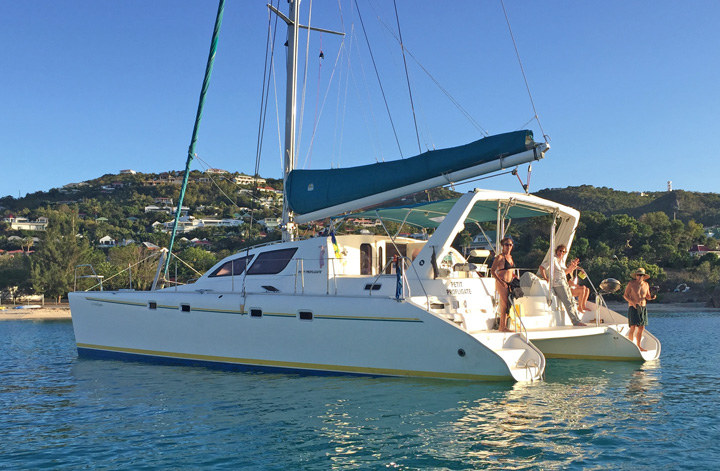 Should diesel engines be operated differently when they get older?
With the publisher's Leopard 45 'ti Profligate about to leave the yacht management program at BVI Yacht Charters in Tortola for her new home at Antigua's Jolly Harbor, we're getting different professional advice on how her diesel engines should be treated. Marine mechanics tell us that boat diesels frequently go bad or have major problems at about 4,000 hours — but only because they haven't had sufficient use. Unlike gas engines, diesels not only need to be used hard, they need to be used often. Lack of hard use hasn't been a problem with 'ti Profligate's Yanmar 56-hp diesels, which despite still looking almost brand new, have more than 10,000 hours on them. They continue to run great and hardly burn any oil.
Nonetheless, Antonio, the terrific head of maintenance at BVI Yacht Charters, told us that because the engines now have over 10,000 hours, we shouldn't run them at over 2,000 rpm, about 500 rpm less than we've normally run them."Nonsense," says Joe, who has been a lifelong marine mechanic, and whose backyard dock will be 'ti Profligate's new home. "Not running them at higher rpms is what will prematurely damage them."
So who is right?
Joe's point of view seems to represent conventional wisdom, but has been nonetheless contradicted by the experience of Steve Schmidt of the Santa Cruz 70 Hotel California too. Schmidt, who worked in Silicon Valley before taking off cruising many years ago, tells us that his 75-hp Yanmar has 17,000 hours on it, and has been used almost exclusively for charging the boat's batteries. In other words, extreme engine abuse.
If you know your diesels, we'd love to get your opinion.
Receive emails when 'Lectronic Latitude is updated.
SUBSCRIBE