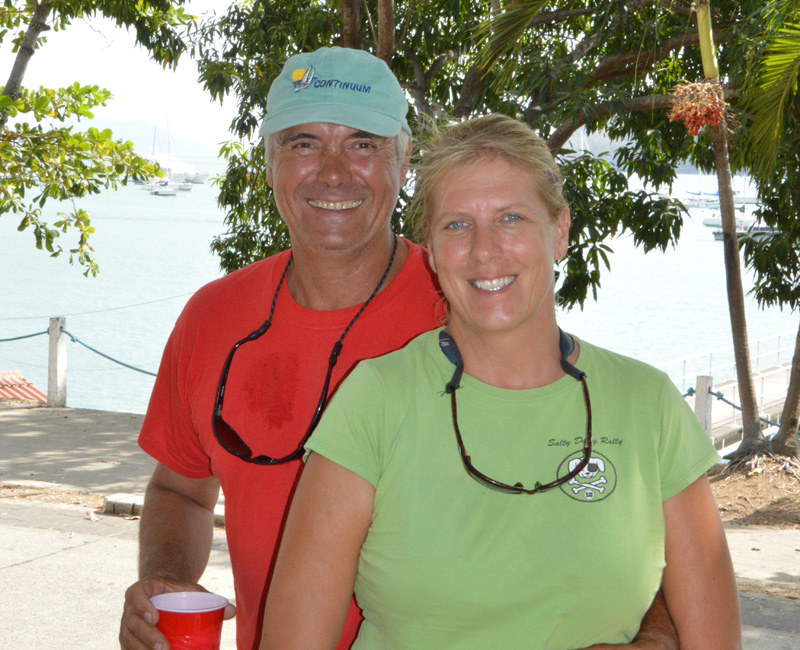 Early last month, when Bob and Mona Jankowski of the North Carolina-based Caliber 40 Continuum were celebrating their imminent departure for French Polynesia at our Pacific Puddle Jump Sendoff Party at Balboa, Panama, they probably never would have guessed they would soon be involved with the mid-ocean rescue of two fellow Puddle Jumpers. But that's precisely what happened yesterday, after the Canadian S&S 42 Nirvana Now became disabled by damage to its rudder stock and forestay fittings.
According to the Coast Guard's 11th District Command Center in Alameda, at about 8 a.m. yesterday, local time, Randy and Dawn Ortiz of Nirvana Now were safely transferred to Continuum. Before saying their final goodbye to their 1982 sloop, the couple cut two hoses attached to seacocks in order to scuttle her so she wouldn't be a hazard to other vessels. (Her position when abandoned was 7°53′ S, 119°12′ W, roughly 1,200 miles east of landfall in the Marquesas.)
The British superyacht Athos of London was also in the vicinity and relayed comms to and from the Coast Guard and Continuum via satphone, email and VHF. Before the 203-ft Andre Hoek-designed schooner left the scene, her crew reported that Nirvana Now's sea anchor was deployed, her AIS was transmitting and she was still sitting high in the water.
If you believe in fate, you might find it interesting that the Continuum crew decided to sail to the Pacific only a few weeks before we met them, after getting caught up in the buzz of other soon-to-be South Pacific explorers. "We think this is going to be a great experience for us," said Bob at the Balboa YC party. No doubt it will be, but little did he and Mona know then that Continuum would arrive with twice as many crew as she'd started with.
Receive emails when 'Lectronic Latitude is updated.
SUBSCRIBE