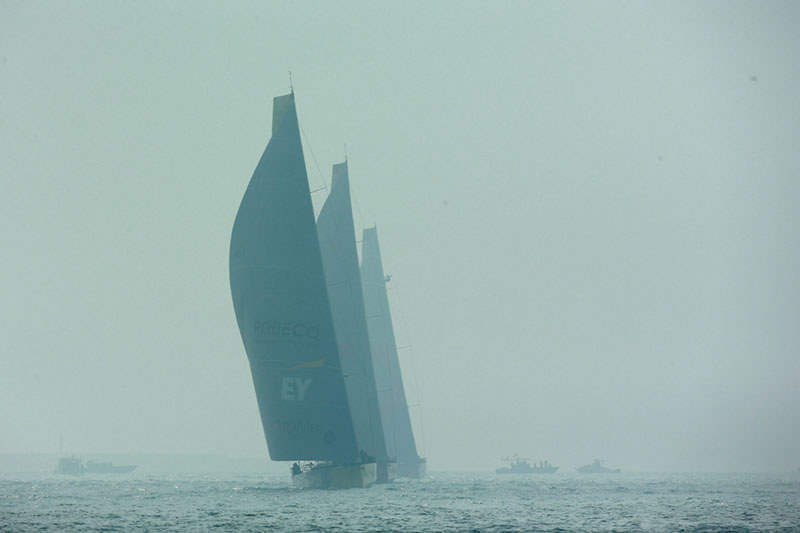 The six remaining Volvo Ocean Race teams ghosted through thick fog in Abu Dhabi to start the 4,642-mile Leg 3 to Sanya, China, on Saturday. The 'home team,' Abu Dhabi Ocean Racing, led the way, finishing the in-port course in just under an hour with Dongfeng Race Team and Team SCA hot on their heels. Dongfeng is now leading the charge to their homeport of Sanya.
The third leg will be particularly hazardous in the busy shipping lane of Malacca Strait, which separates Sumatra and Malaysia and which narrows to 1.5 miles in some places. "It's the most challenging part of the whole race," said Team Alvimedica navigator Will Oxley. "The complexity of dealing with a narrow channel and a very large amount of shipping is what causes the problems. Some 300 feet of steel coming at you at 20 knots is always concerning, particularly if you haven't got much control over your speed if there's not much wind. Then you have squalls, very violent squalls in the night, and there's lots of fishermen who are not showing navigation lights and have long nets. You can get tangled in the nets, or worse still, run someone over. So it's very stressful."
The all-female Swedish Team SCA, skippered by Brit Sam Davies, won the in-port race on January 2.
The seventh team, Vestas Wind, has announced plans to rebuild their badly damaged boat and return to the Volvo Ocean Race by June. The Danish team's Volvo Ocean 65 was dramatically grounded on a reef in the middle of the Indian Ocean midway through Leg 2 on November 29.
Meanwhile, another around-the-world race has begun. The eight-boat Barcelona World Race started (from Barcelona, of course, in northeast Spain) on New Year's Eve. The British-Spanish duo of Alex Thomson and Pepe Ribes on the IMOCA 60 Hugo Boss won the charge out of the Med through the Strait of Gibraltar, breaking the course record for that stretch, with a new time for the 528 miles from Barcelona to Gibraltar of 2 days, 5 hours, 50 minutes.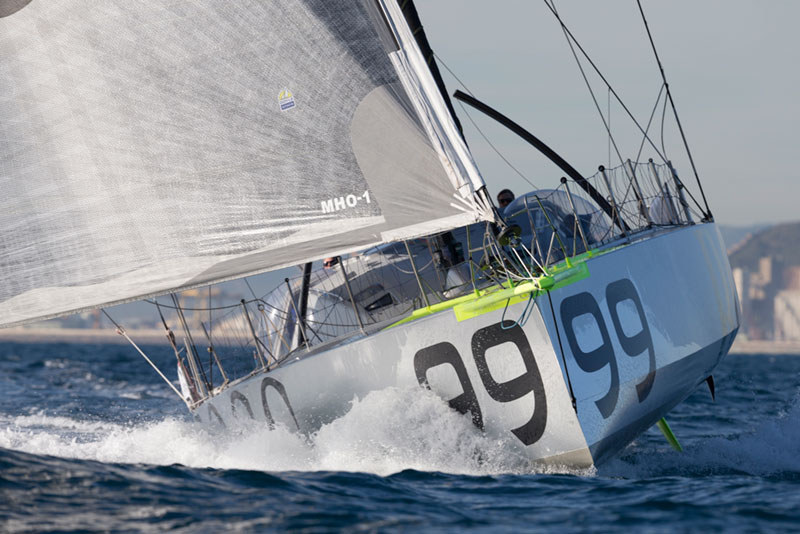 Now the fleet leaders are approaching the Canary Islands, where they hope to pick up the northeasterly trade winds. Unlike the Volvo Ocean Race, the Barcelona Race is nonstop — and doublehanded, the only race of its kind. Hugo Boss and Neutrogena, with Guillermo Altadill and Jose Munoz, are battling for the lead.
Receive emails when 'Lectronic Latitude is updated.
SUBSCRIBE