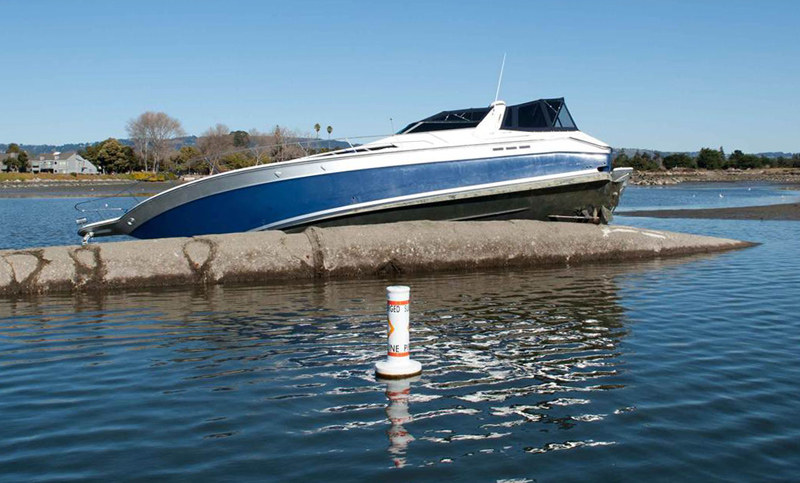 It's easy to assume from this photo that the powerboat pictured simply cut a corner last Saturday and ran up on this concrete pipe on the north side of the entrance to Ballena Bay. But the skipper of this boat — who prefers to remain anonymous, though he admits that friends will undoubtedly recognize his boat — says that it's not as simple as all that.
Around 10 a.m. on March 3, the skipper rounded the sea wall at the entrance to Ballena Bay only to be greeted by a flock of 15 paddleboarders smack in the middle of the channel. "It was a class from a paddleboard rental place that's not even located in Ballena Bay," he says.
In an effort to avoid the SUPers in the narrow waterway, he veered out of the channel, between a white marker and the beach. "I thought that marker was a 'no wake' buoy," he recalls. "You have to be pretty close to it to see that it actually says 'Submerged Pipeline'." Of course by the time he realized his mistake, it was too late.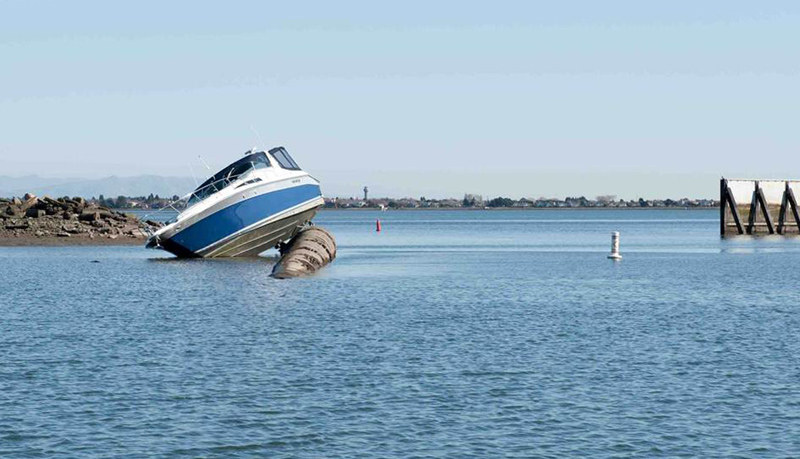 Thankfully no one was injured when the boat struck the just-awash pipe but the same can't be said for the boat. Not only were both props, shafts, rudders and struts damaged, but once the ebbing tide allowed the boat to settle on the pipe, a hole developed. As the tide filled in, the boat was towed off the pipe and heavy duty water pumps were set up to keep her afloat until she could be hauled out on Monday. "It was a brutal weekend," says the skipper.
The skipper says the pipe should be better marked. "Why aren't there more buoys around it?" he wonders. Ballena Isle Marina harbormaster Jerry Hook says he had the white buoy installed a few months ago as a courtesy to his tenants. "The pipe isn't on our property," he explains. "As a matter of fact, I've tried to find out who 'owns' it and apparently it's no one — it seems to have been part of a 100-year-old project."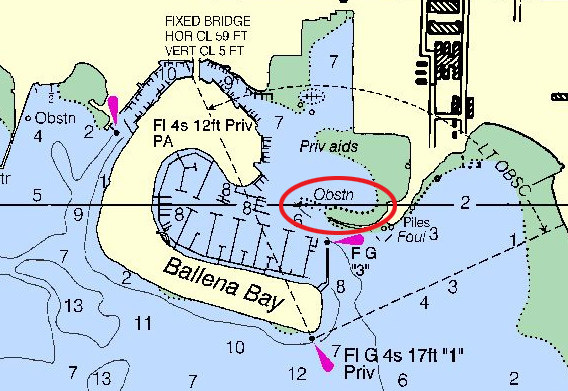 Even as potentially embarrassing as the situation is, the skipper feels that others really need to be made aware of the pipe so they don't suffer the same fate. We've all had our fair share of accidents on the water, and the best we can do is learn from them, whether they're ours or not. So when you're entering and exiting Ballena Bay — any harbor, actually — be sure to pay close attention to your chart and all markers. Remember, it's easier to stay out of trouble than to get out of trouble.
Receive emails when 'Lectronic Latitude is updated.
SUBSCRIBE