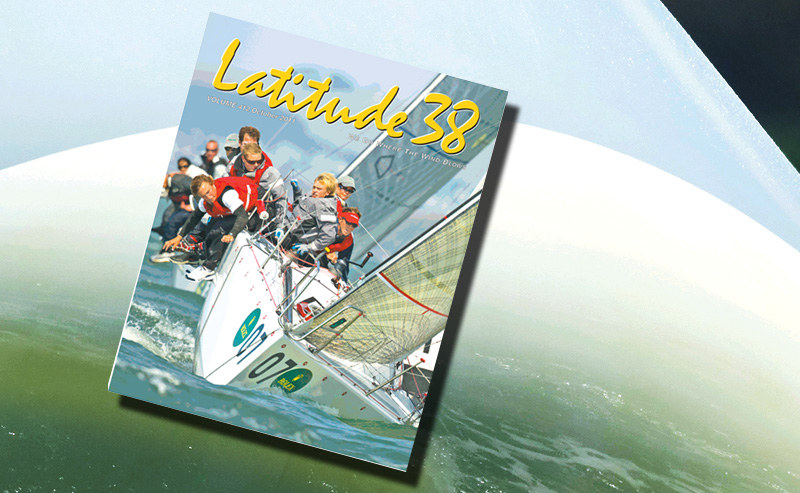 As you'll read in the October edition of Latitude 38 magazine (which hits the streets today), the process of prepping for October's Baja Ha-Ha rally has been long and arduous for many new cruisers. The resurrection of Stephen Arnold's 55-ft sloop Go For Broke is a good example. We won't go into the whole story here, but you'll get the idea when we tell you that after buying this bulletproof steel cruiser 18 months ago and making initial repairs, he had to abort two attempts at crossing from Hawaii to California — and the second time resulted in having to buy a new 150-hp engine!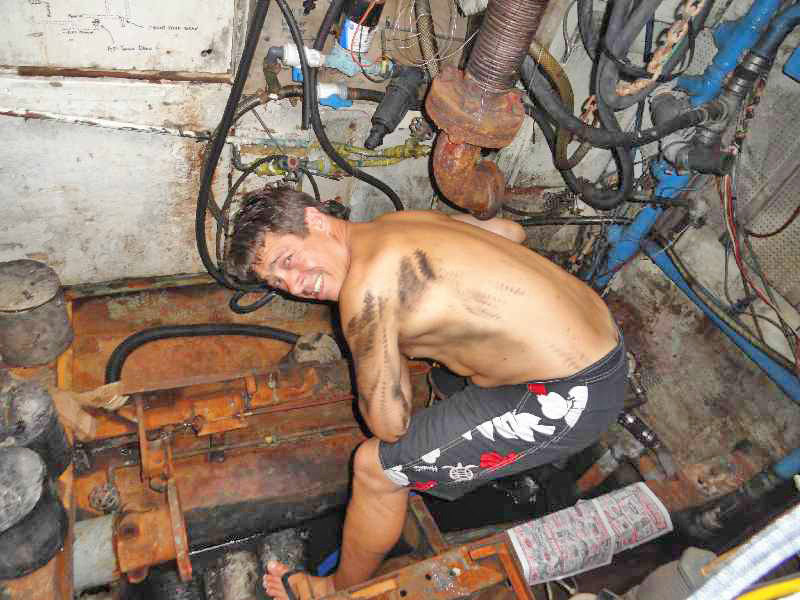 But the most interesting thing about this boat is its backstory — which directly relates to her name: Go For Broke. Her builder, Mineo Inuzuka, who sailed her around the world mostly singlehanded, was one of many Japanese-Americans who were rounded up and held in internment camps on U.S. soil shortly after Pearl Harbor. Inuzuka and many others proved their patriotism by enlisting to fight in Europe in the U.S. 442 Battalion, whose motto became "Go for broke." The boat came about many years later because Inuzuka and friends had made a pact that if they got out of that war alive they would build a boat and sail around the world. Sadly, by the time the boat was built — largely due to Inuzuka's later service in Korea and Vietnam — the rest of would-be crewmen were either too ill to go, or dead. Read the rest of the story in the magazine (which will also be available as a free downloadable eBook or PDF later today from our site.)
"I don't know if you still run these kinds of photos anymore," writes Golden Gate YC member Emmanuel Uren, "but here's a picture of an authentic Plymothian before some America's Cup 34 World Series races in Plymouth in early September. The lighthouse in the background on Plymouth Hoe — where many thousands of viewers watched the races — is called Smeaton's Tower, and was the third Eddystone Light. During the actual racing, the Hoe and other parts of the "natural amphitheater" were filled with spectators."
We think it's fantastic that so many Bay sailors are not only supporting the America's Cup so fervently but have the opportunity to travel to show that support. If you have photos from the World Series events in Cascais in August or Plymouth in September — whether you're holding a Latitude or not — we'd love to see them.
As for the first part of Emmanuel's note, we love seeing Latitudes in the wild!
With the approach of every cruising season, the fearful talk about personal safety in Mexico by people who aren't going there seems to reach a fevered pitch. We were speaking with an old sailing friend in Catalina and were frankly surprised when he said there was absolutely no way he would never ever sail to Mexico. He's never sailed there, of course, but you couldn't get him to do it if you paid him a million dollars.
Despite the fact that we can't remember ever getting a single letter from a cruiser who said he or she left Mexico because of personal safety issues, we've giving up trying to convince non-believers that the Pacific coast of Mexico is as safe as, if not safer than, most U.S. urban areas. Our advice can't be more emphatic: If you feel you won't be safe, don't go! As for those of you who are going south, no, we can't give you a 100% guarantee that you'll be safe any more than we can 100% guarantee you'll be safe in Belvedere, recently identified as the safest town in the United States. But for those who believe that actions speak louder than words, we are headed south to Mexico for about the 25th season in 30 years, and looking forward to a great cruising season.
As for those of you who are going to cruise the Pacific coast of Mexico and the Sea of Cortez, and who want to be super cautious, there are two places we are somewhat concerned about. The first is Mazatlan. Some reports indicate that cartel vs. cartel violence is increasing. However, as one long-time resident told us, "You have to be in the wrong place at the wrong time to be a victim of narco violence." On the positive side for Mazatlan is the fact that the two big marinas, Marina Mazatlan and Marina El Cid, are relatively isolated at the far north end of town, and neither has seen any violence. The second place to exercise extra caution is Acapulco, one of the most naturally beautiful places on the west coast of the Americas. Again, there is a turf war underway, which breeds violence. But it's such a huge city that your chances of being collateral damage are miniscule. Particularly if you live a normal cruiser lifestyle.
As for the Pacific coast of Baja, statistics show that it's super safe once you get 30 miles south of the border. Statistics also show the east coast of the Baja peninsula is super safe. As for the mainland, from San Carlos/Guaymas down to the above-mentioned Mazatlan is very safe. South of Mazatlan all the way to Manzanillo — including the Vallarta Coast and Gold Coast — have also been free of narco violence. Manzanillo has had some incidents, but cruisers hang out up by Las Hadas and Santiago Bay, which are far to the north of urban action. It's sort of like how Piedmont and Alameda somehow escape the violence of the rough parts of neighboring Oakland. The only popular cruising stop between Manzanillo and Acapulco is Zihua, the outskirts of which have seem some narco violence in the past. But things seemed to have settled down. In any event, cruisers who visited last year say there were no safety issues.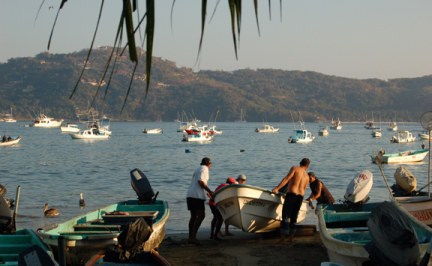 For your own graphic look at the statistics, visit this map of Mexican drug war murders. Zoom in and check the situation right on the coast as opposed to a little way inland. We think you'll find it interesting.
And consider this. Every year International Global Living ranks the top 23 places in the world to retire, based on real estate prices, cost of living, culture, health care, special benefits for retirees, infrastructure, and safety and stability. For the third year in a row, Ecuador came in number one. Everyone who is freaked out by Mexico will no doubt be shocked to learn that Mexico came in second. Here's GL's description: "White sand beaches and turquoise-blue seas, with hammocks swaying nearby…centuries-old Spanish-colonial cities with winding, cobblestone streets and fountain-filled plazas…towering ruins left by ancient civilizations… guitars being strummed on warm, moonlit evenings…Mexico is rich in romance, as the one million-plus U.S. and Canadian expats who live there will tell you.
"But expats don't live by romance alone. Fortunately, Mexico also provides solid, modern-day comforts and conveniences. That secluded, away-from-it-all beach on the deserted, packed-sand road? You can get within a few miles of it on a modern highway — one of the many that criss-crosses Mexico. Those centuries-old cities with their colonial homes? Today their walls conceal telephone and high-speed Internet cables and their roofs sport satellite dishes and solar water heaters. Likewise, health care is very much 21st century, with first-rate hospitals, clinics, and medical staff. (Don't speak Spanish? Many doctors, especially in private clinics, speak English.) And the bill will likely run you half or less of what you'd pay at home."
That's a little long to fit into an attention-grabbing newspaper headline in the U.S., but interesting nonetheless. Mexico was followed by Panama, Spain, and New Zealand.
Stodgy old Kiplinger Magazine recently came out with their Top Eight Foreign Places to Live, based primarily on cost of living and health care. The list was headed by — how can this be? — Merida, Mexico, which is just inland from the Caribbean coast. Kiplinger reports that a couple can live comfortably on $1,700 a month, and that many Americans can sign up for Mexico's low-cost — like $300 a year — IMSS public health system. Kip's number two was Lunigiana, Italy, where you can live for $2,500 a month and have good health care. Bocas del Toro, on the Caribbean side of Panama, a cruiser and surfer favorite, came in third, where a couple can live nicely on $2,500 a month. Grenada, Nicaragua, came in fourth. While the cost of living is half of that of Panama, the health care isn't very good. Number five was Nha Trang, Vietnam, where a couple can live on $600 a month and "like kings" on $1,000 a month. Vietnam is a fantastic place, but it's very foreign, very third world, very corrupt, and the ex-pat community is tiny. Roatan, Honduras, another cruiser favorite, is a bargain at $1,200 a month, but the health care is so-so. Bearn in the Basque part of France runs $2,000 a month, but you need your own health care plan and it's not near the ocean. Corozal Town, Belize is $2,500 a month, but they recommend you have your health needs tended to in Mexico.
We thought you'd enjoy these other points of view.
Receive emails when 'Lectronic Latitude is updated.
SUBSCRIBE