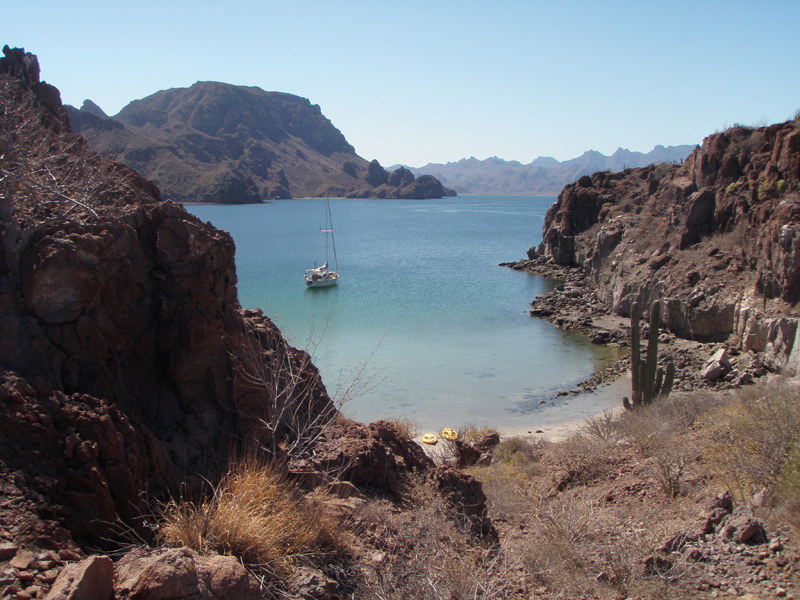 "After six months at sea on a 34-ft boat, I knew Byron was the only man for me," says Sausalito-based sailor Jessica Allen, who grew up around the famous racer Imp, owned by her uncle, Dave Allen.
After heading south last October aboard their sloop, Sterling, Jessica and boyfriend Byron Cleary spent several months lazily exploring the Sea of Cortez and, from the sound of her report, they loved every minute of it. But the morning of February 24 was definitely the highlight.
"On our fourth morning in the beautiful Honeymoon Cove on Isla Danzante (east of Puerto Escondido), Byron woke up unusually early and said he was going for a hike," she recalls. When he returned he insisted that Jessica come with him to their favorite "sunset-whale-watching lookout spot" at the top of a nearby hill. "As we approached the summit," she says, "I noticed an unusual pile of rocks I did not recognize from the previous evening. As I got closer, I realized that 'Will you marry me?' was written perfectly in a collection of small rocks." At first she thought it must have been left there by another pair of lovers, then it hit her: "I turned around very slowly and Byron was on his knee holding a ring that he had made for me out of stainless steel seizing wire — what a sailor!" Once she caught her breath, she spurted our an emphatic, "Yes! Of course I'll marry you!"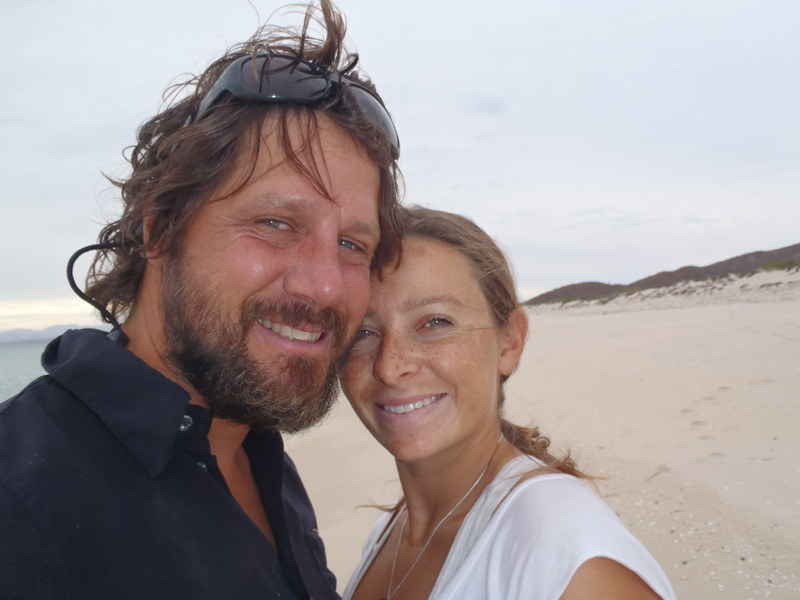 Bryon scored extra points for old-fashioned gentlemanliness, as he'd asked Jessica's father's permission to propose before they headed south. We wish them both the best of luck. According to Jessica, the pair is in for a very long honeymoon: "It is because of this trip and our wonderful experience that we will be cruising for the rest of our lives."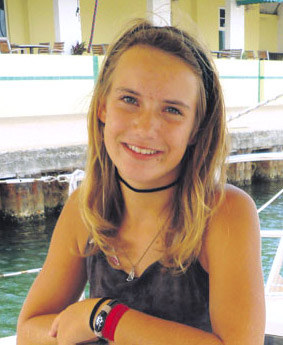 It's been awhile since our last report on Laura Dekker, the 15-year-old Dutch girl who wants to become the youngest solo circumnavigator aboard her Jeanneau Gin Fizz Guppy. After crossing the Atlantic — from Cape Verde to St. Martin — in December, Dekker cruised the Caribbean, and spent 10 days crewing aboard the tall ship Stad Amsterdam. She arrived in Shelter Bay, Panama, and spent a week and a half exploring the area, making new friends and acting as line-handler on another yacht before getting the green light to take Guppy through. On April 12, Dekker entered the Pacific. On Tuesday, Guppy sailed away from the Las Perlas bound for the Galapagos and, as of yesterday, she was making steady progress with no problems.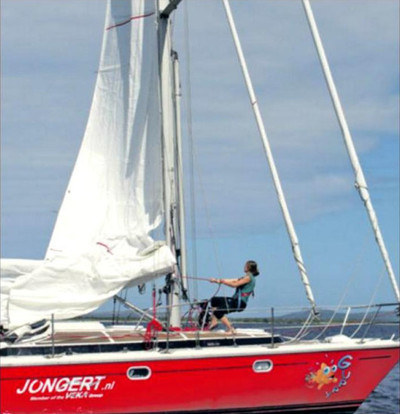 For all of the negative press Dekker's adventure has received because of her age, not the least of which has come from Latitude, we are impressed by her progress and apparent seamanship. As we have from the start, we continue to wish her nothing but the safest of journeys.
"I've heard rumors that yachts transiting the Panama Canal will pick up help, in the form of line-handlers, for a transit," write Jeff and Lisa Thayer, who own Jim, an International 470, in Montara. "Our understanding is that four are required, one at each corner of the boat. We would love to experience a Canal transit on a boat, not on a cruise liner. We thought that by offering our services for free, we might be able to get on a boat. Do you have any experience or information that might help us plan such an adventure?"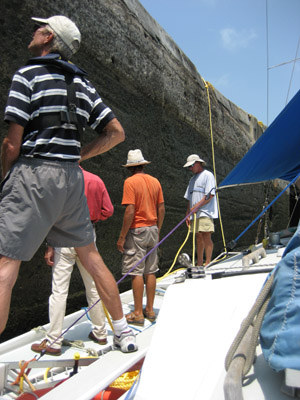 Four line-handlers are required for a Canal transit, and yes, most cruisers would rather take other sailors for free than have to pay for line-handlers. Sometimes the Canal Commission has yachts do two-day transits, with an overnight in Lake Gatun, so be aware there might be a shack-up involved. But it's a great experience. The best places to get information on a Canal transit hook-up are the Balboa YC on the Pacific side, and the Shelter Bay Marina on the Caribbean side. But there is also a cruiser net where boatowners put out the call for line-handlers and people request to be line-handlers.
If you've line-handled aboard other people's boats, we'd love to hear about your experiences. Send them to Richard, along with any photos you might have taken.
Receive emails when 'Lectronic Latitude is updated.
SUBSCRIBE