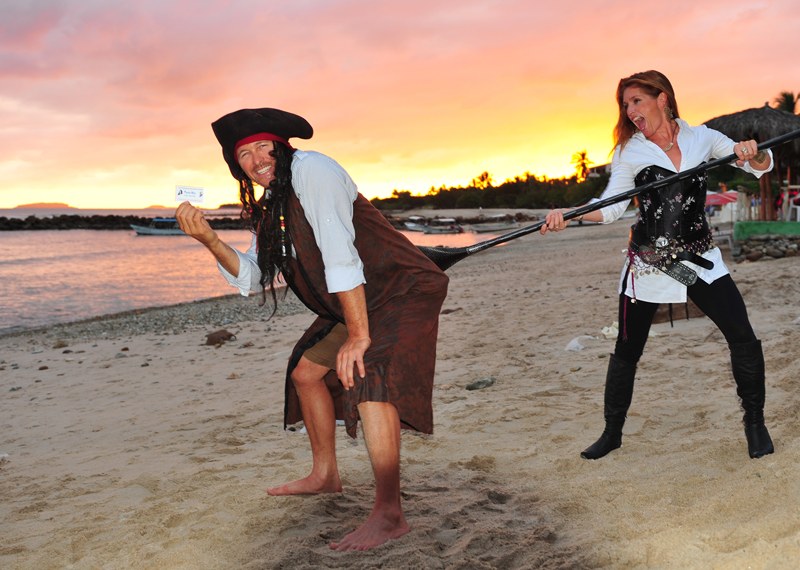 Last Friday was the final day of the three-day Banderas Bay Blast, which attracted 32 cruising boats, many of them catamarans, for 'nothing serious' racing. As is the case with almost all 'nothing serious' cruising events in Mexico, it was a fundraiser. In this instance it was sponsored by the Punta Mita Yacht & Surf Club, the Vallarta YC, Latitude 38, P.V. Sailing, and Marina Paradise and Nayarit Riviera Marina, the latter two of which provided free berthing to participants.
Thanks to the efforts of the likes of Tammy Davis of Paso Robles — who had to step in at the last minute for Lisa Zittel to become Commodore of the Punta Mita Yacht & Surf Club — a total of just under $2,500 was raised for education and environmental efforts on Banderas Bay. Part of Ms. Davis's responsibilities was to whack new club members on the ass with a carbon fiber initiation paddle to help loosen their wallets before they received their membership cards. She apparently did an excellent job, because several new members tried to join multiple times. Who says grandmothers like Tammy can't swing with authority?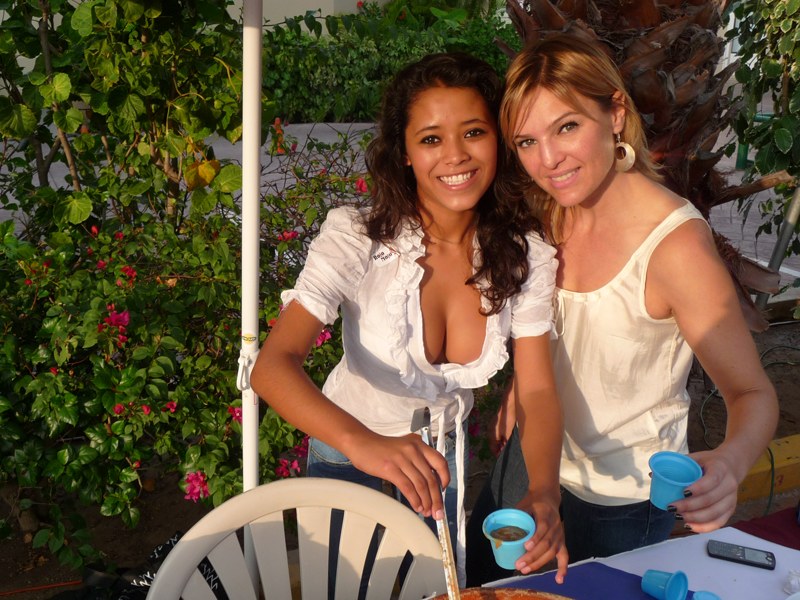 The day after the Blast was the Vallarta YC's Chili Cookoff, their big fundraiser of the year. It attracted a very large crowd for an extremely worthy cause — the Children of the City Dump. While extreme poverty isn't obvious in the tourist areas of Mexico, some kids indeed have to battle just to survive by living in and off what they can find in the dumps. The amount of money raised has yet to be announced, but it was substantial. A big thanks to all the chili vendors, chili testers, volunteers, musicians and the Paradise Marina.
There was also an unofficial third fundraiser as a result of a cruiser tragedy during the Blast. The fundraiser was for Jim and Kent Milski, the much-loved owners of the Colorado and Northern California based Schionning 49 Sea Level. Shortly after winning the first Blast race and having a great time socializing with fellow sailors while eating street tacos in La Cruz, Jim and Kent received the worst news any parent can get. Alex, their daughter and a vet of the '09 Ha-Ha, had died in a hiking accident in Costa Rica. Steve May of the Gualala-based Farrier 41 Endless Summer, who had been sailing with the Milskis, immediately took over care of their boat and began to raise funds to help cover sudden expenses. More than $2,000 was raised among the Blast fleet. If you're a friend of the Milskis and would like to contribute, contact Doña de Mallorca.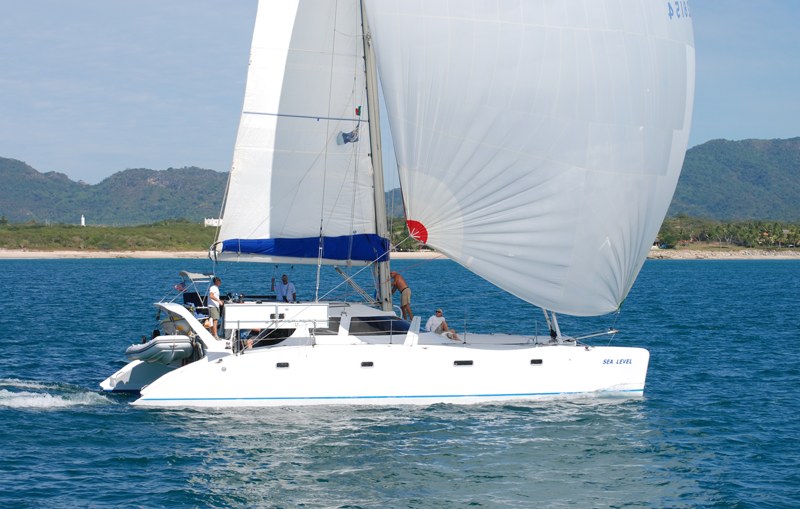 Intrepid solo circumnavigator Jeanne Socrates, who set out from the Canaries on October 10 on a planned non-stop circuit of the globe via the five Capes, is being forced to stop in Cape Town, South Africa, to effect repairs to her Najad 380 Nereida. As you'll recall, Socrates lost her first Nereida on a beach in Mexico last summer and had this new Nereida built to her exacting specifications in the following months.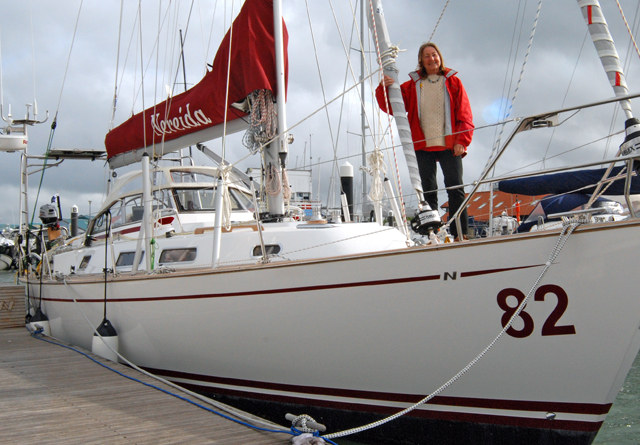 Since her departure, Socrates has since dealt with a number of problems large and small, most of which she was able to fix outright or at least jury-rig. But being the consummate seawoman, she believes it unwise to enter the Southern Ocean without stopping for repairs, even though she'd hoped to complete the trip non-stop. "My rod kicker totally failed, the first reef line is lost somewhere inside the boom, several battens are broken, and I'm having a problem with the trysail track," she noted, leaving out the earlier trouble she'd had with an exploding watermaker. "I felt it wasn't safe or sensible to continue without taking the opportunity to get the important items fixed before getting to the 50-plus-knot winds ahead."
As she slogs her way toward Cape Town, she's been busy ordering parts and arranging for repairs once she arrives. She should arrive in the next few days, and she hopes to keep her stay brief. You can keep up with her blog posts — and track her progress — at www.svnereida.com.
"While anchored at North Minerva Reef, a Royal New Zealand Air Force Orion did numerous passes over the anchorage," reports Emmy Newbould, who's cruising with her husband Eric Willbur on their Brickyard Cove-based Flying Dutchman 37 Nataraja. "They hailed each and every boat to ask the captain's name, nationality, number of crew and their nationality, ETA to New Zealand and what port, and if there were pets on board. We were walking on the reef so did not get to chat with them, but they did tip their wing in acknowledgement when we waved.
"Minerva Reef is 775 nm away from New Zealand, so we were all pretty surprised that the airforce went to that kind of trouble. Our next military encounter was about 10 miles off the entrance to Bay of Isles, New Zealand. We were hailed by a New Zealand warship which proceeded to ask us most of the above questions, then informed us that they were going to board us. They launched their RIB and dropped off two Customs guys who were both very friendly and explained that they weren't going to clear us in but instead were paying us a courtesy visit.
"They knew we were coming since we'd sent an email when we were 48 hours out letting them know that, due to the lighter winds, we anticipated getting in sometime late Tuesday or even early Wednesday. It was about 3 p.m. on Tuesday when the warship spotted us and one guy said, 'You weren't supposed to be here until tonight.' Eric told him that it would be 'tonight' by the the time we got all the way in to Opua. Then they asked what boats were behind us, which ones we had been in contact with, how many were at Minerva when we left. We had a good time with them, and they were great sports for letting me take photos, but I have to say, we were really surprised at Big Brother's interest in the boats coming to New Zealand, and the means they go to to track them.
"One thing we did note was no guns. Neither the customs guys nor the ones in the launch were armed. We mentioned that and the response was 'Aw, we got no need for guns.' What a great attitude! We didn't make it to the quarantine dock before 5 p.m. but that was okay because we got a free night tied to a dock and a full night's sleep on a completely motionless boat. The following morning, we were cleared in and we are now free to roam the country!"
Receive emails when 'Lectronic Latitude is updated.
SUBSCRIBE