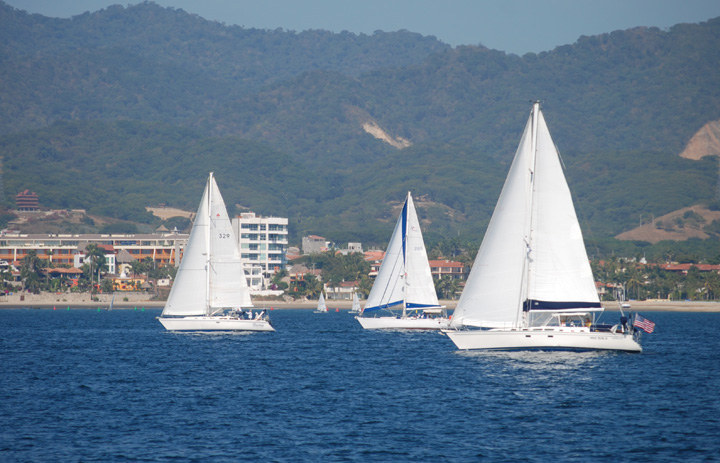 The next big event on the cruiser calendar in Mexico is the fifth annual Sailors' Splash, a welcome-to-the-bay party hosted at Marina Riviera Nayarit and sponsored by Riviera Nayarit Tourism with the support of the Baja Ha-Ha cruising rally and Latitude 38 magazine.
Everyone is welcome to join the festivities on the malecon of Marina Riviera Nayarit at 6 p.m. on December 9, where there will be food, drinks, live music and socializing. Riviera Nayarit Tourism will acknowledge the cruising fleet's support of the communities and villages of Riviera Nayarit by handing out free hats and shirts — while they last.
The Banderas Bay Blast, three days of Ha-Ha-style 'nothing serious racing' will start two days later, on December 11. Race 1 will be off Marina Riviera Nayarit. Did we mention that the marina will be providing free slips to participants? Race 2 will sail up to Punta Mita for the annual opening ceremony of the Punta Mita Yacht & Surf Club. Lifetime membership is just $1, but you have to sail there, and you have to present your bottom to the Commodoress for the carbon-fiber paddle initiation whack.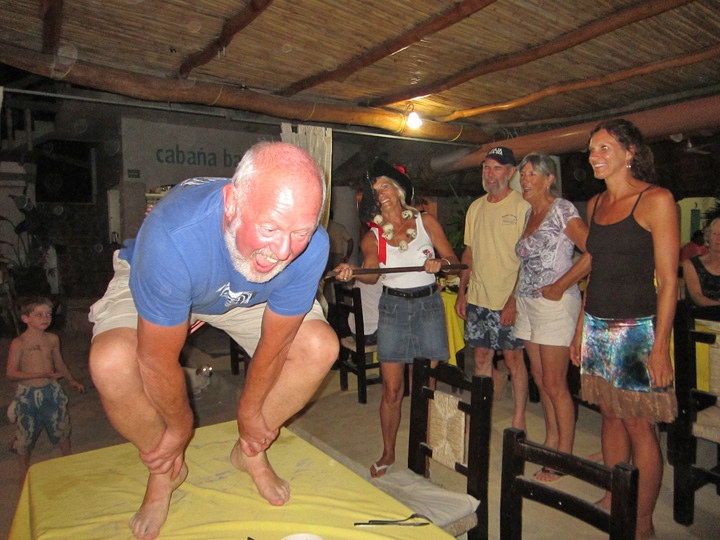 The final race of the Blast is the Pirates for Pupils Spinnaker Run for Charity, a 12-miler from Punta Mita to Paradise Marina in Nuevo Vallarta. Boats are encouraged to take guests who contribute money to this worthy fundraiser. Did we mention that harbormaster Dick Markie and crew will be providing free berthing for participants at Paradise?
Danger at the entrance to Banderas Bay!
As Chris Barry of the Renton, Washington, Jeanneau 42 Spill the Wine learned, boats from Mazatlan or Cabo San Lucas need to pay very close attention when entering Banderas Bay between Punta Mita and the Tres Marietas Islands. The problem is that there are reefs and rocks, not all of which are charted or charted correctly.
Barry was navigating with a low-resolution Navionics chart and paying attention as best he could to the flashing white lights. Unfortunately, the low-resolution Navionics chart is not accurate for Punta Mita, and as Barry entered the area, he found himself in a 'field' of white flashing lights on fishing boats. When he hit the rock, his boat stopped dead.
There was no immediate ingress of water, but Barry eventually took Spill the Wine to the Opequimar Yard in Puerto Vallarta for repair of some detached tabbing, a few small cracks, and removal of the keel for resealing.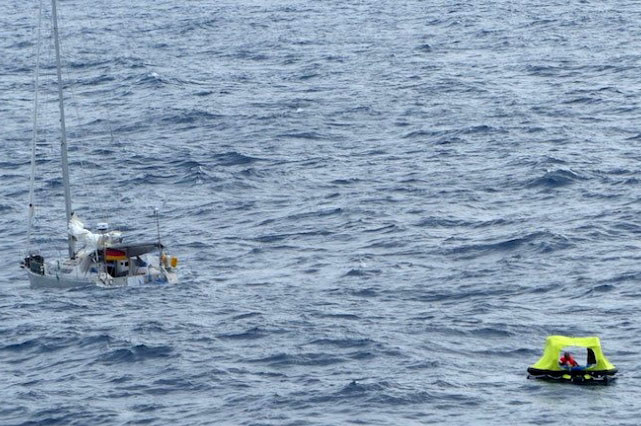 Four family members and their one crew were successfully rescued last weekend from the BH39 Noah in the Atlantic Ocean while participating in the 2,750-mile Atlantic Rally for Cruisers (ARC) from the Canary Islands to St. Lucia.
Noah is a one-off aluminum Berckemeyer design. She began taking on large amounts of water three days after the start of the ARC while about 340 miles west of Grand Canaria.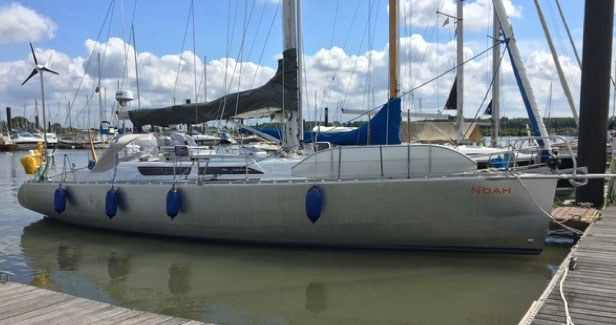 The Alexander and Alexandra Grefrath family, including their 10- and 12-year-old sons, and their crew Jörg Zeibig, all from Germany, were taken onto the Royal Research Ship James Cook following a Mayday call. The rescue was effected by the Noah crew getting into the boat's liferaft and drifting down to the James Cook.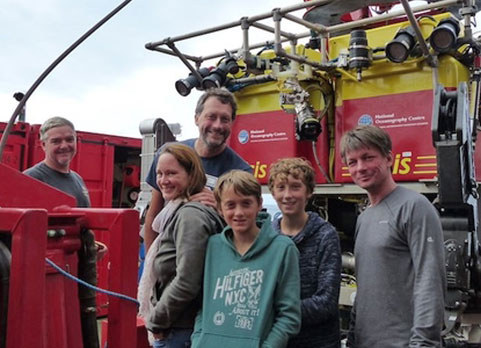 Noah issued the Mayday at 1409, as the skipper reported the boat's manual and electric pumps were unable to keep up with the amount of water coming in from a source the crew were unable to determine. Thanks to coordination by Marine Rescue Coordination Center in Tenerife, the entire crew was picked up safely less than three hours later.
The distress call had also been received by fellow ARC yachts Ocean Dream, White Satin, and Step by Step 2, which were coming to assist. Once the James Cook took over, the ARC vessels were released to continue their passage across the ocean.
PHOTO
Noah was being tracked by the YB3 satellite tracker, but has almost certainly gone to the bottom by now.
The loss of Noah is similar to what happened in last year's ARC, when the British yacht Magritte had to be abandoned because the crew couldn't find or stop a significant leak.
Not that it would have necessarily helped in the case of Noah or Magritte, it's always a great idea to have a posted diagram handy showing the location of all of the vessel's thru-hulls. In a crisis situation, it's hard to remember the location of all of them. It's also important to check that all seacocks are in working order prior to leaving on a voyage.
As has been the case for more than a quarter of a century, there are more than 200 yachts participating in this year's Atlantic Rally for Cruisers.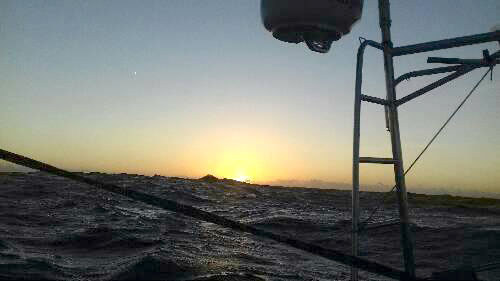 Jeanne Socrates' attempt to be the oldest person to circumnavigate the globe singlehanded without stopping is, unfortunately, making an unforeseen stop. Her Najad 380 Nereida should be arriving in San Diego any minute now. As of last night she was sailing in steep seas up to 13-14 feet and in WNW winds of 23-30 knots. Saturday's short, steep seas and winds into the low 30s tossed Nereida around quite a bit.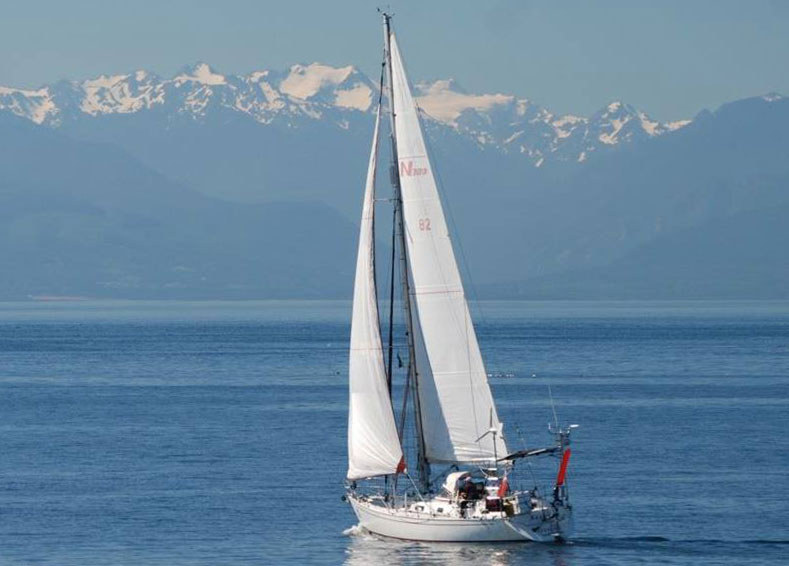 Socrates made the tough decision to head for San Diego because, as she wrote in her blog: "Repairs are needed to the boom connection and genset, among other, more minor, items. Not a comfortable thought while heading towards the Southern Ocean that the genset would probably be out of action for the next 7-8 months, giving an ongoing battery power issue with not enough fuel (main engine takes more diesel and is less efficient at frequent topping up of wind and solar power inputs), and the boom connection can only get worse with more rough use and is already badly worn. Not something I can repair — it needs proper attention. Feeling very disheartened and sad. So many people have been so supportive and helpful in so many ways."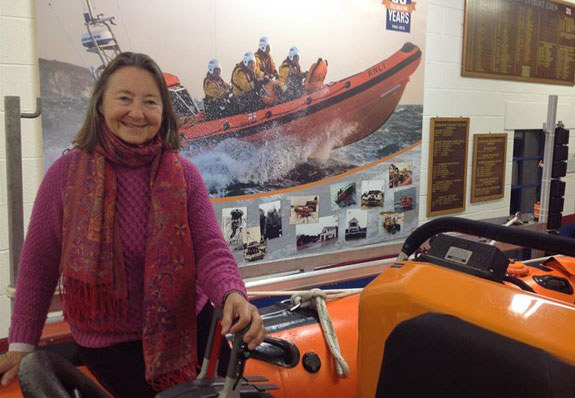 The 74-year-old British sailor had battled rough weather and sailed through numerous squalls since departing Victoria, BC, on November 13. She had previously attempted to start this latest circumnavigation in October, but turned back in the face of fierce early-season storms. Socrates is already the oldest female solo nonstop circumnavigator. To read much more backstory and to follow Jeanne's blog, see www.svnereida.com.
Receive emails when 'Lectronic Latitude is updated.
SUBSCRIBE