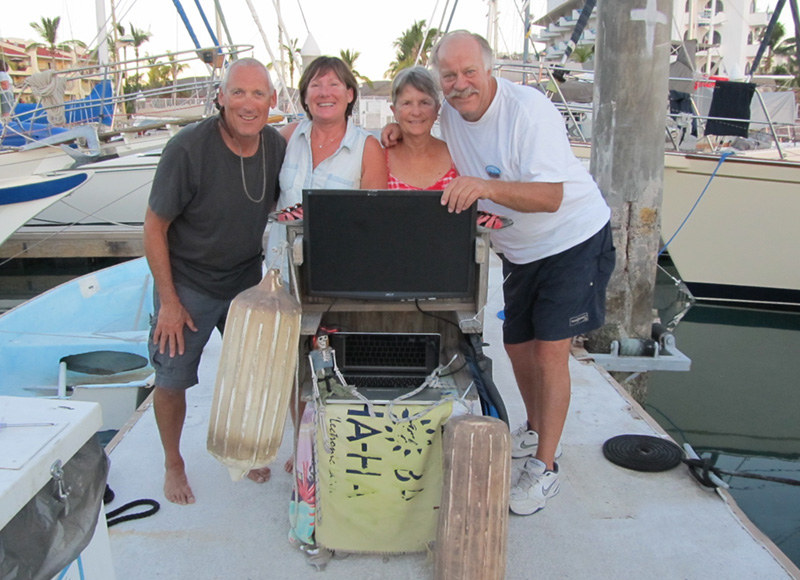 Scott and Monica of the Seattle, WA-based Gulfstar 44 Scott Free (Baja Ha-Ha class of 2009) and Eric and Christine Stephan of the Gig Harbor, WA-based Norseman 447 Indara (Baja Ha-Ha class of 2000) are pictured above, having made preparations for movie night — with an ancient boarding ladder, some duct tape, a few hangers, and a monitor — on Dock 4 at Marina Palmira in La Paz.
"Captain Ron was the safety film of the evening, and afterward we discussed pointers about mooring, navigation, and good seamanship," writes Eric Stephan. "We had a great turnout of 12 eager students, complete with popcorn, beer and peanuts, and even had a spillover audience up in the nosebleed section (the foredeck of a nearby boat). The next day's practice for hands-free high-speed mooring was cancelled, though, due to a class on the mating habits of blue-footed boobies."
It says something about the quality of the boats in a liquidation sale when the specialist marine auctioneer is more excited about a handful of ancient cars than dozens of vessels. The final liquidation of abandoned boats and miscellaneous marine equipment at Nelson's Marine at Alameda Point took place on St. Patrick's Day. Kip Kane, president of the Spanish Fort, Alabama-based International Boat & Marine Auction Services, sold 304 items in four and a half hours. The city of Alameda had initially turned to Alameda's Michaan's Auctions for the sale, but Michaan's passed on the offer, so Kane's company stepped in. "We have a niche specialty in auctions such as these," Kane said. "The city worked to track down as many owners as they could and give them an opportunity to get their property back. Everything now is as-is, where-is." Buyers have until the end of the month to get their purchases off the site.
The highest bid was for a Travelift that sold for $21,000 to a boatyard in Stockton. The lowest was $50 for the hull of a sloop. A few dozen other items were sold in subsequent days, with the rest destined for the scrap heap. (A 1957 Falcon went for $200 and a 1973 Porsche went for $200.)
Nelson's was one of Alameda Point's earliest tenants, but was evicted from the property in 2013 after disputes related to storm water utility fees and building code violations.
Current plans for the former Naval Air Station, which was closed in 1997, include a mix of commercial, residential and recreational uses. The City of Alameda took title to about 1,400 acres of land and water from the Navy on June 4, 2013. The U.S. Department of Veterans Affairs took title to 624 acres of land from the Navy on November 3, 2014. The VA is constructing an outpatient clinic and columbarium on 112 acres, with an additional 512 acres remaining undeveloped.
Receive emails when 'Lectronic Latitude is updated.
SUBSCRIBE