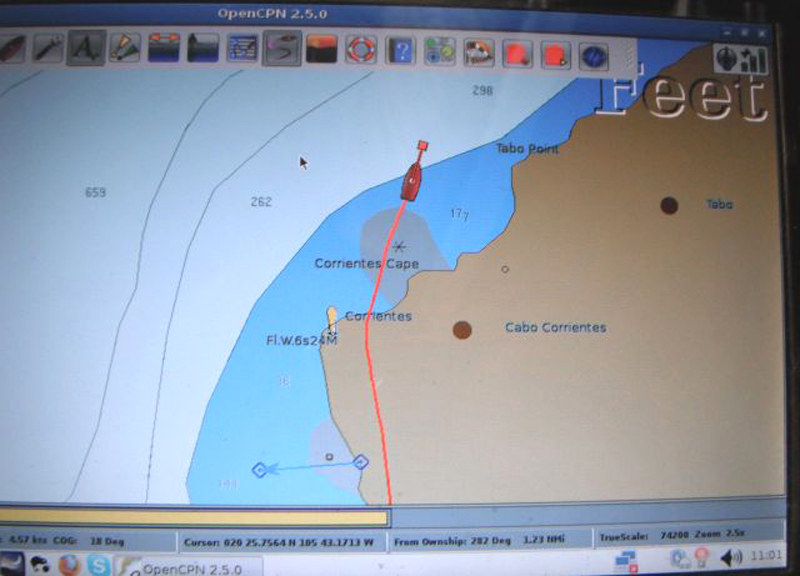 By the highly unusual route that their chartplotter recorded, you might think that Tom Morkin and Liz Tosoni were really anxious to get around Mexico's Cabo Corrientes late last month. After all, arriving at nearby Puerto Vallarta would signify the completion of their 13-year circumnavigation aboard their Vancouver, B.C.-based Spencer 51 Feel Free.
But even after cruising for 25 years, they haven't figured out how to get their boat to jump over a headland like Corrientes. The fact is, most (but not all) charts for Mexico — electronic or otherwise — are way off because they are sourced from hundred-year-old surveys. (Fortunately, this problem is being remedied by contemporary cruising guide authors, whose chartlets are based on actual GPS coordinates.)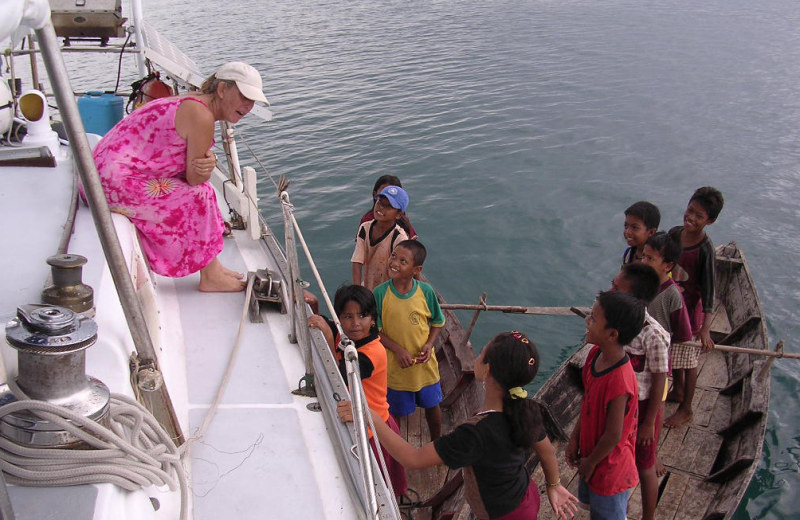 Regular Latitude 38 readers may recall reports and feature articles by Liz and Tom over the years. Not only have they ventured to many far flung places, away from the so-called 'cruiser milk runs' during their travels, but they've also financed much of their voyaging by an uncommon means: teaching English in Asia and elsewhere for stints up to a year. We also like the fact that they're both keen fisherfolk, using lines from on deck as well as chasing their prey with Hawaiian slings. In fact, they're so deep into the practices of self-sufficiency that they also make their own beer on board!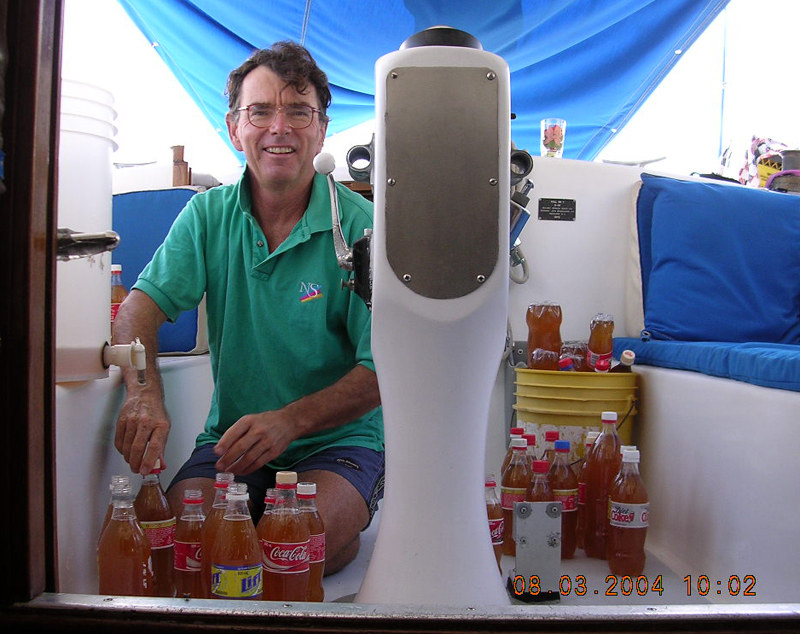 "We're happy to report that on March 28, 2012 Feel Free and crew completed their circumnavigation of the great blue marble," writes Tom. "We departed Mexico on March 28, 1999, so that makes it 4,745 days, or exactly 13 years — if you are counting." We plan to have more on Tom and Liz' recent travels in an upcoming edition of Latitude 38 magazine.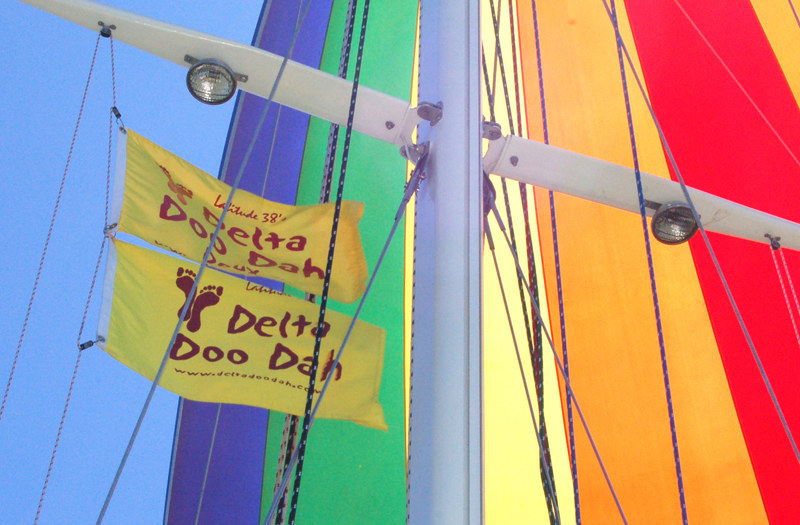 Last Monday, registration for the Delta Doo Dah Fab 4 opened when 'Lectronic Latitude was posted. In an attempt to level the playing field for everyone who wanted to join in some hot summer revelry in the Delta, we used a lottery system to select the 50 boats that would fill out the roster, and in the 12 hours the registration page was open, over 100 boats threw their names into the hat.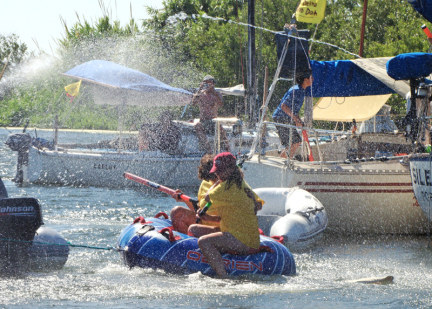 The next day, the Doodettes used a random number generator to assign each entry their position on the roster or waiting list. Statistics never were our strong suit but we found it interesting that the result of that random assignment yielded a final list that's split 50/50 between veterans of previous Doo Dahs and newbies. Life being what it is, there will almost certainly be a handful of dropouts before the start of the event on July 28, which means those on the waiting list aren't necessarily out of the running, but below you'll find this year's confirmed fleet for the Fab 4.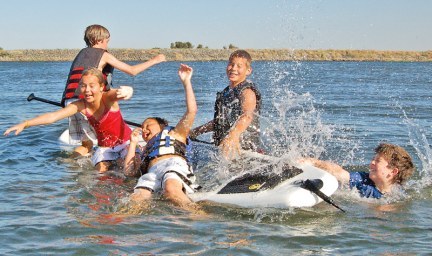 If your name's not listed, don't get down; get up — up-Delta, that is. Many Bay Area yacht clubs plan Delta cruise-outs, and if you can't make one of those, there's nothing stopping you from organizing your own Delta cruise. We'll see you up there!
Addiction Too, Newport 30 MkII, Arnie Thompson, San Francisco
*Annie, Sprague Cutter 33, Jeff & Annie Cook, Sacramento
*Aquavit, Swan 36, Bruce & Gail Sinclair, Vallejo
*Ardea, Tartan 37, Jim & Georgianne Boissier, Fremont
*Autumn Wind, Catalina 34, Brian Plautz & Elizabeth Kline, Reno, NV
*Because…, Jeanneau 45 DS, Tim Shea & Ian Shea, Napa
**Blue Express, Pearson 32, Corey Wurzner & Bernice Handzak, Carmel
Break Time, Yorktown 39/cc, Steve Denney, Pittsburg
Breakaway, FP Athena 38 cat, Brian & Claudia Davis, San Leandro
Bufflehead, Beneteau First 36.7, Stuart & Paula Scott, Novato
*Calaveras, Explorer 45, David Lyon & Angie Aragon, Santa Cruz
Carola, Young Sun 35, Cliff Smith & Mary Ann Paulazzo, Davis
Chimera, Little Harbor 47, C. Grant & Barb Miller, Newark
*Dasha, Ericson 31, Franz & Margot Vandercappellan, Roseville
Dream Catcher, Venture Newport 23, Greg & Kristin Torok, Redwood City
*E.C. Rider, Catalina 25, Matthew Loeffler & Brigitte Bowers, Atwater
*Flibbertigibbet, O'Day 34, Jim & Betty Adams, Discovery Bay
Flying Baby, J/100, Michael Rosauer & Everett Roshauer, Mill Valley
*Full House, Gemini 3000 cat, Jon & Vicky Jones, Hillsborough
*Goose, Catalina 30, Mike & Lorianna Kastrop, Redwood City
*Gute Fahrt2, Hunter 31, Tom Shuster & Jan Stockon, Rio Vista
Gypsy Soul, Roberts Offshore 44, Danny & Marilyn Webb, Grass Valley
Heart of Gold, Olson 911, Greg Byrne & Joan Byrne, Dublin
*Hotel California, Catalina 375, Michael & Linda Stafford, Bodega Bay
Kydonakis, Hunter 33, William Robberson, San Francisco
*La Vida, Catalina 320, Mike & Joan Mellon, Santa Cruz
*Liberte, Kaufman 47, Dave & Julie Rosenberg, Los Altos
Magrathea, Fuji 32, Gary Gray, Salinas
Mariah, Gulf PH 32, Ken & Vinnie Painter, Bothell, WA
*Moondance, CS34, Niels Frommann, Sunnyvale
*Neener3, Catalina 42, Jan Grygier, Albany
Queenie II, Island Packet 44, Mark & Andrea Ferguson, Walnut Creek
*Reality Cheque, Beneteau First 35s5, Kevin & Lori Wilkinson, Woodside
*Resolute, Hunter 33, Jason Kopps & Eric Kopps, Alameda
Robert Gray, 120′ survey vessel, Curtis Lind & Angela Bowen, Richmond
Sarafina, Cal 28, John Reissenweber & Stacy Turner, San Francisco
*Scarlett, Tartan 30, Eli Myrick & Akio Omori, Oakland
Sceptre, J/130, Bob Musor & Terri Guerra, Danville
*Shrimp Louie, Cal 2-29, Michael & Tara Pearce, Sausalito
Silverheels II, Tartan 34, Peter Turner & Carla Garbis, Moraga
*Sizzle, Spirit 28, Erik & Brian Jones, San Francisco
*Solace, Jeanneau SO 45.2, Spencer & Laura Borg, Danville
*Time and a Half, O'Day 35, Jay & Jeanne MacDonald, Mariposa
Tinuviel, True North 34, Barry Foster & Kathy Crabtree, Redding
Top Priority, Catalina 34, Ryan & Julie Floyd, Menlo Park
*Wind Mill, Catalina 30, Doug Jarmer & Jenniger Mengel, Sunnyvale
*Zorza, Islander 36, Jay Hickman & Joshua Boylan, Sausalito
(* = Doo Dah vet; ** = Crew on a previous Doo Dah)
She's indeed a paradox, meaning she defies reason, for she's a cruising boat built on a chassis, as it were, of an ORMA 60 racing trimaran, one of the fastest, wildest and most fragile racing classes ever. We're speaking of the 60-ft trimaran Paradox that won the five-boat multihull class in last week's Voiles de St. Barth.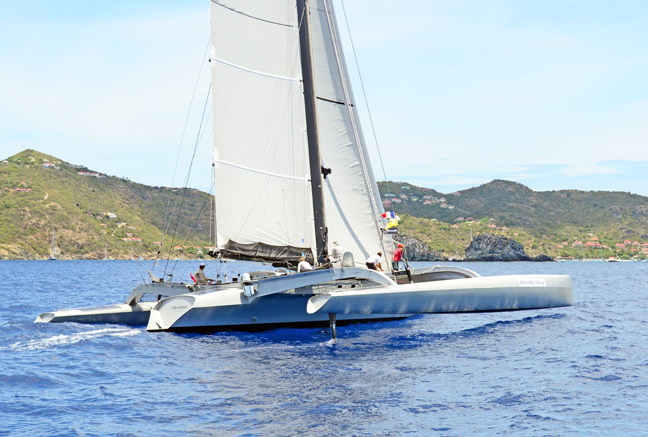 We hoped to get the story from owner Peter Aschenbrenner, who is apparently based out of Redwood City as well as Rome and the Cayman Islands, but it was one of those weeks when the owner just never found the right time to sit down and talk with us. Fortunately, we crossed paths with Maine-based Paradox crewmember Cam Lewis, who talks as fast as he raced his 110-ft catamaran Team Adventure around the world back in the day.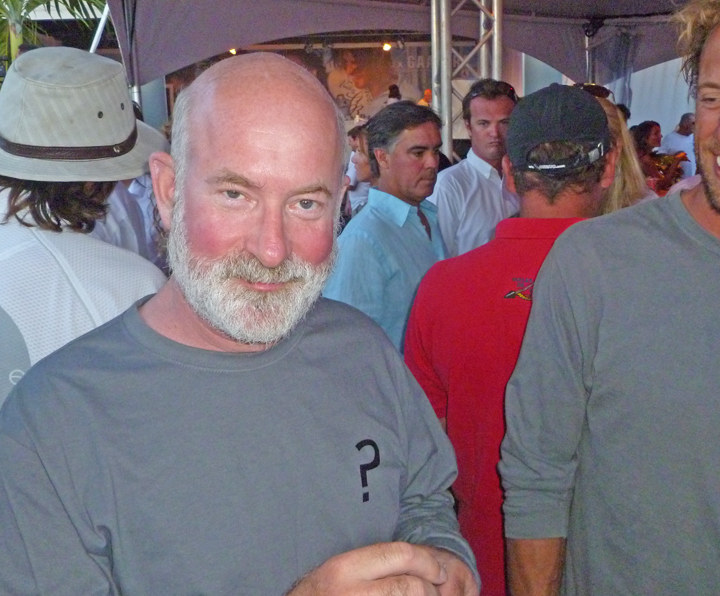 "Peter, who likes talk about his boat and not himself, has been trying to build a cruising multihull for over a decade," Lewis explained. "Paradox was built from ORMA 60 parts, with the basis being the last Fuji 60, which was designed by Nigel Irens. But since Paradox is a cruising boat, her mast is just 85 feet instead of 100 feet, and she's 48 feet wide rather than 60 feet wide. But she only displaces eight tons. Compare that with the 18 tons of the catamaran Phaedo, our Voiles competition, which is the lightest and fastest Gunboat 66 ever built."
What's Paradox like inside, we asked, assuming she was completely stripped out. "She's beautiful!," responded Lewis. "The captain's quarters are under the cockpit, there are bunks in the floats, she has a dining room table, a stove and refrigeration, hot water, a nav station — the whole works. I first saw Paradox after the conclusion of the 2011 Caribbean 600 that I did on Phaedo, but I didn't pay much attention to her. Then last October, while on my way to pick up my kids near Waukegan, Maine, I saw this gray trimaran sailing at warp speed — 20 knots — on port tack up the coast. It was Peter and his captain, Olivier Vigoureux, who were headed to Camden to visit the best restaurant in Maine. I gave chase, but was never able to catch them. Intrigued by the tri and her owner, I emailed Olivier, but never heard back from him. So I emailed Nigel Irens, and through him met Peter and ended up down here racing on a Caribbean sailing holiday."
Paradox did her second Caribbean 600 this spring, as well as the Heineken, BVI Spring Regatta and the Volies, so she's been one of the more active racing boats in the Caribbean. "We're now all headed to Crossroads for detox," laughed Lewis. "Actually, I'm headed back to Maine, where I hope to get my peas planted. "
We hope to have a report from Aschenbrenner on Paradox in the near future.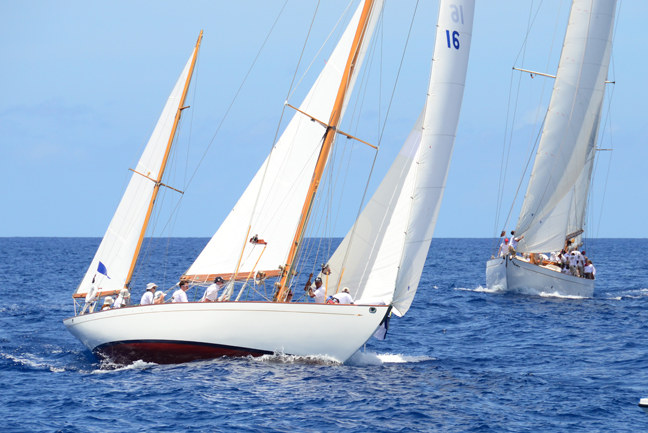 Also taking her class at the Voiles — but with four bullets — was Matt and Pam Brook's classic San Francisco-based S&S 52 Dorade, which is in just the early stages of retracing her 80 something year old racing career in the Atlantic and Pacific. True, Dorade's only competition in the classic class was Carlo Falcone's big and heavy Mariella, which wasn't finding her conditions. Nonetheless, we spent a bit of time closely watching Matt and Pam's narrow yawl work her way around the course in light to medium air in the fourth and final race of the Voiles, and were very impressed with how well she was sailed and how well she knifed through the water. It's going to be fun to follow this San Francisco-based boat as she competes in this summer's Newport to Bermuda Race, next year's TransPac, and the TransAtlantic and Fastnet Races in '15. After all, it's one of the more quietly soulful campaigns we can remember.
The three-boat TP52 fleet was won by Ashley Wolfe of Calgary, Canada, who we can sort of claim as one of our own by the fact that she keeps her Mayhem in San Francisco when the boat isn't traveling. And yes, Ashley is most definitely a she, one of the few women driving a boat at international TP52 levels. Making it all the more interesting is that Ashley's father and brother both crew for her. More on Ashley in the near future, but very well done! Mayhem just edged Jim Swartz's Newport based Vesper. Taking third in class was Peter Cunningham's TP52 Powerplay. Even though Cunningham is from the Cayman Islands, we're claiming him as a San Franciscan, too. After all, 15 years ago he was a frequently racer on the Bay with his J/29 Powerplay. Plus, his wife claims he still has every copy of Latitude and won't let her throw any out.
In it's third year, the Voiles was a blast and a half. Such a blast that we're so wiped out we can't even get up to properly describe it. True, the nearly 70-boat fleet was a bit of a mishmash, the winds were unusually light, and one competitor groused that there should have been more starts and races. But overall, it would be hard, if not impossible, to find another regatta in the world that is more owner and participant pleasing. Voiles participation has grown by leaps and bounds in the first three years, and we don't expect that to stop until the 90-boat or so limit is reached.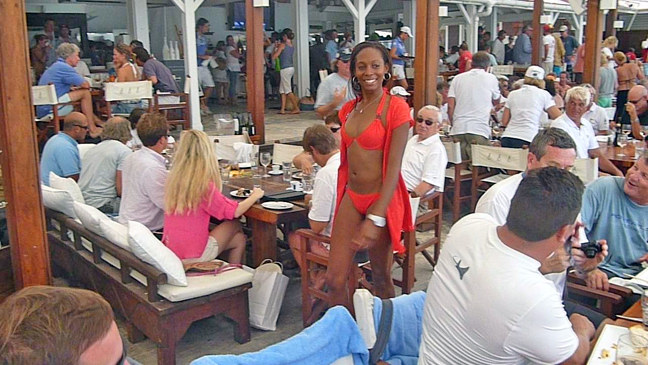 Receive emails when 'Lectronic Latitude is updated.
SUBSCRIBE