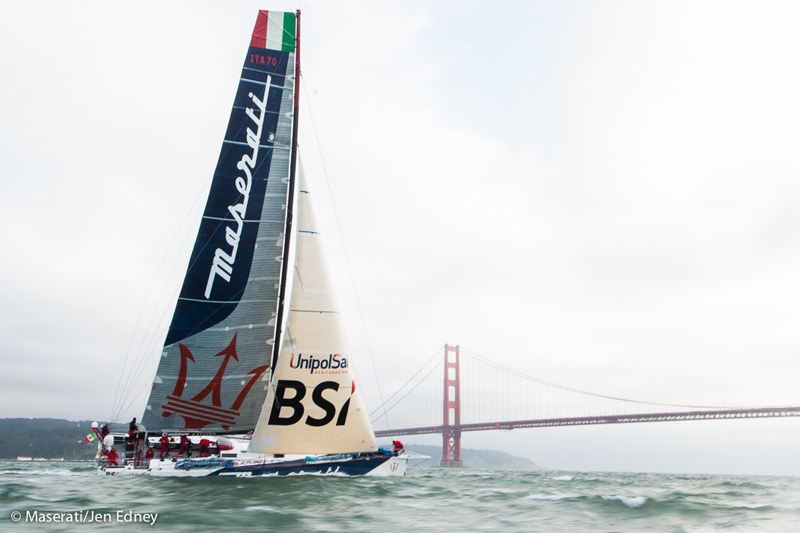 Before setting out to break an ocean-crossing record, it helps to have an ideal weather window. But as world-renowned ocean racer Giovanni Soldini knows, sometimes that's just not possible. Despite a troubling forecast that included a potential hurricane along his route from San Francisco to Shanghai, China, Soldini and his international crew passed beneath the Golden Gate Saturday evening aboard the VOR 70 Maserati, to begin their 7,300-mile Pacific crossing. Their goal is to break the current record of 32 days, 9 hours, set in 1853 by the China clipper Swordfish, and to establish a new 'official' benchmark for the route, ratified by the World Sailing Speed Record Council (WSSRC).
"We decided to cast off today because we really didn't have any other option." Soldini said Saturday. "Over the next two days, a huge depression will form in the Pacific and the high pressure area that is currently delivering some great trade winds will peak with the result that the first 1,000 miles off San Francisco will be completely becalmed. So we have to get through that area as quickly as possible, and into a zone with more stable, prevailing trade winds that should push us past the Hawaiian Islands and then on to Shanghai."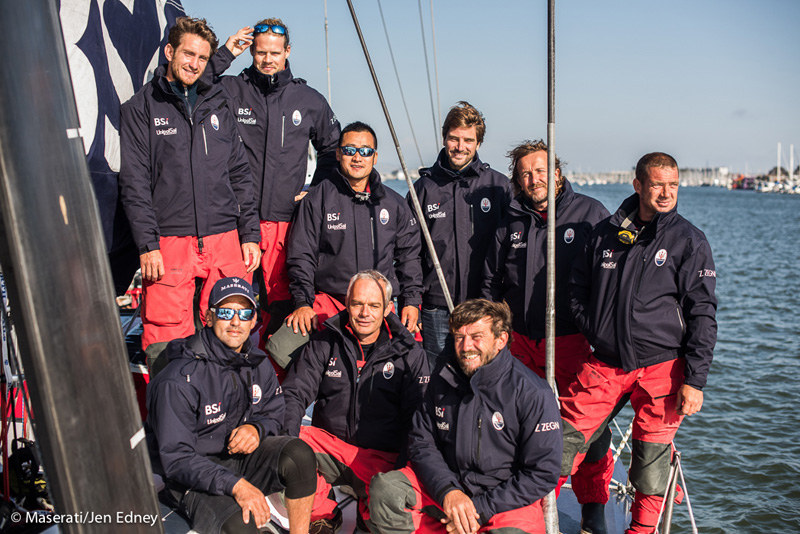 Currently, a large tropical depression west of Hawaii is showing signs of developing into a cyclone within the next two days — and, says Soldini, become "ugly and evil." Hopefully, the system will have petered out by the time Maserati reaches that longitude, but the storm's aftermath could be tricky also. "Behind those things," Soldini explains, "typically the wind acts up and the trade winds take a while to recover."
Thanks to modern transponder technology, you can follow the big sloop's route without even leaving your armchair. Check out the website for daily updates.
The Havana Challenge, a 90-mile race for Hobie 16 beach cats, got the official okay in April. The two-person catamarans will cross to Cuba where the Americans will challenge the Cuban Olympic Sailing Team and the Cuban National Sailing Team, explore the long-forbidden Caribbean island, participate in a cultural exchange — and then race home to Key West.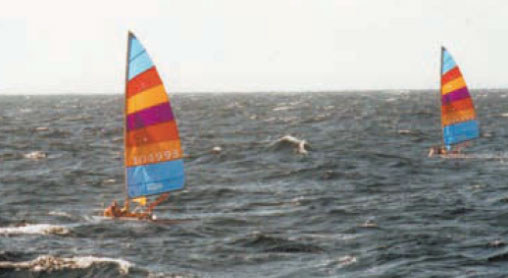 The events begin this Wednesday, May 13, with a welcome rally at Schooner Wharf in Key West, followed by a skippers' meeting and party on Thursday night. On Friday, all the little cats will sail the Gulf Stream Shakedown, approximately 15 miles south from Key West. They'll round a race committee boat and return to the starting beach. While competing in the shakedown race, crews will have a last opportunity to test communication and safety gear, sailing characteristics under racing loads, and sailing techniques just prior to jumping off for Havana at dawn on Saturday. The finish will be in Hemingway Marina. Schooner racing, more cat racing, ceremonies and partying in Havana will occupy the next few days before the return race on Thursday the 21st. Closing ceremonies and yet more partying will wrap up the event on Friday at Turtle Kraals in Key West.
See www.havanachallenge.com for complete details. It's not too late to enter!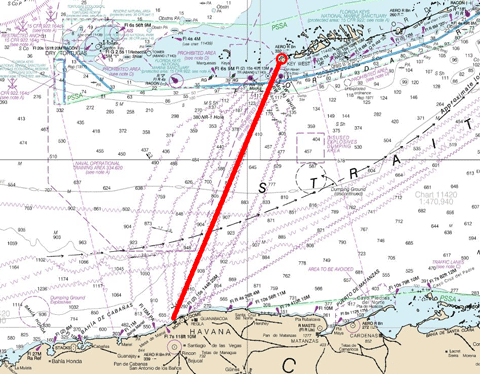 In a related story, ferry service from Florida to Cuba was approved on May 5. CubaKat plans to start operating ferries beginning this September, with daily trips between the Keys and Havana. See www.cubakat.com.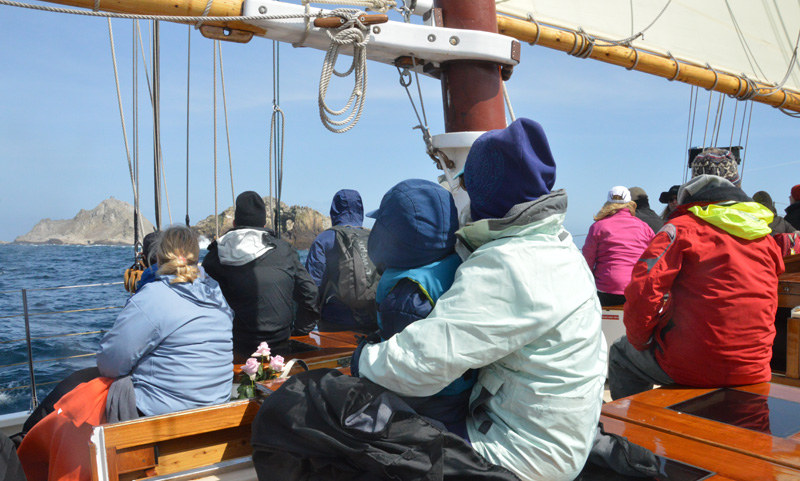 Quiet conversation over eggs Benedict and mimosas is always a fine way to celebrate Mother's Day, but for a change of pace we, and roughly 30 other sailors, took a novel approach to honoring the moms in our lives: a full-day cruise out to the Farallon Islands and back aboard the Sausalito-based schooner Freda B.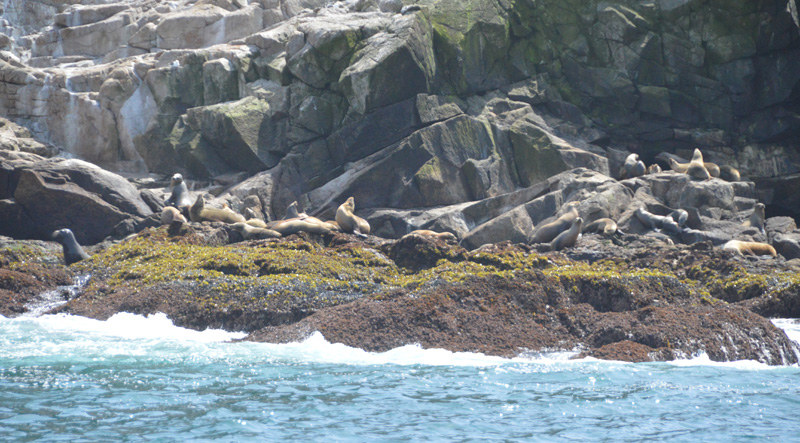 We'll give you a full report in next month's Latitude 38, but for now suffice it to say we all had a fun and fascinating cruise that will probably be a standout among our memories for years to come. While the crew kept us well nourished with all sorts of goodies from the galley, Captain Paul Dines shared his intimate knowledge of the islands and their history. Having mentored under the late Charlie Merrill, who decades ago pioneered the Farallon Islands Patrol decades ago, which ferries scientists and supplies to the islands, Dines has an intimate knowledge and deep affinity for the Farallones. Lying roughly 26 miles west of the Golden Gate, these rocky pinnacles are a haven for seabirds, sea lions, seals, whales and great white sharks. If you too celebrated Mother's Day out on the water we'd love to hear about it.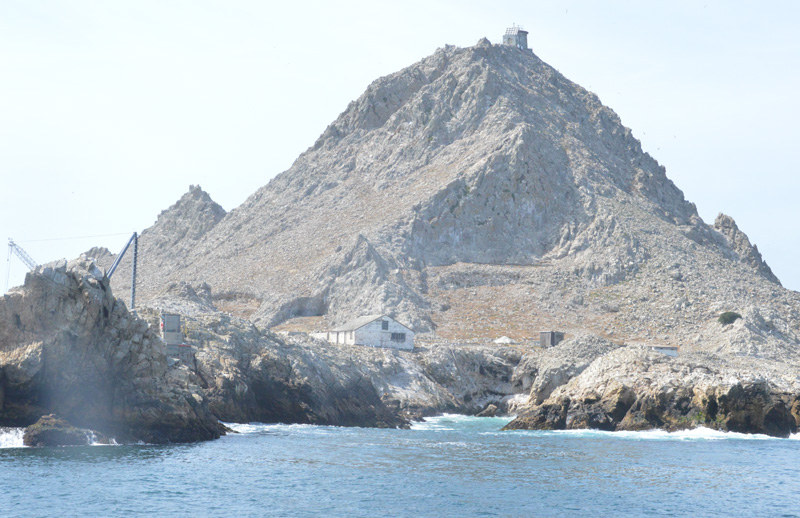 Receive emails when 'Lectronic Latitude is updated.
SUBSCRIBE