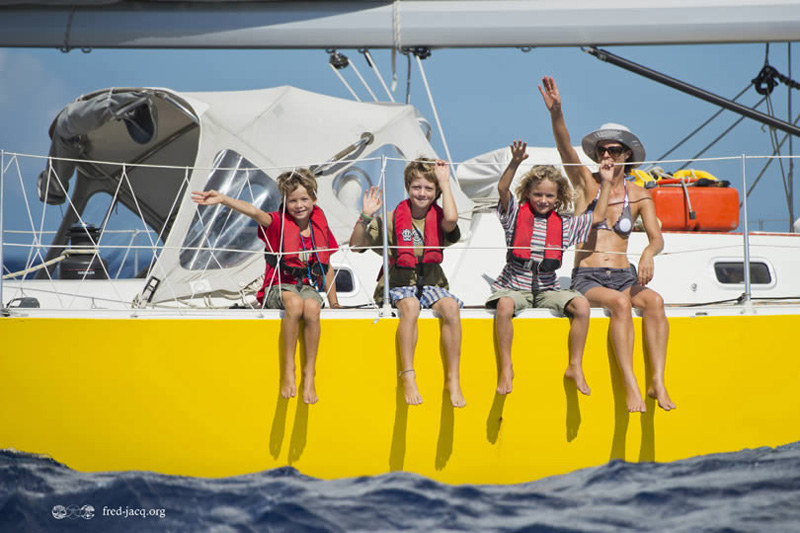 Based on the emails we've been receiving, adventure-hungry sailors all along the West Coast of the Americas are busily preparing to do the Pacific Puddle Jump — that is, the 3,000-mile crossing to French Polynesia.
We're happy to report that free registration for the PPJ rally opened last Tuesday and 37 boats have already signed up. If last year's roster is any indication, the 2015 fleet will probably swell to well over 200 boats, making the PPJ the second largest cruising rally in the world (behind the Atlantic ARC).
To be fair though, the PPJ is a 'rally' only in the loosest sense of the word, as there is no committee boat, there are no daily roll calls, and boats from many nations leave from different points along the coast anytime between February and June.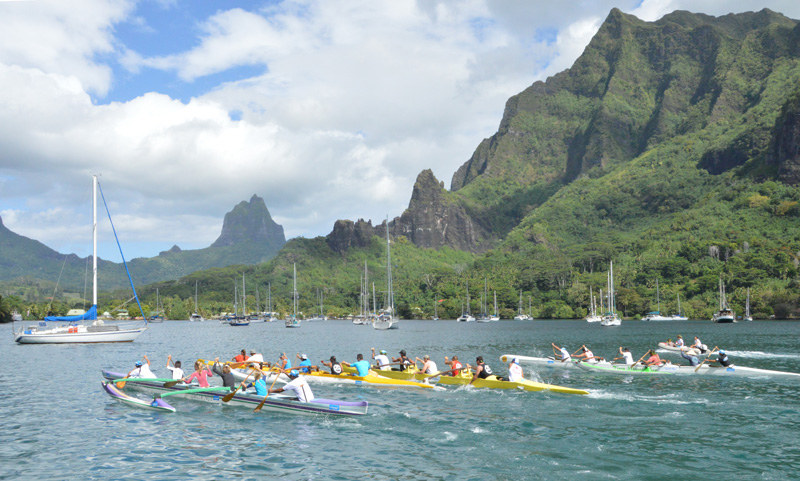 As longtime readers know, we think this ambitious westward crossing is a pretty big deal, so we dedicate lots of ink to it each year, plus we host Puddle Jump Send-off Parties each winter and co-host the annual three-day Tahiti-Moorea Sailing Rendezvous every June with our Tahitian partners. Here are the key dates for 2015:
• Feb 25 — Vallarta YC PPJ Seminar & Party, 3-6 p.m., Nuevo Vallarta (at Paradise Village Marina). Drinks, snacks, PPJ presentation, and all crews will be interviewed for inclusion in Latitude 38.
• March 4 — Balboa YC PPJ Seminar & Party, noon-4 p.m. (just outside Panama City). Program similar to above, plus Tahitian rep will attend.
• March 7 — Shelter Bay Marina, noon-4 p.m. (Caribbean side of Canal.) Program similar to above, plus Tahitian rep will attend.
• June 19-21 — Tahiti-Moorea Sailing Rendezvous, Papeete waterfront and Club Bali Hai Hotel, Moorea.
Latitude staff will also be giving informational seminars on the PPJ and cruising French Polynesia at the Seattle Boat Show, January 24 & 25, at 3:15, and at the Strictly Sail Pacific boat show in Oakland in April (dates TBA). Look for additional updates here, at the website, and in the pages of Latitude 38 magazine.
Although the body of former Bay Area sailor Tom Kardos still has not been found, many more details have emerged regarding the lead-up to the capsize of his boat, Seven Sisters, in Mexico's Gulf of Tehuantepec late last month.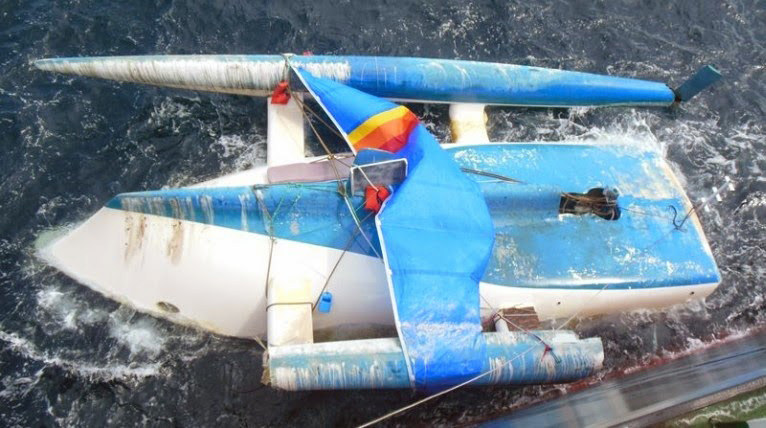 According to posts on Tom's blog, his unique, 40-ft "wave-piercer yacht" was robbed of key pieces of equipment in Costa Rica last April while Kardos was in the US attending his daughter Lena's college graduation. Among the many missing items were batteries, a 70-hp outboard engine, refrigeration components, and even the steering wheel. According to friends Bill Yeargan and Jean Strain, who run the annual El Salvador Rally, "All that was left was the electric maneuvering motor and rudder linkage. He steered the boat using only a tillerpilot. When he arrived here, he sailed over the bar, surprisingly avoiding every wave."
Before leaving El Salvador October 22, Kardos told them his intention was to head to California. "From his track," wrote Bill, "it looks like he was sailing directly for Cabo San Lucas but would have no way to get weather forecasts for the Tehuantepec, which is blowing most of the time at this time of year. From his last reported position, he was 100 miles south of Huatulco on the edge of the Tehuantepec winds and seas. Our guess is that the boat could not handle the waves and turtled."
The 721-ft Liberian-flagged bulk carrier Tatry discovered the capsized hull in the Gulf of Tehuantapec on or about November 25. Kardos was never found, but there were many signs that he had been trying to survive atop the overturned hull. Photos taken by the ship's crew show the attachment of the boat's blue mainsail, presumably as a sun shade, as well as life jackets, at least one cushion, a container to catch fresh water, and various lines lashed across the overturned main hull. According to Krzysztof Gogol, a spokesman from the Tatry, sharks were swimming around the hull at the time of its discovery. The US Coast Guard was notified immediately about finding Seven Sisters, but they, too, were unable to locate Kardos.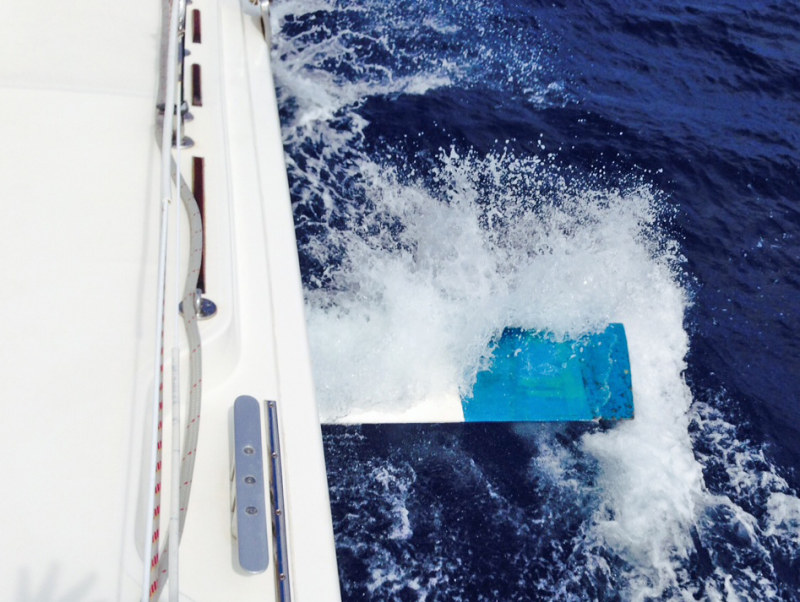 Judging from a quick glance, it looks as though this photo depicts Greg and Debbie Dorland's Lake Tahoe-based Catana 52 Escapade making a bid to become the first multihull with canting daggerboards. But photos can be deceiving, as it's actually a shot of one of the two — count 'em! — daggerboards they broke while sailing upwind in rough weather from the boat's summer home in Curaçao to St. Barth in the French West Indies. The good news is that replacement daggerboards from Catana weren't that expensive — just $9,800 each, plus shipping, from France.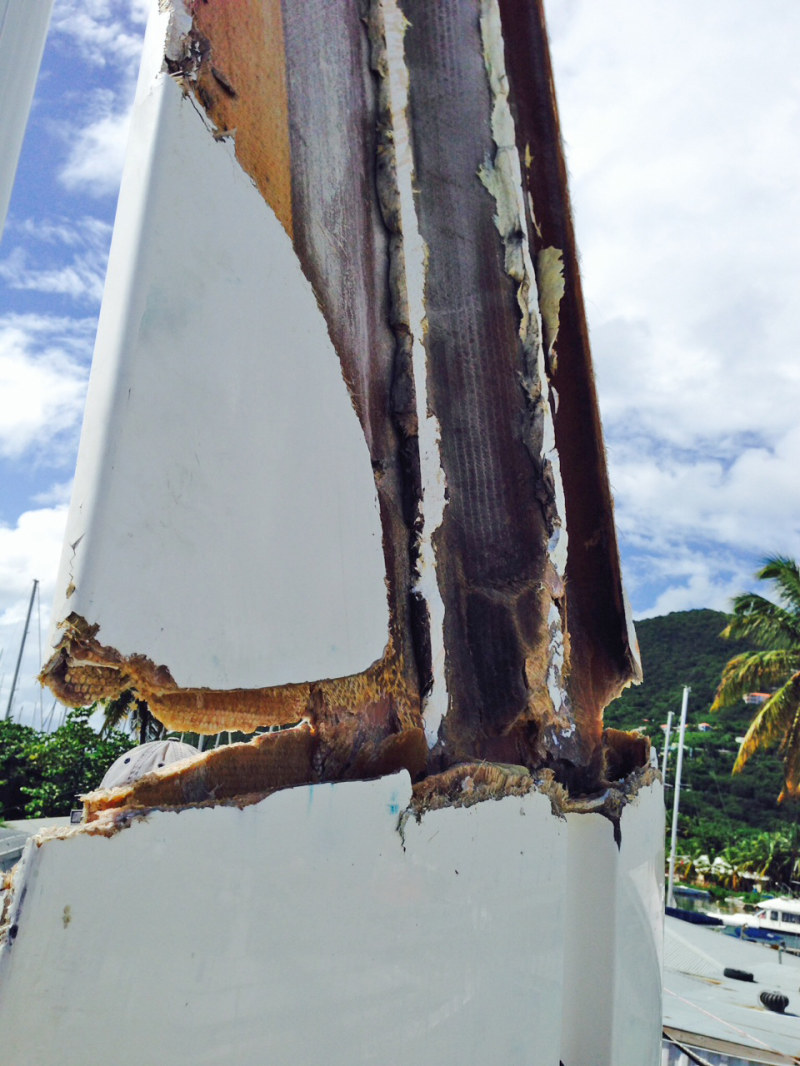 Once the couple got to St. Barth, they realized that things could have been worse. After all, look what happened to the catamaran Free Spirit during Hurricane Gonzalo, which claimed dozens of boats on the little island this summer.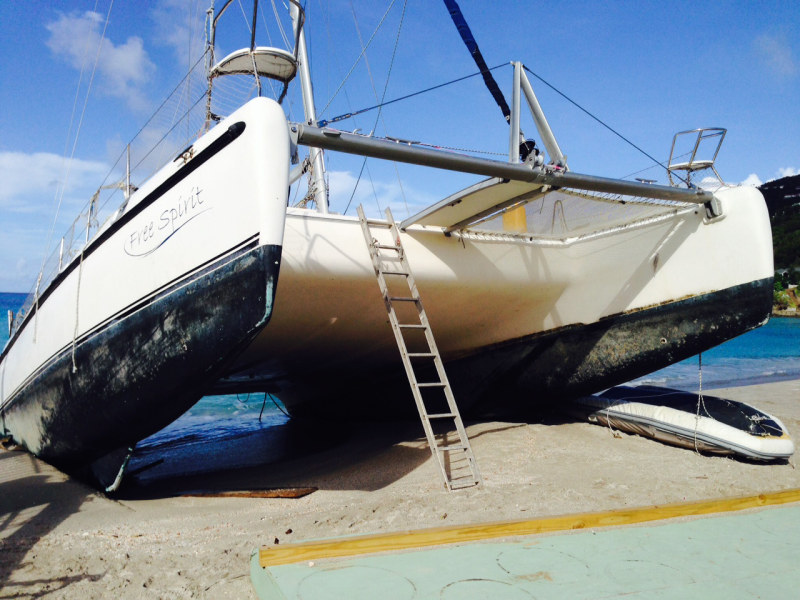 Receive emails when 'Lectronic Latitude is updated.
SUBSCRIBE