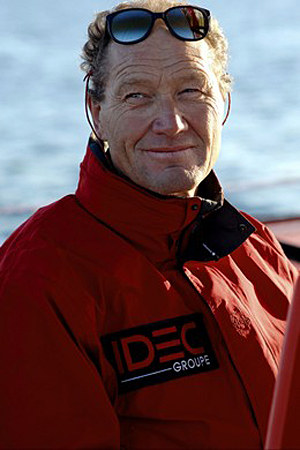 When it voted to discontinue the multihull event for the 2012 Olympics, we started to wonder if all the rancor directed at ISAF wasn't warranted, at least in part. Oft-repeated charges that competitive sailing's worldwide organizing body was organizationally broken, opaque, and out of touch with the broader global interest in sailing were all over popular sailing news outlets. Yesterday's announcement of Ben Ainslie as its male 2008 World Sailor of the Year will serve to further that argument and not because Ainslie wasn't a valid candidate, but because there was another nominee who did something extremely special.
Ainslie's record is truly phenomenal, what with winning every Finn world championships he's entered, the Sailor of the Year award twice previously, and the three gold and one silver medals he's earned since his Olympic debut in Savannah in 1996. With a gold this year in the Finn class in Qingdao as well as the 2008 Finn Gold Cup, Ainslie had another phenomenal and laudable year.
While there was only one Gold Cup, there were 19 other gold medals given for sailing if you don't count the Paralympics. That's not to say they're any less meaningful, but Francis Joyon did something that no one else has ever done — he sailed his 97-ft trimaran IDEC 2 around the world singlehanded in less than two months on what was an average budget for that kind of undertaking. Not only did he take more than two weeks off the existing record, after 57 days and 13 hours he finished a little less than a week shy of the outright round-the-world record — posting the second-fastest time around the globe, period!
So what did he have to do to win? Set the outright 'round the world record also? We're not sure if even that would have done it. But to us, Joyon's liminal and remarkable passage is a singular achievement worthy of an award that bills itself as, "the highest award a sailor can receive in recognition of his/her outstanding achievements by the world of sailing."
We'd love to know how you feel about this, so let us know here!
Receive emails when 'Lectronic Latitude is updated.
SUBSCRIBE