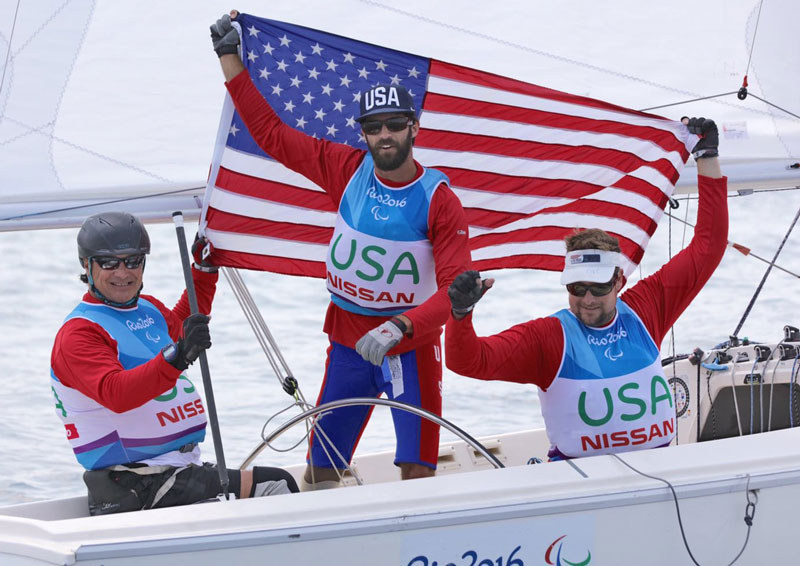 We took a little break from reporting on the Paralympics to cover the Rolex Big Boat Series in San Francisco, but we couldn't let another day go by without acknowledging the accomplishments of the Americans who competed last week in Rio.
Huge kudos are due the Sonar team of Rick Doerr (Clifton, NJ), Brad Kendell (Tampa, FL) and Hugh Freund (South Freeport, ME). The silver they won is the first Paralympic medal for all three. The Australian team won the gold and the Canadians bronze in that class. Several teams were in the running for the silver and bronze going into Saturday, the sixth and final day of sailing at Rio 2016, but Team USA saved their best race for last and finished first out of 15 teams.
Aussies also claimed the gold in the doublehanded keelboat, the SKUD 18. The only sailors in history to defend a Paralympic title were Australia's Daniel Fitzgibbon and Liesl Tesch, who won with two races to spare. Sailing on Day 5 was just a victory lap — one in which they finished second. Ryan Porteous of San Diego and Beijing 2008 gold medalist Maureen McKinnon (Marblehead, MA) were eliminated from medal contention on Friday. They completed the event with a respectable fifth place out of 11 teams.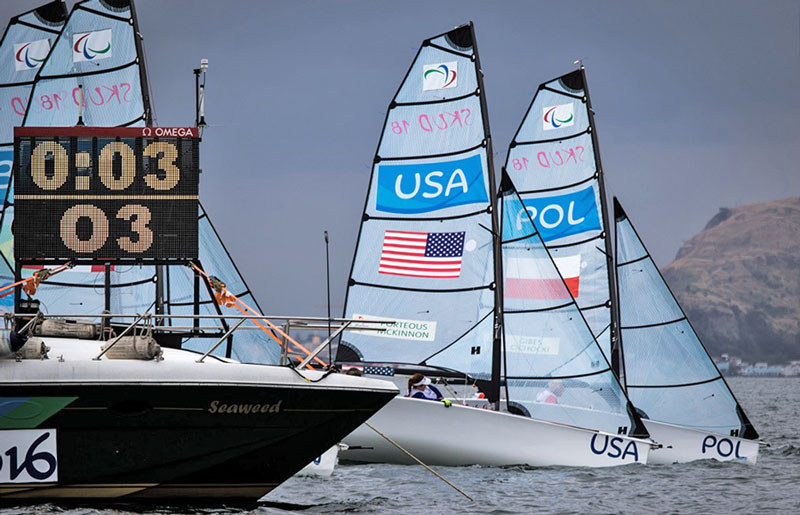 Dee Smith of Annapolis scored his third first-place finish on Friday, Day 5. The professional sailor and cancer survivor thus held onto fourth overall, entering Saturday two points away from third. Alas, his sixth-place finish in the final race kept him in fourth overall in the field of 16. France's Damien Seguin saved the gold medals from an Aussie sweep, becoming a double Paralympic gold medalist. Thanks to a bullet in the final race, Australia's Matt Bugg leapfrogged to silver, dropping former champion Helena Lucas of the UK to bronze.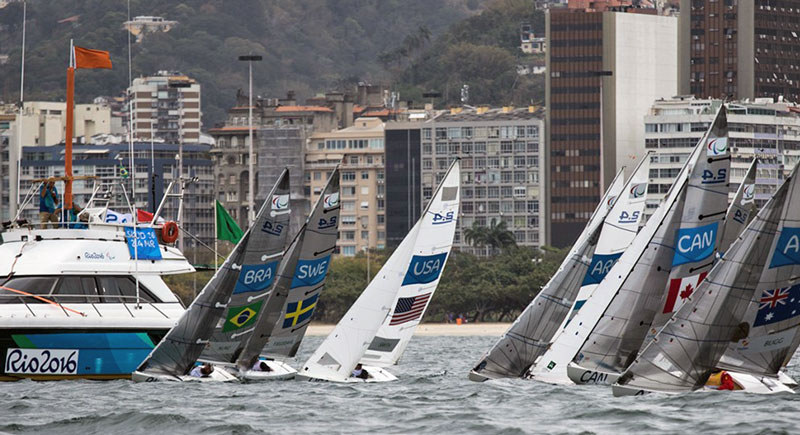 Smith, Porteous and McKinnon's results are encouraging should they want to continue campaigning in their respective classes — unfortunately sailing has been nixed from the 2020 Tokyo Paralympics. But other championships await.
See complete results here, and go here for Paralympic sailing news.
Our Pacific Puddle Jump Recap article in the current (September) issue of Latitude 38 has prompted a number of Tahiti-bound cruisers to ask "When can I sign up for the 2017 Jump?" The short answer is, sometime in late October or early November at the official PPJ website.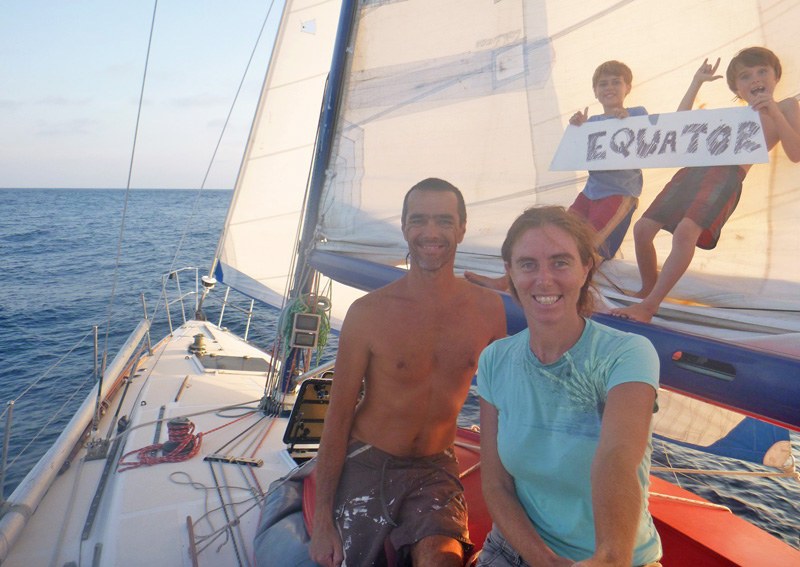 If you're unfamiliar with Latitude 38 events, let us explain that the PPJ is fundamentally different from next month's Baja Ha-Ha rally, which sets sail from San Diego October 31 bound for Cabo San Lucas. Unlike the BHH, where all boats depart on the same day from the same location, and a committee boat shepherds the fleet with mandatory daily roll calls and weather info, the (free-to-join) Puddle Jump is a 'rally' only in the loosest sense of the term. Each year between late February and early May, Puddle Jump boats from many nations depart for French Polynesia independently from a variety of locations along the west coast of the Americas. Along the way, many fleet participants keep in touch via HF radio nets, but often they don't meet in the flesh until they arrive in the archipelagos of Polynesia.
For well over two decades, we've had a fascination with this annual cruiser migration, as the 'jump' to those fabled isles requires sailors to cross 3,000-4,000 miles of open ocean nonstop, without any possibility of a pit stop along the way. Many who make this passage are highly experienced cruisers and, as you might imagine, possess a wealth of salty tales that we love to share with readers.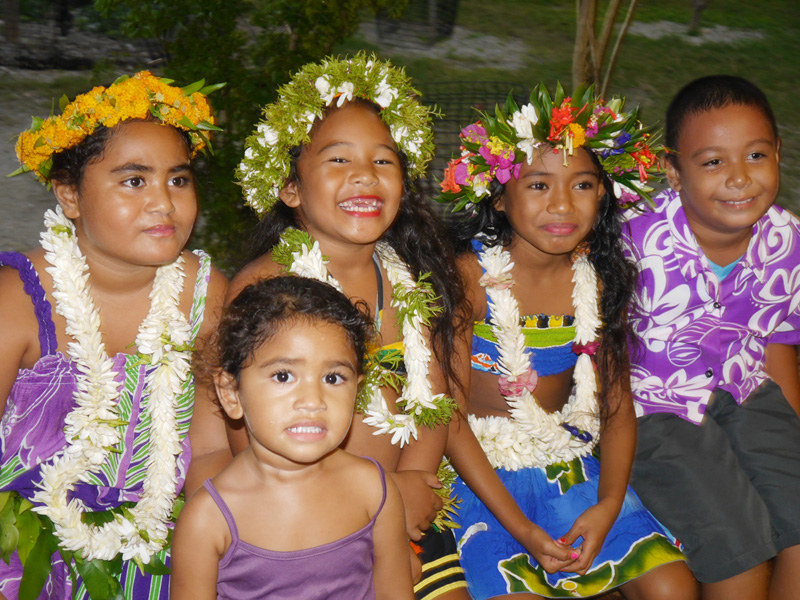 Dates have not been set for our annual PPJ sendoff parties in Panama and Puerto Vallarta, but they will be set soon. The tentative time slot for the Puddle Jump's arrival celebration, the Tahiti-Moorea Sailing Rendez-vous, are June 23-25 (hosted by Tahitian partners and Latitude 38). And if you happen to be in San Diego — for the Ha-Ha or otherwise — be aware that we'll be giving a PPJ seminar Saturday, October 29, 5-7p.m. at the Shelter Island West Marine (1250 Rosecrans).
On the PPJ site, you'll find lots of other pertinent info on the 'bucket list' crossing to French Polynesia, much of which will be updated as soon as our webmasters come up for air.
These days there are so many worthwhile organizations seeking financial help that it could make your head spin. In recent years, West Marine has taken a creative approach to sorting out which groups it can and cannot support by instituting the BlueFuture Fund, which is accepting grant applications through October 1.
The fund is focused on "nonprofit, youth-focused, community-based organizations that teach sailing, powerboating, fishing or boatbuilding skills; foster aquatic sustainability and conservation practices; and encourage learning in the marine sciences."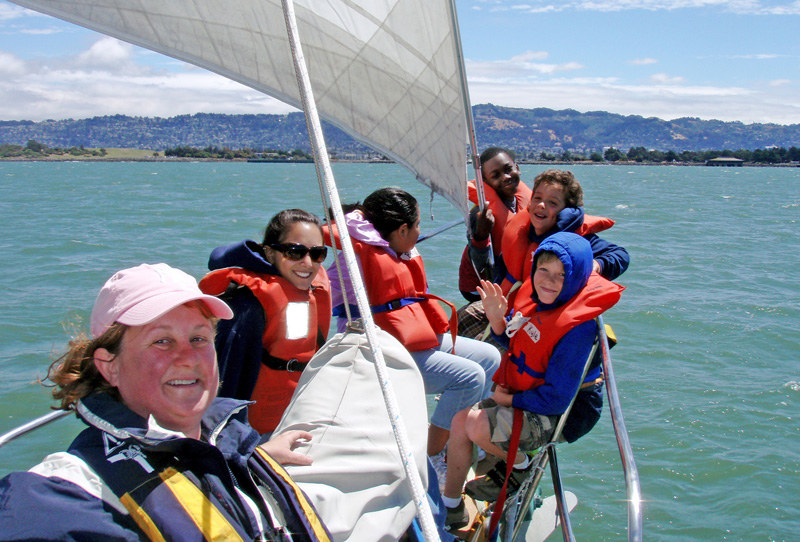 Selected organizations will receive $1,500 grants, with no strings attached, meaning they can use the money however they choose to. So if your organization meets the criteria, don't miss the October 1 deadline. To apply, visit this website, then click "Grants." The online application process is said to be quick and straightforward.
BlueFuture grants are supported by (tax-deductible) donations from private donors — which can be made through the website — and three annual in-store fundraisers: National Safe Boating Week in May, World Oceans Day in June, and the Month of Giving in December.
Receive emails when 'Lectronic Latitude is updated.
SUBSCRIBE