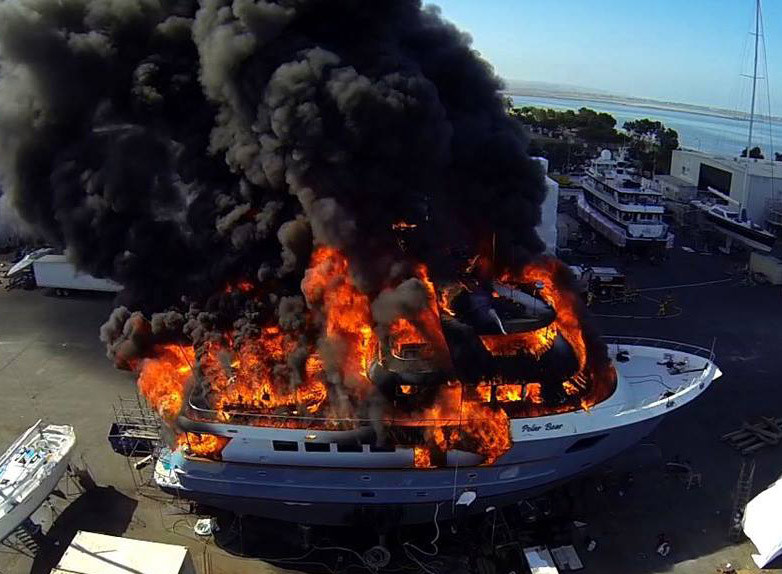 The 102-ft steel yacht Polar Bear, valued at $15 million, caught fire and burned spectacularly for six hours at the Marine Group yard in Chula Vista yesterday. The speculation is that sparks from welding in the yacht caused the fire. Fortunately, nobody was seriously injured and no other boats were damaged. It was also fortunate that San Diego's Kurt Roll, Latitude 38's drone mentor, was on the scene to take incredible videos and photos. Several San Diego television stations used his footage on their news shows last night.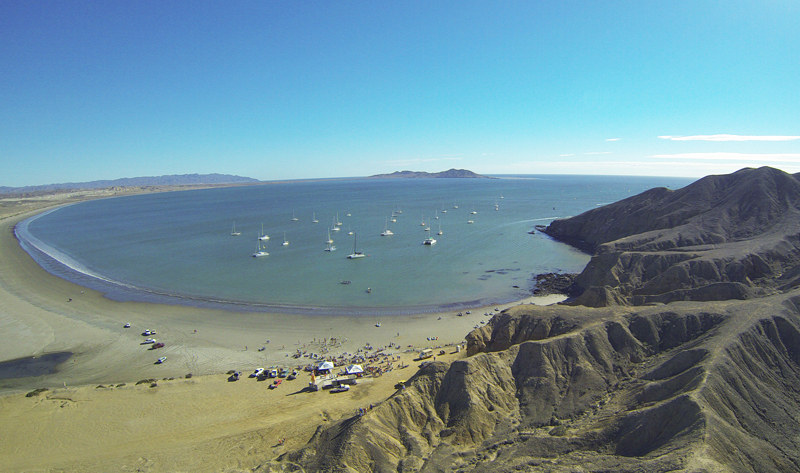 Roll was also at the 2013 Baja Ha-Ha, during which time he took aerial shots for a video he made of that event. You can see his cool Ha-Ha video at this weekend's San Diego International Boat Show at Sheraton Harbor Island, as it will be repeatedly featured at the Mexico Tourism booth.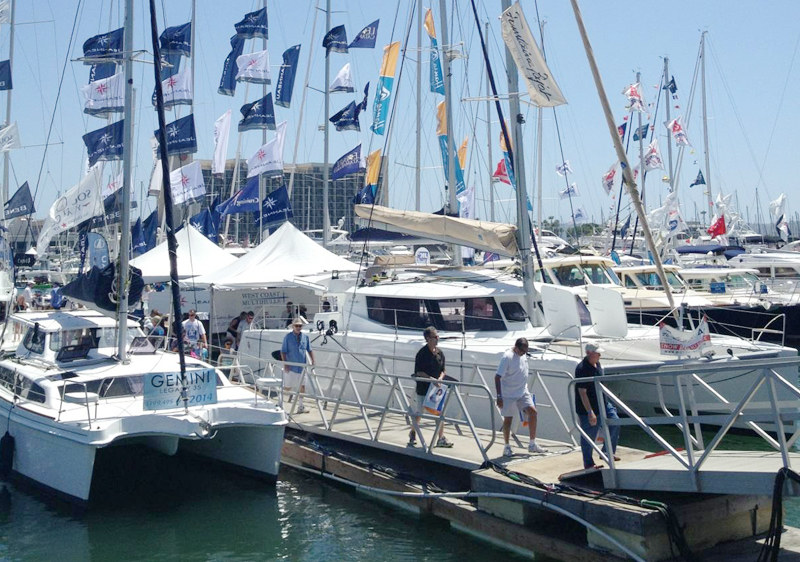 The booth will be staffed by Mexican Marine Association harbormasters — all of whom are really great guys. At 4 p.m. on Saturday there will be a seminar on the updated rules for bringing a boat into Mexico, featuring an Administrator of Customs Operations in Mexico, as well as the harbormasters. In addition to explaining why there won't be a repeat of last year's AGACE fiasco, they'll be happy to answer everyone's questions.
Since we're already on a roll, we can also report that Kurt will be along on Profligate for this summer's SoCal Ta-Ta, a Ha-Ha sister event that will see the fleet cruise between Santa Barbara and Catalina September 7-13. The Ha-Ha drone will also be along, so two drones will be vying to take the best video — as well as a chance to crash into the Pacific. A rough compilation of the video of the Ta-Ta will be shown at the final Ta-Ta party. There are currently 36 boats signed up for the event, many of which did the first Ta-Ta in 2012. If you've always wanted to do an event with a 'Reggae-on-the-Ocean' theme, sign up soon here, as a maximum of 50 boats will be accepted.
A reminder that tomorrow, June 21, is the Summer Sailstice, when sailors of all stripes take advantage of this longest day of the year to celebrate their passion for sailing.
We mentioned several Bay Area Sailstice events in our 'Lectronic report Wednesday, but we want to remind Delta travelers about the Delta Doo Dah Sailstice event. (For the uninitiated, the DDD is a free, self-paced rally that all sailors are welcome to join. Register here.)
The first ever Delta Doo Dah Summer Sailstice Potluck Picnic will take place from noon to 3 p.m. tomorrow at Tiki Lagun Resort and Marina, located on Turner Cut off the San Joaquin River. If you'd like to let us know that you're coming and what you're bringing, email Chris before 5 p.m. today (Friday) or post on our Facebook page.
Raffle prizes will include the grand prize of a one-year membership to BoatUS with Unlimited Towing Service by Vessel Assist.
Tiki Lagun Marina is offering Delta Doo Dah sailors a $10 flat rate per night. Reserve dock space with them at (209) 464-2980 or email them. For more info on Tiki Lagun, see the marina's website.
To be eligible for more prizes from Summer Sailstice, sign up for free here.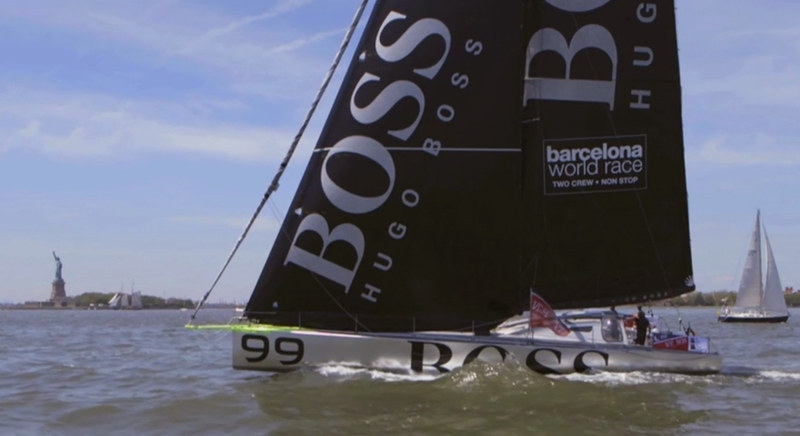 After a long, hard-fought battle with both SAFRAN and Neutrogena, American Ryan Breymaier and Spaniard Pepe Ribes onboard Hugo Boss have claimed victory in the IMOCA Ocean Masters inaugural New York – Barcelona race. Overcoming a dismasting before the start, autopilot issues, crash jibes, broken mainsail track and a new boat and co-skipper, Breymaier has become the first American to ever taste victory in the IMOCA series, which is the world's top shorthanded racing circuit. Adding the NY – BCN win to his previous Barcelona World Race success and countless record attempts, Breymaier has become a household name in the offshore sailing world and is poised to become the first American since the late, great Mike Plant to mount a truly competitive and corporate-sponsored Vendée Globe campaign.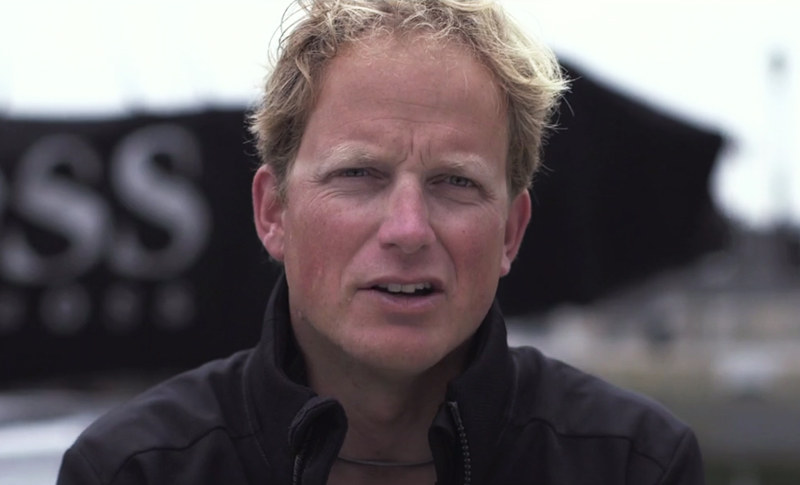 Check out Braymaier's just-released promo video where he talks about "being an example of getting out and doing what you love, and good things coming to you because of that."
On the theme of comebacks, French solo sailor Yann Elies is a man who needs almost no introduction. Last week the two-time defending La Solitaire du Figaro champion dismasted while leading Leg 1 of this year's event, only to re-rig and return in Leg 2 to claim victory over the 37-boat one-design fleet. Stripped of any reasonable chance of winning the event overall, Elies has set himself a new goal; to catch up to Jean Le Cam's all-time record of 10 Figaro stage wins. After his 535-mile triumph on Leg 2, which took the fleet from Plymouth to Brittany via Fastnet Rock, Yann is up to 9 career stage wins. Leg 3 (of 4) begins Sunday.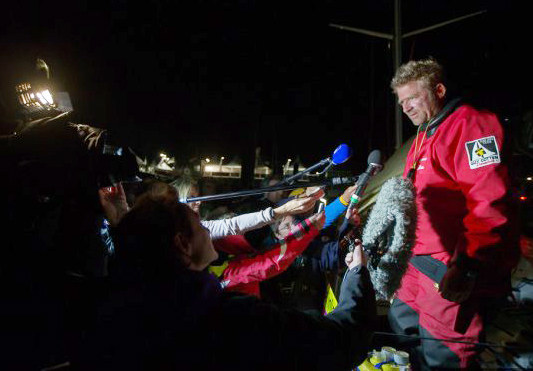 Our third comeback of this edition is that of the American TP 52 Quantum Racing team, who has bounced back from a thorough drubbing at last month's Rolex Capri Sailing Week to claim the overall victory in this year's Audi TP 52 World Championship. Sailing on the waters off Sardinia in mostly light air, the Americans had their hands full in earning their fourth TP 52 World Championship (2008, '10, '11). After two coastal races and three windward- leewards, Quantum finished just two points clear of hot new Brazilian up-and-comers Phoenix, who sailed the newest TP 52 in the 9-boat Worlds' fleet. Class stalwart Rán Racing rounded out the hotly-contested podium just one point back of Phoenix with 13 points.
Receive emails when 'Lectronic Latitude is updated.
SUBSCRIBE