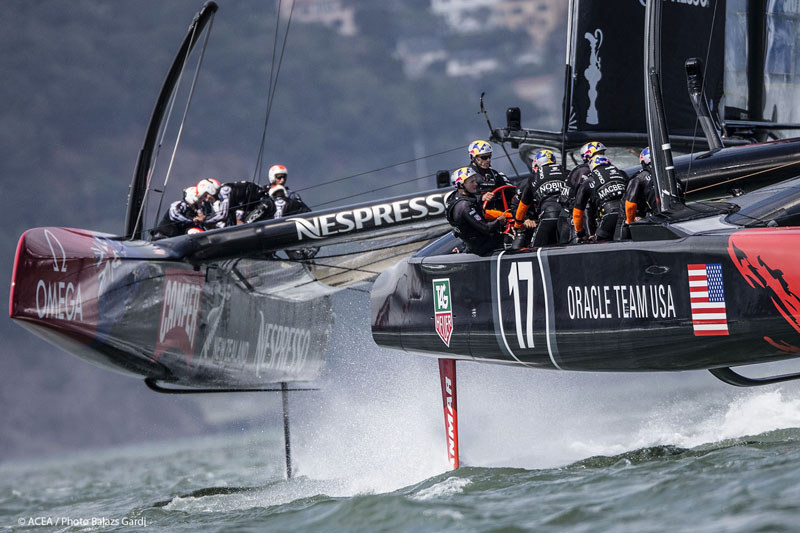 Oracle Team USA's hopes were as bright as San Francisco Bay was foggy yesterday afternoon for the first leg of the fifth race of the 34th America's Cup. After all, James Spithill and the Oracle team had led wire-to-wire in the fourth race on Sunday, and seemed to have been more aggressive and successful at the starting line against Dean Barker and the Kiwis. Thanks to yet another fine start yesterday, Oracle took the lead in Race Five, and showed fine downwind speed to take an eight-second lead at the first leeward mark.
But in the next few minutes, the race — and very possibly the entire Cup effort — came apart. It's no secret that Emirates Team New Zealand both accelerates out of tacks faster and is faster upwind in a straight line. You have to believe that most of this is because of the boat, not the crew. But it's devastating in a match race, particularly at the start of a long upwind leg with a relatively strong flood. We can only assume that OTUSA decided to try a risky move at the leeward mark — a 'foiling tack' — in a desperate attempt to build a big enough cushion to hold off ETNZ on the windward leg. The execution was unfortunately terrible, and it almost appeared as if OTUSA had stopped to wait for the ETNZ so they could sit on her. It was like a hard punch in the gut to lose almost all of the lead they had built up.
OTUSA still held the lead seconds after the rounding, but a short time later they inexplicably tacked back into the heart of the flood. We can only assume that this was the decision of navigator John Kostecki, who has spent most of his life racing the Bay and knows it as well as anyone. Why John, who is one of the nicest and most talented guys in sailing, might have called for a tack at seemingly just the wrong time is a mystery to everyone. We suppose it's possible that strategist Tom Slingsby made the call, but we doubt it as, for the first time, Kostecki didn't show up for the post-race press conference.
The combination of the flubbed foiling tack and tacking into the heart of the flood changed everything in close to the blink of an eye. ETNZ was not just in the lead, but way out in the lead, and at the start of the upwind leg where they had the biggest speed advantage. They just walked away from OTUSA, building their lead to an insurmountable 1m, 10s at the windward mark.
While the Oracle team clearly blundered at the leeward mark, it must be remembered that in the first race of the Cup, New Zealand, a signficantly faster upwind boat, was for a time overtaken by Oracle. So we suppose that even the best of them can misjudge the tide.
Just before the start of the scheduled sixth race, OTUSA decided to use their one postponement card. Some Kiwi fans and observers mocked them for it, saying it was like a football team that had been badly beaten in the first half of a game not coming out for the second half. We say rubbish. While the postponement cards are primarily intended for days when a boat can't race because of gear failure, teams are allowed to use them whenever they want. We think a better analogy is that Oracle was like a basketball team whose opponent was on a huge run, and the coach decided to take a time out to slow the opponent's momentum. To OTUSA's credit, they admitted that there was nothing wrong with their boat, they just needed time to regroup. Chalk one up for honesty.
There is no question that in trailing 4 to -1, and with a boat that is clearly slower to tack and when going to weather, Oracle's chances for keeping the Cup are getting slimmer by the day. With racing on Thursday, Saturday and Sunday, it's possible the Kiwis could fly back to Auckland with the Cup on Sunday night. To prevent that, OTUSA will have to get another great start Thursday, build a decent lead on the downwind leg, and hang on for dear life on the weather leg, tacking as seldom as possible.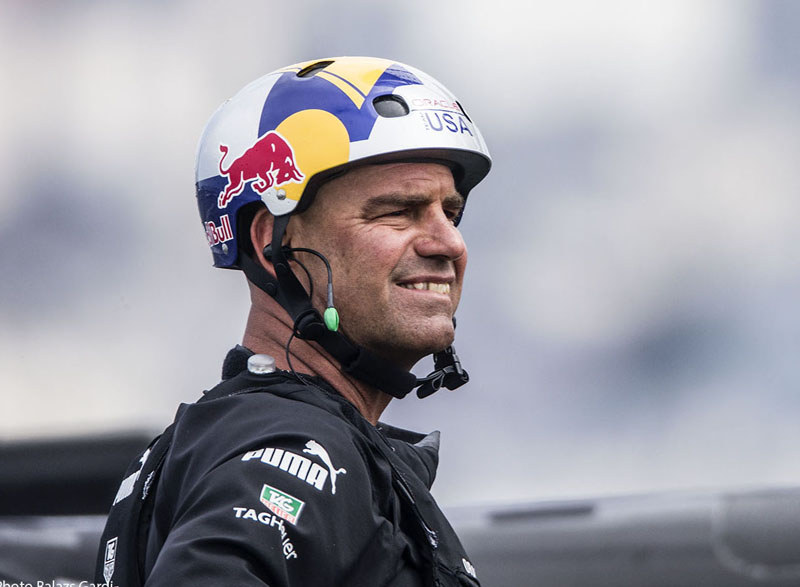 For their part, the Kiwis have looked solid. Yes, they've lost the last couple of starts, but when you know you have upwind superiority, losing the start isn't a reason to get your knickers in a twist.
One of the curious things about this America's Cup is how few Americans seem to be pulling for the home team, and how many are rooting for the Kiwis. Visiting Kiwi sailing fans — and there are quite a few of them — are mystified. We attribute it to cheering for the underdog and to a certain extent the hubris of Oracle's Larry Ellison. While there have been good crowds for the racing, the America's Cup obviously doesn't catch the imagination of average Americans the way it does average Kiwis. Read what Sutter Schumacher, former Racing Editor at Latitude 38, who is now living in New Zealand, had to say:
"So here's what I love about my adopted country: Everywhere I go these days —in work meetings, social gatherings, even grabbing my coffee in the morning —people are talking about the America's Cup. They're going out of their way to watch it at work or on demand at night, listening to the radio commentary, or watching the blog feeds as it happens. And none of these people I've heard talk about it are sailors, none will probably be sailors, and some may never touch a sailboat in their lives. But they're totally into the competition!"
If you haven't had a chance to catch an America's Cup race in person, you owe it to yourself to do so. Even non-sailors who have watched the races have been blown away. For all their faults, the AC72s are magnificent sailing monsters, the likes of which we are unlikely to see again anytime soon.
Sarah Kaplan of City Yachts reports that a man apparently jumped the fence at their Gashouse Cove docks this morning and tried to start a fire next to their office. "We don't know what his motives were," Kaplan says, "but I want to get the word out to marinas and businesses around the Cityfront that he wasn't afraid to do this in broad daylight."
At around 7 a.m. this morning, City Yachts' security camera captured images of the suspect — a white male, approximately 6'1" tall, around 40 years old, with dark blond hair and possibly a goatee/moustache. He was wearing a black-and-white checked long-sleeved button-down shirt (untucked), glasses, jeans and white tennis shoes.
The man is suspected of using jerry cans — at least one of which had diesel in it — to fill a cooler with diesel and using a fuse to light it on fire under a bench next to the building. "The cooler already had water in it so all that happened was there was a bunch of smoke, and the jerry cans melted a little and started to leak fuel," Kaplan says. She arrived just before 8 a.m. and immediately contacted the SFPD, Park police and harbormaster. There was no damage to the building or dock, but we shudder to think what could have happened to City Yachts' gas dock if the suspected arsonist had used gasoline instead of diesel.
Coincidentally — or possibly not — the bleachers at the America's Cup Village caught fire around 3 a.m. yesterday morning. The arson investigation team responded, but no suspects were identified and the cause of the fire remains under investigation.
Because most of Latitude 38's small staff have worked together for two decades, we think of each other almost as family. With that in mind, we're not above occasional acts of nepotism such as posting the photo below of our managing editor's three-year-old grandson Benny, hamming it up with his dad, Zac, and America's Cup announcers Tucker Thompson (left) and Andy Green.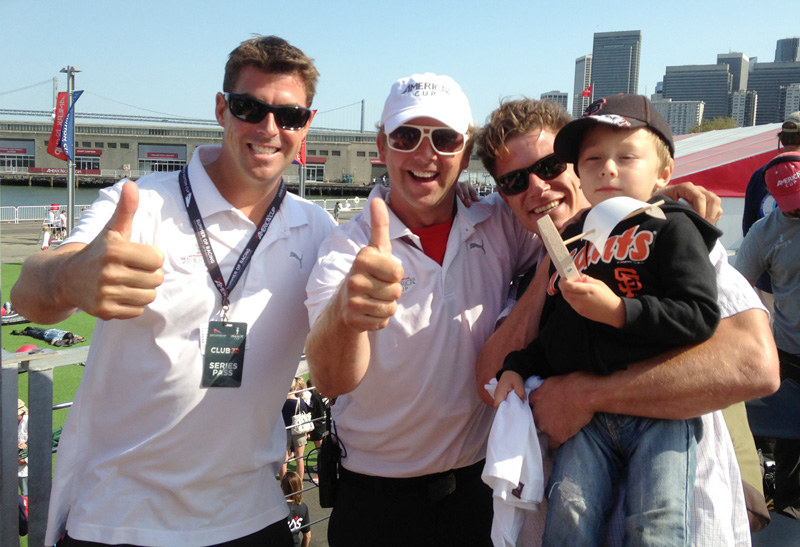 At the AC Park yesterday, Benny won a raffle that earned him a spot in a quiz contest with two older kids. When the final question was posed, "What is the name of the Artemis race boat?" Benny correctly answered "Big Blue!" (He'd had just a wee bit of coaching from his dad.) For his winning answer, Benny won an official America's Cup polo shirt signed by New Zealand helmsman Dean Barker. Pretty cool!
The home team, Oracle Team USA, had a terrible day on the race course, but the Turpin family had big fun anyway. Despite AC 34's substantial list of shortcomings, organizers have done a splendid job of making the spectator experience at both the AC Park and AC Village exciting, uplifting and fun for the whole family.
John and Lynn Ringseis, two other members of the extended Latitude family, were also at the AC Park on Tuesday (along with nearly all of the Latitude staff, it seems). While watching the action from the end of the wharf, they struck up a conversation with a friendly Kiwi named John Motion, who'd just flown in from New Zealand. He explained that he and his wife were lying in bed early Sunday morning (Saturday here) and after New Zealand won, they looked at each other and said, "What are we doing here?" So John picked up the phone, called Air New Zealand, and the couple hopped on a plane to SFO! John said all the Kiwis that were on the flight near him were doing the same thing!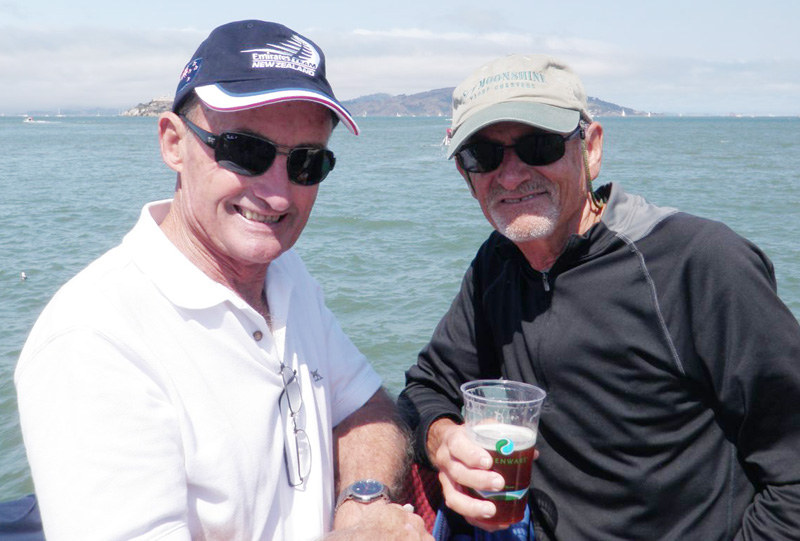 The tiny nation of New Zealand is certainly well-represented among the fans along the waterfront. In fact, there seemed to be more Kiwis than Americans yesterday at the Park. For them, though, this is more than simply a sporting event. The Kiwi marine industry is currently suffering, but there's a common perception that if ETNZ brings home the Auld Mug, their once-vibrant boat-building industry will experience a renaissance. Time will tell.
Receive emails when 'Lectronic Latitude is updated.
SUBSCRIBE