The Delta Doo Dah 3D started out under foggy skies, but almost as soon as the fleet crossed under the Richmond Bridge Saturday morning, the gray day cleared for the remainder of the downwind run to Vallejo YC. A number of Doo Dah'ers started out from Berkeley YC, which played host to the fleet for the Kickoff Party the night before. Doo Dah'er and BYC member Eric Jones of Sizzle treated the crowd to big helpings of his famous pulled pork which no doubt helped maintain everyone's stamina for an energetic ride upstream the next morning.
Vallejo YC managed to nestle the entire fleet in between docks, then invited everyone up to the clubhouse for a fantastic dinner, complete with rockin' live music. Prizes were handed out after the Doodettes concluded the skippers' meeting, then dancing and general merriment ensued.
Yesterday's leg of the trip being the longest, the entire fleet was up and ready to head out by 9 a.m. to take advantage of the currents. Some had wondered if they'd make it to the 40-mile-distant Owl Harbor Marina by the time the party started at 6 p.m., but a big flood and very cooperative winds pushed everyone along at such a good clip that they were tied up before the band even started playing.
Habormaster Devery Stockton and her crew went all out to welcome Doo Dah'ers, going so far as to relocate some tenants in order to fit our 50-boat fleet. But it only got better from there, as the sailors — and one powerboater — found out when they walked down the levee to a big tent and a free Mexican buffet. A blues band rocked the house and had folks dancing for hours. To top off an already fantastic stay, Owl Harbor offered up a free pancake breakfast to the fleet this morning to fuel them up for today's leg which will take us to the Sugar Barge Resort on Bethel Island.
If you happened to watch this morning's FOX 40 Live — a Sacramento news station's morning show — you probably saw the very energetic and adorable Bethany Crouch interviewing the Doodettes about the Doo Dah and boating in general. If you didn't catch it, the videos are embedded below.
During the past 20 years the popularity of cruising rallies has increased exponentially. Following that trend, the three-year-old Cruisers' Rally to El Salvador has just announced the dates of it's 2012 event: March 10 through April 29.
This is not the sort of migration where all boats start together and arrive within a narrow span of time. In fact, just the opposite. Entrants can begin wherever they want along the Central American coast, and may arrive any time within the seven-week window. The idea of organizers Bill Yeargan and Jean Strain is simply to encourage southbound cruisers to stop by and have a look at all that Bahia del Sol and the rest of El Salvador has to offer.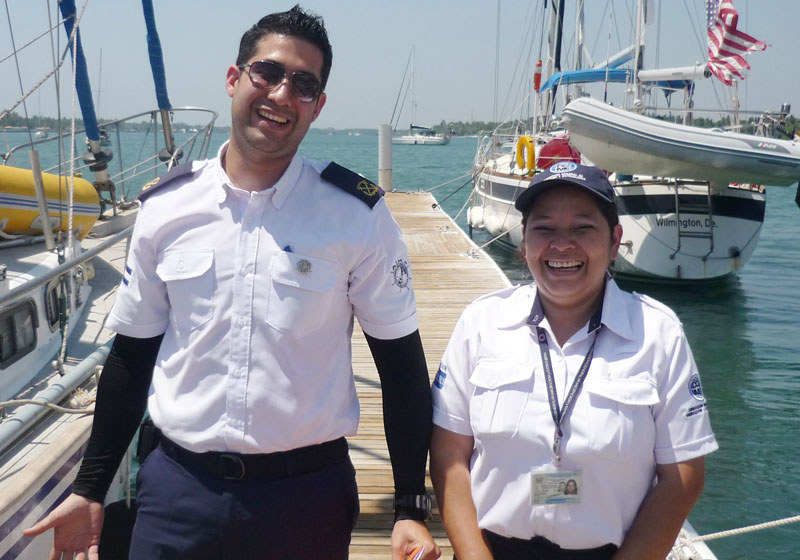 Ideally, advise Bill and Jean, "boats should plan to arrive a few days early so as not to miss the opening day kick-off party or any of the planned events." But as in years past, they anticipate that boats will trickle in right up until the end date, April 29, when the closing ceremonies will take place with prize drawings, a buffet dinner, live music, and more. This year they gave away over $3,500 in cash, and prizes, and every boat won something!
Every boat arriving receives a welcome package with discount coupons, t-shirts, information packets, local cruising guide, logo carryall bag, etc. A variety of activities, events, special tours, and seminars will take place throughout the seven-week timetable. There is no entry fee, and the rally is open to all boats (apart from non-powered or outboard-powered vessels).
This year we have a redesigned and easier to use website, a totally new local cruising guide, and new rally logo," say Bill Jean, "and we will again be holding four rally seminars this winter in Mexico." See the website for further details.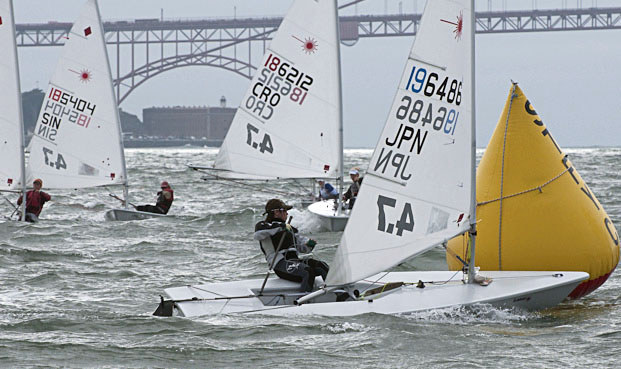 The Laser 4.7 Worlds are steaming right along over at the St. Francis YC. The boy's fleets started in light air at noon on a very foggy, gray day. In both races racers clustered at the boat end of the starting line, with so many over early that the fleets were recalled and re-started under black flag. In race seven, Brazilian Andre Serveas led the fleet for the entire race and got the gun. Second place went to Spanish sailor Carlos Rosello and third to another Brazilian, Martin Lowey. Race eight, again under black flag, saw eight boats called OCS with Juan Kevin Cabrera Gonzalez winning the race. At the end of yesterday, Spain's Carlos Rosello had taken the lead in the Laser 4.7 Worlds with 15 points. Fellow countryman Francisco Gonzalez is close behind with 17 points and Keiju Okada, of Japan is in third with 33 points.
In the women's fleet, it seems there is just no getting past Italian Cecilia Zorzi, who with another bullet in her pocket in race seven, is now 31 points ahead of her closest competitor, Norway's Line Hoest. Italian Camilla Modena finished in second and Milly Bennet of Australia took third. Greek sailor Fakidi finished seventh and is holding third place overall with 39 points. Cumulative scores, including the girls race eight, which at press time is pending protests, are posted at www.sflaserworlds.com.
Receive emails when 'Lectronic Latitude is updated.
SUBSCRIBE