Job Opportunities
---
Full-Time Writer/Editor Wanted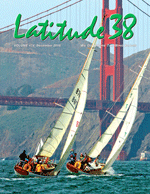 It's been rare for Latitude 38 to have job openings, however, we are currently looking for a full-time writer/editor to move towards our managing editor position.
If you are located in Northern California and passionate about sailing and the sailing community and love writing about the exploits and adventures of West Coast sailors, Latitude 38 is an ideal place to practice your artful, concise writing style with intrepid, insightful on-the-water story telling. You will help build upon Latitude's 40-year history with primary focus on stories for the monthly print publication and growing its digital portfolio of content.
Latitude 38 Managing Editor job description:
General description:
Responsible for overseeing the entire editorial content of monthly, 124 to 148-page, West Coast sailing magazine and three-times-weekly online newsletter.
Ideal candidate will have three or more years of editorial experience working on a monthly magazine, or daily/weekly newspaper, and the ability to work under pressure without constant supervision. Must have knowledge of, and passion for, the sport of sailing. Proficiency in photography desirable, in addition to at least a basic understanding of InDesign and Photoshop software programs.
Specific duties:
1) Latitude 38 Magazine content — Work closely with the publisher and magazine's other in-house editor to plan and produce editorial content for each monthly issue (56-68 editorial pages), including:
• conceiving and writing one or two 2.5 to 6.5-page feature articles each month in InDesign pagination software, including: researching topics and interviewing sources; designing page layouts; sourcing, sizing and placing photos; and coordinating two rounds of proofreading with out-of-house proofers
• planning, editing and laying out an additional one or two 2.5 to 6.5-page feature articles written by freelancers each month, including: sourcing, sizing and placing photos; coordinating two rounds of proofreading with out-of-house proofers
• helping plan and edit 10 to 14-page Sightings (news) section; including researching and writing three to five original items on various topics
• assigning World of Chartering section (2.5 to 4.5-pages monthly); with content exclusively focused on international yacht chartering
2) 'Lectronic Latitude online newsletter — helping plan, edit and upload the Latitude website one or two 250 to 500-word 'Lectronic Latitude articles every Monday, Wednesday and Friday before 12:30 p.m., on topics ranging from breaking news to general sailing coverage.
• digital/social media experience required
3) Freelance coordinator — Acting as liaison between freelancers and magazine staff regarding article assignments, photo sourcing for all non-race article topics, and cover photography.
4) Editorial correspondence — Responsible for triaging editorial emails daily, which typically contain unsolicited articles and photos, article suggestions, news tips and feedback on previously published content.
5) After hours — While not a specific requirement, some evening and weekend work is inevitable to achieve the above workload.
4) Outside events — Representing the magazine at public events (occasionally in the evening or on weekends), including Latitude Crew List Parties, Bay Area boat shows, and occasional press briefings for major events.

Compensation and benefits:
Salary commensurate with experience; cheerful, cooperative work environment; health care provided through Kaiser; paid vacation and holidays.
To send us a resume, please email it to or mail it to:
Latitude 38
Attn: Colleen Young
15 Locust Ave.
Mill Valley, CA 94941
Please, no phone calls! Anyone who calls will be automatically disqualified.
---