Job Opportunities
---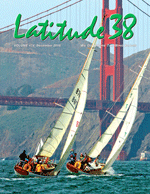 Latitude 38 is a such great place to work that we rarely have job openings. At this time, we have none.

If you'd like to send us a resume to be kept on file, please email it to or mail it to:
Latitude 38
Attn: Colleen Young
15 Locust Ave.
Mill Valley, CA 94941
Please, no phone calls! Anyone who calls will be automatically disqualified.
---