Answer to the Mystery Photo
September 15 - California Coast
We got a ton of responses to last week's Mystery Photo. Paul Goyke of the Caliber 38 Cariad guessed it was what the beach at Capitola must look like after the Begonia Festival. "The flower-covered floats drift down the river and must shed their flowers into the ocean," he explained.
Mike Miller, like a lot of folks, thought it might be an oil slick. "Is it from the old navy tanker that sank in '55?" he wondered.
Scott and Cindy Stolnitz of the Switch 51 cat Beach House suggest that it's a color enhanced chart of sea surface temperature for "the obvious El Niño event that is beginning here in Southern California. The water is 6-10 degrees warmer than normal, which means a big time wet winter for Southern California." It's not the correct answer, but there is indeed a weak El Niño condition developing, which suggests there might be more rain in the Southland this winter - and in the southwest where it's so desperately needed.
Mike and Marylyn Morehouse of the Mariner 50 Lady Hawke say, "It looks like oil that has leaked out of one of those offshore oil rigs in the Santa Barbara Channel." Close, but not quite correct.
The majority of the respondents knew exactly what it was because they've been there. Ed Hoff of Sorina and Heathcliff put it most scientifically: "It's of the oily ocean surface off Coal Oil Point near Santa Barbara. The natural oil seep creates a slick on the water, and different thicknesses of oil reflect different wavelengths of light."
We got the photo from a brochure by Venoco, Inc., of Carpinteria, which is probably in the oil business. According to their brochure, 6,000 gallons of oil seep into the ocean each day(!) in just the Coal Oil Point area just west of Goleta. There are more than 1,000 other seep sights within 50 miles, most of them in the ocean, and many of them by Point Conception. In addition to all the oil that comes up, 5,000,000 cubic feet of natural gas is released each day, putting 16 tons of reactive organic gases into the air each day. At one time the seeps and gas being released accounted for something like 25% of air pollution in Santa Barbara County.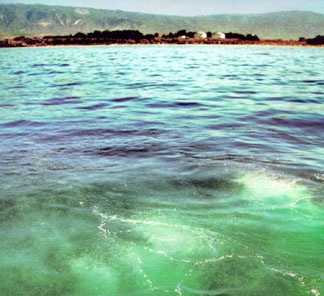 Natural gas seeping up
Photos Courtesy Venoco, Inc.
It's not like the seeping of oil and the releasing of natural gas is new. The Chumash Indians reportedly had many uses for it 7,000 years ago. Much later Spanish explorer Juan Carillo saw them using the tar to caulk their canoes, and did the same with his own ships. The great Captain James Cook noted, in 1792, that the ocean near Goleta was covered in a thick, oily substance.
Want a free Seep Tour? Visit www.venocoinc.com.