Photos of the Day: Hurricane Ivan
September 13 - Grenada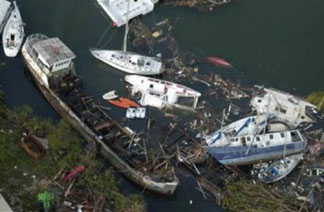 Today's Photos of the Day are by unknown photographers and are of the recent destruction on the island of Grenada caused by Hurricane Ivan, one of the worst in history to hit the Caribbean. As you probably know, he's just hit the Cayman Islands, is about to smash Cuba, and still poses a significant threat to the U.S.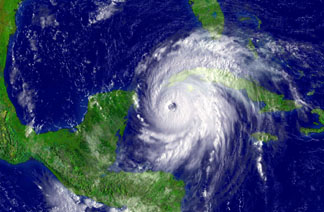 Ivan at 1345 GMT today. The eye is just south of western Cuba.
How are things in Grenada after Hurricane Ivan? Very difficult. This was written by a cruiser who was at Spice Island Marina and sent to Charles Steel of the United Kingdom, who has a 47-ft cat in the marina:
"Although any damage is bad news, your boat fared better than the vast majority. Several boats dragged out of Prickly Bay. One man was rescued off a boat with no engine during the hurricane, after it broke loose and began to head to sea. They brought him to their boat, which shortly thereafter wrecked on the reef. They rigged lines to the shore, and they all began to make for the shore hand over hand. Ray, the man they rescued, couldn't hold on or slipped and was drowned. In another instance, a 33-year old Frenchwoman was hit by a boom and killed. Her body was recovered when it washed ashore.
"I counted 28 boats in Secret Harbor alone that were sunk, aground, or holed on reefs. Every boat in the Spice Island Marina is down. The mast on your cat, Charles, appears to be destroyed - as are the majority of masts here - with folds in more than one place. Your port keel is snapped off and the starboard one is cracked along its length - but still attached to the hull. We made a cursory glance of your boat and saw no hull damage and nothing impaled through your boat. The topsides and deck are undamaged, and no ports are broken. Your boat is also in a prime location to be set back up for repairs or relaunched. Word is they are sending one of those submergible ships to pick up all boats that can be made watertight for shipment to other destinations for repairs. I would not count on being able to get any repairs done in Grenada as there are hundreds in front of you.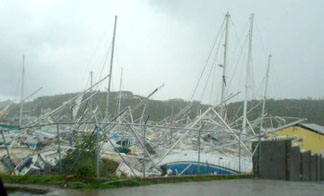 "Here's some info that I hope will be helpful:
"1) The easiest way to get to your boat is to fly in to Trinidad. Stay at Crews Inn or nearby in Chagauramas, then try to catch a ride on one of the relief boats being sent in.
"2) Don't come now, but wait until U.N. and U.S. troops arrive. After 72 hours of their arrival, I think the risks will drop dramatically. Right now the Trini/Tobago Coast Guard are the only active marine protection. There has been much looting, but no troops or police have been visible in the outlying area such as Lance Aux Pines (Spice Island, Prickly, Secret Harbor). St. George is quite dangerous to non-locals. Spice Island Marina has some vestigial security, but it's likely to get much better within a week.
"3) Food and Water.You can get drinking water by asking on the radio as there are many people with watermakers happy to help. Monmot Hotel, near the beach in Prickly behind the Calabash Hotel is presently allowing folks to stay free, but they have no water, power, or food. Food is scarce because of distribution and power problems. That should improve in a week, but rely on tinned foods aboard your boat for a best bet.
"4) Shelter: If I had a catamaran like yours, I might not have escaped the island - or at least would have returned in a week when the security is better. When I left it was just like camping. Bring a manually powered flashlight. If you don't have an oil or paraffin lamp, aboard, bring a Coleman paraffin lamp with extra wicks. You'll need to get kerosene and mentholated spirits from another cruiser.
"5) Local transportation. Get your dinghy in the water, but lock it with a big chain everywhere you go. Buy or trade for gas anywhere you can. It's a challenge getting gas, but things should improve.
"6) Communication: A Sat phone is perfect.
"7) Bring cash. No ATMs will work until the power comes back on. Then again, if you live off tinned foods, you won't need much cash.
"8) Bring antibiotics for any infections and any other needed medicine. No businesses - including pharmacies - are open and they can't get resupplied.
"9) Security. I think your boat is moderately safe. When you arrive, you'll probably be physically safe - but stay in the cruiser areas and don't plan to travel after dark, even after the curfew is lifted. When I was there I carried my flare gun and shells with me. I didn't end up needing it, but other cruisers had some incidents. Having said that, I want to emphasize that Grenada is not a war zone. It's just deteriorated from a perfectly safe, low key island to one with 90,000 homeless and distraught people who have lost rule and order in their lives.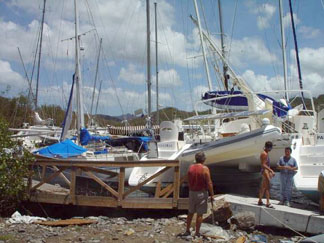 "10) I recommend that you don't come until you can be really productive. That would involve coordinating with your insurer to make sure there will be a surveyor there. A crane on a barge is being sent over to lift boats, but since yours is on the hard, that wouldn't help. You should probably plan on buying all the supplies you'll need here in Trinidad, but call first, because everyone is headed here for major repairs."