Photos of the Day: Hurricane Ivan
September 10 - Grenada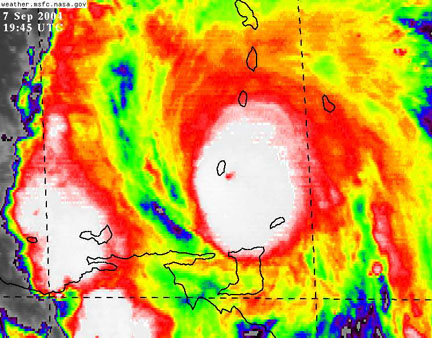 Graphic Courtesy National Hurricane Center
The Graphic of the Day shows how on Wednesday the eye of Hurricane Ivan came across the island of Grenada, which is located the the extreme southern part of the Eastern Caribbean, is about the size of California's Catalina Island, and has a population of about 100,000. Almost as if by cruel joke, the eye pinpointed the south coast of the island, which marine insurance companies have long considered to be just outside the hurricane zone. Calling Ivan 'The Terrible' would be an understatement, as his winds sometimes exceeded 145 knots, laying waste to 90% of the island's structures - many of them admittedly flimsy. The Spice Island's south coast, because it was believed to be outside of the hurricane zone, was the off-season home to hundreds of cruising and charter boats, and has recently been the site of considerable yachting infrastructure development. As you can see from the Royal Navy aerial photograph of Spice Island Boatyard, every boat was knocked over.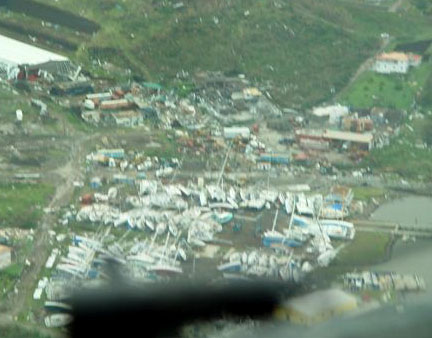 Photo Courtesy Royal Navy
Reports from other marine locations describe similar destruction. Here's a firsthand report from Rankin Tippins and Sandy Hollis of the Houston-based Hunter 450 Heart of Texas:
"As many of you know, many marine insurance policies require boats to be below 12 degrees 40 minutes latitude during hurricane season in order to reduce any losses due to hurricanes. The southern part of Grenada is at about 12 degrees 00 minutes, or 40 nautical miles south of the 'hurricane belt'. There has not been a direct hurricane hit on Grenada since 1955, which is a lot more than Florida or Texas can say. As Tropical Storm Ivan approached, the U.S. National Weather Service (NWS) predicted it would cross St. Lucia, about 120 nautical miles north. As it kept approaching, the NWS changed its prediction to state that the hurricane would cross between St. Lucia and St. Vincent, about 90 nautical miles north. Two days before the storm hit, the NWS was still predicting a veer to the north, but many cruisers lost faith and sailed to Trinidad and Margarita. Even on the day before it hit, a few cruisers decided to leave when the storm still failed to veer north.
"We were docked at the only floating docks in Grenada, Clarks Court Bay Marina. The floating docks were secured by large chains to moorings. not pilings. We did not sail to Trinidad because we had faith in the experts' forecasted path. Other boats either anchored with several anchors in the bays or backed into the mangrove swamps and tied off to the trees. About 12 hours before the storm arrived (3 am on Tuesday), it became apparent that it would hit Grenada. People started leaving their boats and finding shelter. Although I wanted to stay with the boat, Sandy insisted that we leave, so we took a cab to a hotel at 10 am. Around mid-afternoon, the storm hit, blowing all the corrugated roofs and tree foliage away. We stayed in the hotel room for the first half and observed, through the plate glass doors, many objects flying by sideways. Sandy said it reminded her of the Wizard of Oz tornado scene. We hear that winds exceeded 130 mph. After the eye passed, we joined the other cruisers at the hotel and the nearby locals in a ground floor conference room that had fewer windows. At dark, we went back to our rooms and spent a sleepless night.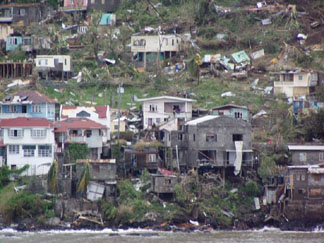 Photo Courtesy Royal Navy
"As we walked three miles to the marina early the next morning, we saw devastation all around. Not one house in ten still had a roof. You probably have more information than do we about the statistics since at least one radio tower blew down and there is no power, water and little communications. We arrived at the marina and saw the typical hurricane aftermath scene of boats awry with some piled on top of others. We and the boat next to us had put out anchors, and it may have contributed to our boats not being carried away with others. From the few people who had stayed on their boats - and said they'd never do it again - we learned that the docks went first one way, then another, and finally broke up. Some boats were completely destroyed, while others suffered just cosmetic damage. The boat next to us with the anchor had just cosmetic damage, although she also lost most of her stanchions. The boat on the other side of us sank in place. Our boat suffered a large gash in the stern, where it hit the dock. The gash went into the lazerette and there was some stanchion damage. The rigging had no damage, and the one solar panel that we left out with just rope holding it down survived as well. All in all, we could have had it worse. Luckily we carry insurance - albeit a large deductible applies during a named storm.
"The boats anchored in the open bays with multiple anchors seemed to drag no matter the type of anchor, with luck determining where they ended up. The boats tied to mangrove trees may have fared better, although many ended up in a pile just like those in our marina. The VHF radio is full of tales of woe and relief.
"After taping up the hole which is right above the waterline on our boat, we hope to get off the dock tomorrow so that more damage is not incurred and other boats can leave. I don't yet know how to effect repairs. Grenada will be in bad shape for a very long time, and there will be a long line for repairs. We may sail to Trinidad - about 12 hours away - where there are competent workers at reasonable prices, but they too have had their problems. We will have to see. Sandy says that having experienced Isabel last year and Ivan this year, she wants no more hurricanes in her life. I guess that means we'll be sailing to the Pacific."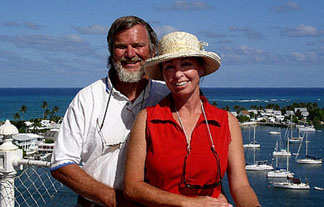 Rankin Tippins and Sandy Hollis
Photo Courtesy Heart of Texas
John Anderton of the Alameda-based Cabo Rico 37 Sanderling sent the following:
"Reports are still coming here into Trinidad, and they are not good. St. George's was 'devastated', the marina is 'no longer there'. The yacht club has been 'destroyed'. Fifty boats are ashore in the lagoon. On the south coast amongst the six anchorages, the reports are even more bleak. Stories of 20 boats sunk and 40 on the rocks are common for Mt. Hurrimam, Hog Island, and Prickly Bay. Both boat yards have been destroyed. The new yard at Prickly Bay called Spice Island Yard - which just opened this summer - had 260 boats in long term storage. Only nine boats are reported to still be standing. Some boats went into mangrove hidey holes, but the storm surge hammered them against the trees and some sank."
The bad news is that after Ivan passed Grenada, he increased in strength and appears ready to put a direct hit on Jamaica, Cuba, and perhaps the Florida Keys. Our good thoughts go out to every one of you in Ivan's path or who have suffered a loss from the hurricane.