Photos of the Day: Geronimo Crosses the Finish Line
April 30 - Brest, France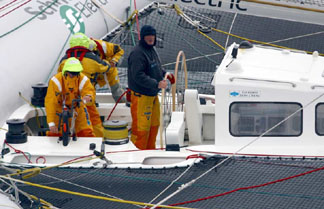 Photo Vincent Curuchet/DPPI/Capgemini Schneider Electric
Olivier de Kersauson's Cap Gemini Schneider sponsored trimaran crossed the finish line for the Jules Verne Trophy, between the Lizard in Cornwall and Ushant (Ouessant) Island, at 1517 local time yesterday, April 29. Her elapsed time of 63 days 14 hours, 59 minutes and 46 seconds is approximately 18 hours faster than that of the previous Trophy holder, Bruno Peyron in his maxi cat Orange.
De Kersauson is now the official holder of the Jules Verne Trophy, originally awarded for the fastest outright time sailing round the world. But the Trophy no longer has the same cachet since Steve Fossett and his crew on Cheyenne, not members of the Jules Verne 'club', broke the around the world record earlier in the month and were almost five days faster than Geronimo, having sailed the same course in 58 days, 9 hours, 32 minutes and 45 seconds. See
www.yachtingworld.com/auto/newsdesk/20040329152628ywnews.html for the whole story and www.trimaran-geronimo.com for details and more photos.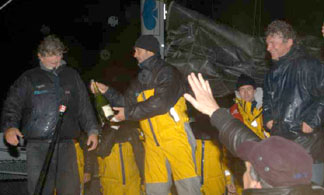 Photo Courtesy www.trimaran-geronimo.com
Speaking at a press conference at the Moulin Blanc marina after docking in Brest, Olivier de Kersauson stated, "I never want to repeat the experience we had in the Southern Ocean, but at least half our voyage around the world involved some magnificent surfing, for which this boat has such a wonderful talent.
"As for the second half of our trip - well, it was a nightmare relived every day: not knowing when we would get through, not knowing what the wind would do and not knowing whether we would have any wind or not. We had no surfing, no enjoyable sailing with the boat ­ even as we approached the finish, we didn't know whether the wind would turn in our favor or not. So it's been rather a severe experience. Just now, we were passing the coast of Ushant where you meet the ocean, where we should have been with the boat this morning when the current and the wind were working together, but what we had was almost uncrossable. If sailing was always the way we have had it in the last month, I wouldn't sail at all."