September 5 - Monterey
"Here is the 'poop' from from Monterey," writes Ron Sherwin. "And poop is the correct word, for Monterey Harbor has been invaded by a herd of seals who are really fouling the place. In fact, the harbormaster has posted warnings about washing hands after handling anything, such as docklines, that have been in the water. And it's not a good time to be a scuba diver in the harbor.
"Numbering in the high hundreds - if not low thousands - the seals first established a colony in the inner harbor near Wharf #1 - the one on which the tourist attractions are located. After the seals had invaded the sidewalk around the wharf, the city had its hands full trying to keep tourists and seals separated. The city finally erected a chain link fence to stem the invasion. Unable to establish a suitable beachhead in the inner harbor, the seals retreated to the outer harbor, where they invaded the beach below the bayside pathway - as well as the pathway itself. Surrounded by a second chain link fence, the seals have forced the city into a stalemate.
"Meanwhile, the seals have enriched the notion of 'partying and boating with friends,' as the accompanying photos illustrate. The earlier photos illustrate what measures some boat owners have taken to prevent the seals from boarding their moored boats. The seals have 'hijacked' several moored boats, and have discouraged all attempts to dislodge them. The seals nearly sunk the hijacked boats after thoroughly trashing them, leaving broken lifelines and other deck hardware, and filling cockpits with droppings. Using power washers, the poor boat owners have the unpleasant job of cleaning up the mess. Cleaning up seems only partial, since fiberglass decks appear destined to retain stains and odors indefinitely."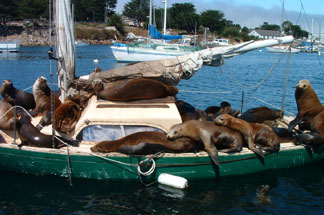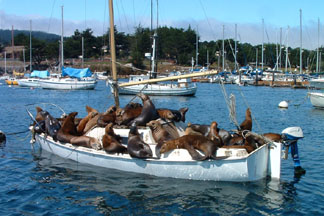 Photos Ron Sherwin