Congressional Cup Concludes
April 26 - Long Beach
The 40th Congressional Cup had run out of time and Terry Hutchinson had run out of wind when Ed Baird came from behind on the last leg to win a sudden-death championship race by 1 minute 41 seconds Saturday. Baird, at 46 the oldest competitor in the fleet, was the only semifinalist among Hutchinson, New Zealand's Gavin Brady and Australia's Peter Gilmour who
hadn't won the event's traditional Crimson Blazer.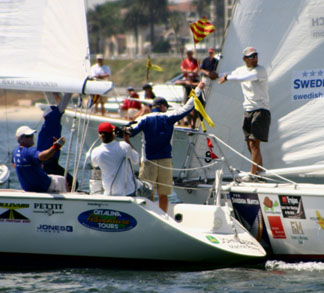 Terry Hutchinson waves the protest flag in pre-start incident against Peter Gilmour in semifinals.
Baird, from St. Petersburg, FL, took the weakest round-robin record into the semifinals (11-7), but eliminated Brady (12-6), a two-time winner, 2-1. Meanwhile, Gilmour (16-2) chose Hutchinson (12-6) as his semifinal opponent after the Annapolis sailor had warned, "I wouldn't pick us." Sure enough, Gilmour was stunned, 2-1, downgrading the anticipated title showdown between himself and Brady to a sailoff for third place, won by Brady by 1 minute 15 seconds.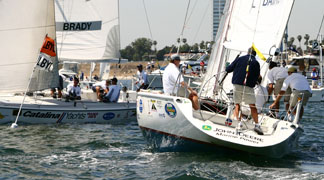 Ed Baird got away with two poor starts against Gavin Brady, including this one, to win their semifinal, 2-1.
The scheduled best-of-three final was reduced to a single race because of the time. Hutchinson gained on a favorable wind shift immediately after the start and was able to tack on Baird's nose and hold the lead around three marks before sailing into the fateful leg. With half a mile to go for the title, he did a simple bear-away spinnaker set that took him left and into the lee of one of the oil islands in the Long Beach outer harbor.
Baird, seeing no profit in pursuing his opponent, did a jibe set and went to the right - and into whatever breeze remained on the course. It was the smartest move he made all week. Soon, down in the shadow of the island, Hutchinson's sails were sagging and his boat was dead in the water as Baird glided on a steady course to the finish. For complete standings and more, see www.lbyc.org and www.swedishmatchtour.com.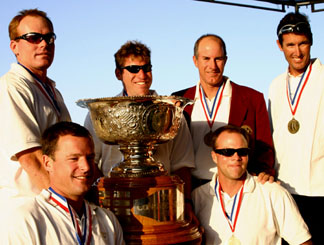 Ed Baird, wearing his new Crimson Blazer, poses with his crew around the Congressional Cup. Clockwise from bottom left are Rob Myles, Eric Doyle, Jon Ziskind, Baird, Brett Jones and Andy Horton.
Photos & Report Rich Roberts