Profligate's Regress
April 27 - Antigua
Our winter season is over in the Caribbean. It's time to dash to Panama in order to make it up the Pacific Coast to California before the start of hurricane season on June 1. We have a crew of 11 aboard the 63-ft cat, and hope to make the San Blas Islands, about 1,200 miles, in just under six days. It all, however, depends on the winds. This late in the year, they generally aren't as strong, but we'll almost certainly have the swells and current with us on what almost always is a downwind sail.
Thanks to a new Skymate system, we hope to sail in touch by email, and thanks to a Nobeltec navigation system, we hope to be able to tell you where we are.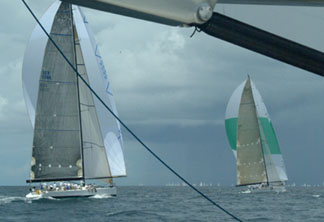 Morning Glory chases Pyewacket in the first race of Antigua Sailing Week. You have to see these boats outperform 'normal' yachts to believe it. This is what they ought to be racing in the America's Cup, as they offer spectacular performance and are extremely nimble.
For the last two days, we've been watching the action at Antigua Sailing Week, which is featuring three of the hottest boats in sailing. Two of them are the new MaxZ86s, Roy Disney's Pyewacket and Hasso Plattner's Morning Glory. What a spectacular sight to see these canting keel, canard rudder boats go at it. They point so high and run so fast, it's just dazzling! For full-on racers, it seems you'd have to have the canting keel, canard rudder technology to keep the pace.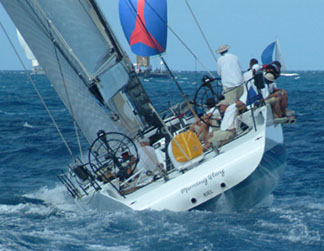 To date, Morning Glory has been showing her stern to Pyewacket more than vice versa, but it's always been close.
Making things very interesting, however, on a boat-for-boat basis is Mari-Cha IV, Robert Miller's Briand 144 modern schooner, which smashed the transatlantic record the right out of the box. She was able to get the better of the 86s in the first race, which was a destination course with lots of off-the-wind stuff. She's a bit of an odd looking boat, but the monster can move. She wasn't made to point, however, so in the last two Olympic style courses, she was beaten boat for boat by the two 86s.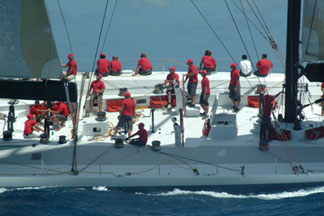 The middle part of the 140-ft schooner Mari-Cha IV.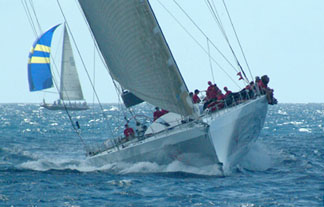 The business end of Mari-Cha, flying to weather. We'll have more photos of her on Friday.
Morning Glory and Pyewacket, which are nearly identical, have been having great boat for boat races, with Morning Glory having a slight edge. Also showing well again here in the Caribbean has been Roger Sturgeon's Santa Cruz-based TransPac 52 Rosebud.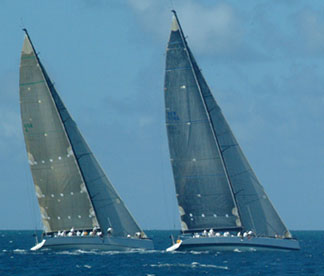 A still photo of the MaxZ 86s makes them look just like two other giant yachts, but they're not.
We did the first race aboard Mike Slade's R/P Leopard of London, which despite a full-on interior, was, up until a short time ago, one of the fastest boats in the world. She's still darn fast, but can't compete with the stripped out boats with the canting keel, canard rudder technology. She's the largest boat we've ever raced on, and boy does it take muscle to make her go. Think of four sails laid out inside the boat from the companionway hatch to the bow. Each one takes about 10 guys to move. They need the bottom one on deck ready to set, then five minutes later they need it stowed down below. And what a sweet-sailing yacht, particularly to weather. We were tacking in just over 80 degrees, something we cat sailors can only dream about. Owner Mike Slade is as personal and relaxed an owner as you're going to find, and Chris the captain's responsibilities are incredible. It was a great day of sailing.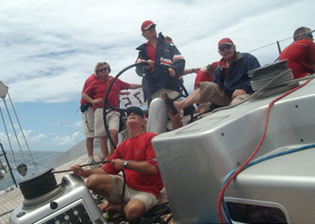 Mike Slade, at the wheel of Leopard of London. Chris the captain is just to the left of him.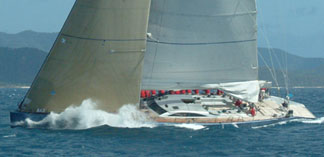 Leopard of London charging alone on the second day in about 18 knots of wind. She looks lovely.
We're off to the San Blas Islands to see those little Kuna Indian rascals again, and do the canal. We'll try to let you know our transit time so you can watch over the Internet.
More Antigua Sailing Week photos: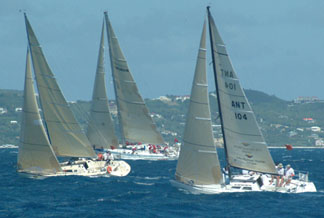 You'd hardly think that an Olson 30 would be a good boat for all the upwind stuff in the Caribbean, but Jamie Dobbs has made his a consistent winner for years.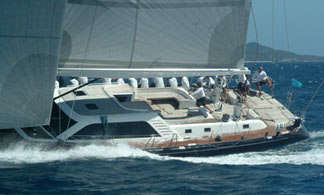 We were most impressed by the consistent spacing of the rail meat on Paradis, one of the many yachts that is as lovely as she is big.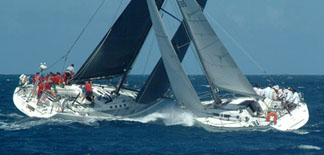 Smaller boats race at Antigua, too, and the action is just as tight and exciting.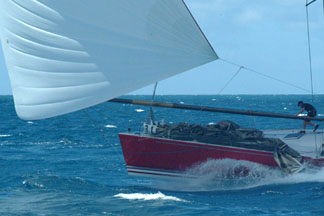 Tom Hill's Titan, a R/P 75 - like Disney's old Pyewacket - has been sailed extremely hard and well.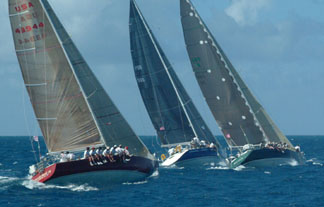 Approaching the weather mark.
Photos Latitude/Richard
April 28 - Caribbean Sea
Update dispatched from Profligate at 12:30 pm PDT: First 24 hours out of Antigua for crew of 11: hot and breezy with what the French call 'agitated seas'. First 24 hours run was 240 miles under reefed main and tiny jib. Today hit 21.9 with reefed main and tiny jib during squall. It was a little much, so we've backed off. Did we mention it was steamy hot?

| | |
| --- | --- |
| This message sent courtesy of Skymate, which provides no waiting offshore email, weather, as well as fax/voice, without the need for an SSB radio. | |