Photos of the Day:
The Biggest Sails in the World
March 31 - Marblehead, MA, and Portsmouth, UK
At 246 feet in length, with a rig that towers 300 feet over the water, the world's largest sloop, Mirabella V, has presented unique challenges to her sailmakers, Doyle Sails International.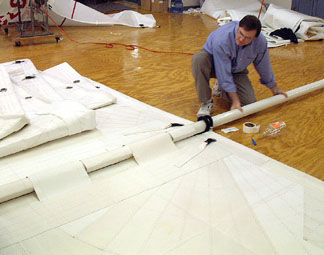 Two sections of mainsail fitted together with one of her battens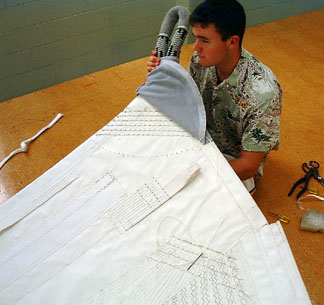 Construction on the staysail
Mirabella V's sail inventory consists of a mainsail, staysail, working jib, and UPS (Utility Power Sail), or reacher. At 17,366 square feet, Mirabella V's UPS is bigger than any sail ever made - as evidenced by its acceptance into the Guinness Book of World Records as "The World's Largest Sail."
The sails were constructed at the Doyle loft in Marblehead, MA. Then, on February 9-13, the four sails were installed on Mirabella V at the Portsmouth Naval Base in Portsmouth, UK. Two days were spent assembling the six-part segmented mainsail into one piece and three days were spent hoisting the three headsails, lifting the mainsail into the boom, and installing the boom on the boat. For more, see www.doylesails.com/superyachts-mirabellav.htm.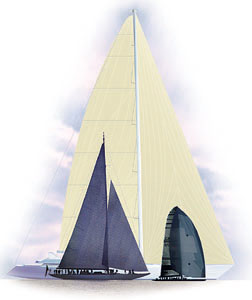 Mirabella V's rig compared to a J-Class yacht and an International America's Cup Class (IACC) yacht.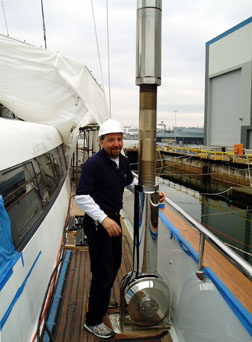 A shroud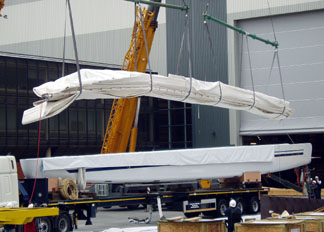 Lifting the mainsail onto the boom