Profligate's Progress
March 29 - St. Barth, FWI
Wait until we get our hands around the throat of our good friend Tim Laughridge, skipper of the 125-ft ketch Sariyah and organizer of the St. Barth Bucket! Of all the weekends in the spring he could have scheduled the Bucket, he chose April 2-4, which conflicts with the BVI Spring Regatta. We really, really, really wanted to do the BVI Spring Regatta for three reasons: 1) We haven't been to our old BVI stomping grounds in about seven years, and very much wanted to get back; 2) We wanted to resume the wonderful racing we'd had at the Heineken Regatta with the Atlantic 55 cat Rocketeer, and 3) There were all kinds of new and old friends we were scheduled to meet up with. But thanks to Tim's crummy scheduling, that's all out the window.
For with Latitude 38 Racing Editor Rob Moore on Roy Disney's MaxZ 86 Pyewacket for the BVI Regatta, we've got that event covered, so there is no way we could justify not covering the St. Barth Bucket, a two-race event featuring 23 of the most magnificent sailing vessels on the planet. Here are some examples: the brand new 172-ft Salperton, the largest sailboat ever built in New Zealand; the 161-ft Georgia; the 147-ft R/P Visione, which is Hasso Platter's brand new cruising boat to go along with his brand new MaxZ 86 Morning Glory; the brand new 137-ft Destination Fox Harbor; the brand new 135-ft Ranger, the new version of the fastest J Class yacht ever; the year-old 135-ft Victoria of Strathern, the brand new 132-ft Maria Cattiva, perhaps the most classically beautiful of them all; and on and on and on. So instead of us getting to cover an event by racing our own boat in it again - which, of course, is our favorite - we have to use our cat as a photoboat. We accept everyone's sympathy for our crocodile tears.
It just so happens that yesterday, Profligate and one of the Bucket entries, Visione, were reaching from Pt. Colombie, St. Barth, to Pelican Bay, St. Martin, at about the same time. With the wind blowing about 12 to 15 knots and a smooth sea, Profligate covered the 15 miles in 85 minutes for an average speed of just over 10 knots. Not bad for just a full main and a tiny jib, as we could have done a knot or two better with the screecher. But as best we could tell, Visione beat us by about 27 minutes, which means she averaged a little better than 15 knots in these mild wind conditions. There is no question in our mind that she's capable of 500-mile days like the new Mari-Cha IV. Here's what we like about the Caribbean: when Visione finished the run to St. Martin, she dropped her hook right next to Mari-Cha III, former holder of the transatlantic record. Between St. Barth and St. Martin, it's like being anchored in the museum of the world's greatest yachts. As we said before, we don't want to own one, we don't even really like to crew on them, but we love looking at them and watching them under sail.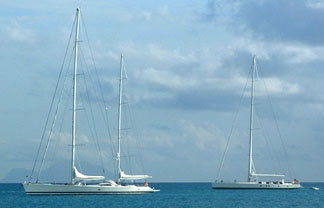 The great yachts Mari-Cha III and Visione on the hook at Pelican Bay, St. Martin, with Saba in the background. Those little tiny dots on the deck of Visione? Those are big, strong, crewmembers.
Photo Latitude/Richard
One of reasons we enjoy being in the Caribbean is that you meet so many people, particularly Europeans, who have led a life following their passions rather than, as seems the case with many Americans, chasing material pleasures. For example, Gail, a young Swiss/French fellow, was one of our better crew at the Heineken Regatta. We later met his parents, who explained how they got into sailing and where Gail was conceived. After the father had ridden a motorcycle and sidecar 100,000 miles around the world, he met his wife in Switzerland, and they took off across Canada and the U.S. on the bike and sidecar. While in Canada, they read a book by a French woman about sailing around the world, and were intrigued. So when they got to Santa Barbara, and the president of the Motorcycle Sidecar Association made them an offer on their bike and sidecar they couldn't refuse, they accepted. And began looking for a cruising boat. This was in 1982, mind you. A broker found them a Bristol 26 without an engine, which was fine with them. With no sailing experience whatsoever, they took off for Mexico, Central America, and the South Pacific, and have been sailing ever since. Gail was conceived on the way from the Galapagos to the Marquesas nearly 20 years ago and, according to the parents, was the first white boy born there in modern times. Gail has a brother Noah, now 15, who is a killer sailor. When he was just 12 years old, he skippered the 75-ft Far Niente to corrected time honors over 40 other boats in the New Year's Around St. Barth Race. Take that, Sharkie Kahn! Anyway, more on them in the next Latitude.
To everyone we were supposed to meet in the British Virgins, we're so sorry, but business calls. Next year for sure!